Selected Writings of Robert B. Gentry
Except for classroom use or excerpts in reviews, no work of Robert B. Gentry may be reproduced, stored in a retrieval system, or transmitted in any form or by any means, electronic, mechanical, photocopying, or otherwise, without permission of the author.
From CONFESSIONS AND IMPRESSIONS: GENTRY'S JOURNAL
[Bolded, bracketed information occasionally added for context and clarity.]
[A conversation with Mrs Thelma Toole, mother of the late Pulitzer Prize-winning novelist John Kennedy Toole. He committed suicide in 1969. Through the tireless efforts of his mother and with the help of writer Walker Percy, Toole's A Confederacy of Dunces was published in 1981.]
April 7, 1982 I phoned Thelma Toole several times last month, and she agreed to be interviewed at her New Orleans home yesterday at 3:00 p, m. Sue and I easily found her modest, unairconditioned bungalow next to a mortuary on Elysian Fields Avenue, about four blocks from the French Quarter.
Arriving at the front door, we heard what seemed passages from her son's great novel, A Confederacy of Dunces. Then from somewhere inside came a commanding theatrical voice, "Please do come in, Mr. and Mrs. Gentry!" In the living room stood Mike, a huge man, twentyish and looking close to 400 pounds. Thelma Toole was auditioning him for the role of Ignatius Reilly, the main character in Confederacy, that she hopes Paramount will turn into a film. "I apologize for running overtime with this audition," she said, and asked us to sit while she finished. Mike was having great difficulty with some lines. In a corner of the room Mrs. Toole stood in front of her walker. At 80 she appeared energetic and very much the teacher. She wore thick red lipstick and a pillbox hat of straw crowned with a feather fluff that flipped in a circle. Her floor-length, gold silk gown gathered at the neck and went up her arms in three-quarter length sleeves. Her white, elbow-length gloves were dirt-smudged and tied on her left wrist was a corsage of dead roses. She coached Mike with waves of a gold-sequined paper scepter and taps of her gold-slippered foot to stress the rhythm and force of passages. The audition ended at 3:30. She bade the big boy gracious gratitude and a fond goodbye. "He can't do it," she said when was out the door.
Mrs. T. I can tell from your faces you're wondering about my attire. I'm very much the actress. Always have been! I taught speech and drama for many years. This dress I wore in the Confederacy Clones parade back in February.
Mr. G. Is this the parade connected with Mardi Gras?
Mrs. T. You could say it's an alternative to the Mardi Gras Parade. It's put on each year by the Contemporary Arts Center and also goes by the name Crew of Clones. It's a mock parade. This year the Arts Center honored women in the arts in New Orleans. I was the Queen Mother of the parade. It was a nice way of featuring my son's book.
Mr. G. Can you tell us a little about your son's early years? His schooling, interests, development, things like that!
Mrs. T. He was very smart in school. Brilliant, in fact! In grammar school he skipped two grades. When he was in kindergarten he complained, "Mother, I'm not learning anything."
Mr. G. When did he start writing?
Mrs. T. He wrote essays in high school and entered essay contests. He won first place in one of them.
Mr. G. I heard he wrote a book called "The Neon Bible" at age 16.*
Mrs. T. Yes. Walker Percy said that no 16-year-old could have written that book. It shows how advanced John was. The book is a commentary on Southern evangelism.
Mr. G. Mrs. Toole, would you mind if I shut the door? The street noise is—
Mrs. T. (Laughing) I'm afraid I'd roast in here if you did.
Mr. G. I'll get a little closer so I can hear you better. Would you mind speaking a little louder?
Mrs. T. I'd be most happy to.
Mr. G. His master's degree was in English. I assume he majored in English as an undergraduate at Tulane.
Mrs. T. Yes. He did his master's thesis on John Lyly at Columbia. John Wieler was his director there.
Mr. G. Did he have a minor area of study?
Mrs. T. He studied French and German. And Spanish in high school.
Mr. G. When he began writing seriously, what was his writing routine and what conditions did he write under?
Mrs. T. He was a private person. He kept a lot to himself. I believe he was afraid at times of disappointing me. He wrote Confederacy when he was in the Army in Puerto Rico, 1962-63. At the time he was teaching English to Puerto Ricans. He spoke Spanish fluently.
Mr. G. How did he write? Did he usually outline? Did he do much revision?
Mrs. T. His writing just flowed. He finished Confederacy in two years. Then he started dealing with Gottlieb at Simon and Schuster. He didn't do much revision after Gottlieb got hold of him. Gottlieb was a wretched person. He just strung John along. Then finally he told him that Confederacy wouldn't do for publication. John got very depressed after that. I didn't realize how sick he was. His being unable to get published was a major cause of his death.
Mr. G. Did he keep a journal?
Mrs. T. He wrote all kinds of things. I'm still uncovering letters and essays he wrote. I hope to publish a lot of it soon.
Mr. G. What about "The Neon Bible"?
Mrs. T. I'm going to have it bound and placed in the Rare Book Room at Tulane.
Mr. G. (Chuckling, shouting.) Now we have competition from the lawn mower.
Mrs. T. (Shouting.) My brother's cutting the yard.
(Shouting continues for the next several exchanges.)
Mr. G. Who were his favorite authors?
Mrs. T. The Romantic poets: Keats, Shelley, and Wordsworth. Wordsworth's "Intimations Ode" really appealed to him. He liked Irving Ribner and Alexander Pope, too.
Mr. G. What about Swift, an obvious influence on Confederacy?
Mrs. T. Yes Swift too, but he didn't discuss Swift with me.
Mr. G. The letters and essays you said you were going to publish, did they suggest any literary influences on John?
Mrs. T. I'm particularly interested in the fourteen letters between him and Simon and Schuster. I really wonder if it's wise to publish them, though.
Mr. G. You said on the phone he sketched and painted. What subjects did he do?
Mrs. T. He did a nice sketch of me. As a child he attended two art schools: Mary Basso McCrady at age 9 and at age 10 he studied at the old Isaac Delgado School.
Mr. G. As a person did he show a satirical bent?
Mrs. T. Heavens yes! He was witty, the life of the party. He liked to rib people. Would you both like some sherry?
Mr. G. That would be fine. Sue. Yes, thank you.
Mrs. T. The bottle and glasses are on the table in the next room. Please get them for me. (After all our glasses are filled.) I don't drink much. My health is not at all good. I've been severely taxed. Yet I continue to work earnestly and valiantly for my son. Posterity will treat him better than the present age has.
Mr. G. I'm wondering how John meant readers to take Ignatius Reilly. You have been quoted as saying that "Ignatius is sloberino, a figment of my son's imagination."
Mrs. T. Yes, that's right. My son told me this about Ignatius, "He's not a real New Orleans person. He is used to introduce the real New Orleans people." These people are what my son told me he wanted to write about. He wanted to write a book about New Orleans, and Ignatius was his way of railing at the pretentions and phoniness of the city. Ignatius is a booby but he's a prophet too.
Mr. G. Will your son's unpublished works be available to scholars anytime soon?
Mrs. T. I have been advised not to open them to the public right now. You know, under Louisiana law the father's estate automatically gets 50% of a wife's royalties. I have some reviews of Confederacy you may be interested in (She hands me a large envelope.). There are photographs of my son in there too.
Mr. G. Thank you so much.
Mrs. T. And I want you to have a hard-bound copy of Confederacy.
Mr. G. Oh, thank you so very much. Would you autograph it for us?
Mrs. T. I'd be most happy to. ("Appreciation and Regards from John Kennedy Toole's Mother, Thelma Ducoing Toole, to Dear Sue and Robert Gentry")
Sue. You are so gracious. Thank you!
Mrs. T. Now come, I want to play the piano for you.
Mr. G. This is another treat.
Thelma Toole played and sang four songs, the last one in honor of her son: "Oh Yes, He's My Baby."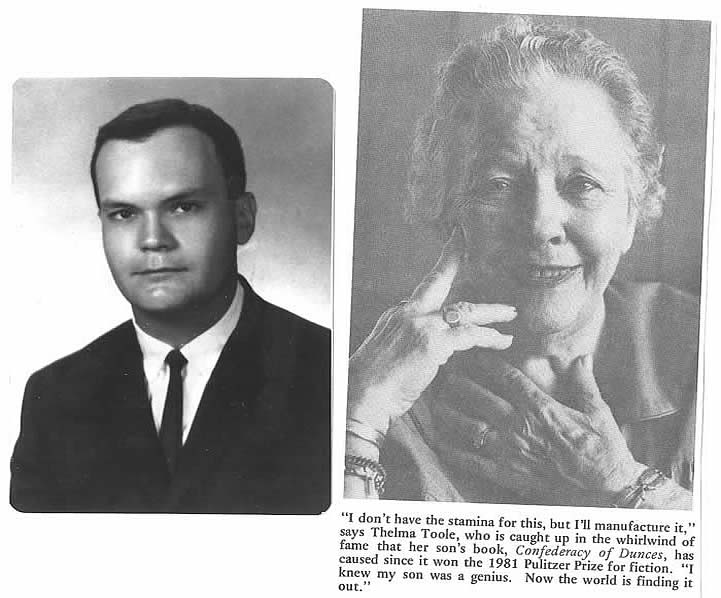 These pictures and a nice note of thanks Thelma Toole sent to Sue and me in the spring of 1982 (after the interview) when there was still worldwide excitement over Confederacy. On the back of John's picture she wrote, A Photograph of My Genius-Son, John Kennedy Toole, from His Mother, Thelma Ducoing Toole to Mr. and Mrs. Gentry. Apparently Sue and I did not introduce ourselves to her with our different last names. In her note she said, Recently, pressures have been steadily mounting, and I am excessively taxed, with a serious toll on my health. But, I continue to work valiantly and earnestly in the world for my son. I recall that I warmly thanked you for the beauteous roses, or did I?? If you have time to answer this note, please tell me so. It has been so rewarding to meet you both, and, I felt we established a sweet rapport! Fondly, Thelma D. Toole The picture of Thelma is from Applause, a publication of the New Orleans Public Schools.
*The Neon Bible was adapted to film, written and directed by Terence Davies and filmed in Georgia. It was first shown in France in 1995 and then in England the same year.
New York, New York
July 24, 1983 Sitting in Penn Station, I must write these impressions while they're fresh. Two young guys are holding hands. They're slim and wear tight short shorts; sleeveless, shoulder-strap undershirts; sneakers and calf-length white socks. Men and women gaze and gawk at them. They seem oblivious to anything but themselves, their pectorals prominent, their crotches bulging. Now they giggle and slap each other on the back and chest. I can't hear what they're saying. If they dolled themselves up, they might pass for pretty girls. Maybe they really are in drag.
Earlier, I saw parts of dirty, defiant 7th Avenue. A black power group shouted about "the ignoramuses of the world, the European white people. It doesn't make any difference whether you're British, French, German, Spanish, Czech, Hungarian, you're all the same. You came out of the bowels of the Roman Empire and you'll be destroyed like it was because you're all ignoramuses, you and the Russians, and you'll both destroy each other." Thus they bellowed, a bunch of muscular, tough-looking men in their late 20s and early 30s. I stood across the street, watched them, jotted a few notes. They quoted from the Bible and twisted it to suit their rhetoric. They ranted and raved at sullen whites who rushed by, two trotting and clamping their hands on their ears. "Yeah, go ahead, stop your ears," a black yelled. "You don't listen to truth. That's your natural way. You never did listen and you never will."
As much as I loathed their attitude and words, at least one thing they said hit home. If the U. S. and Russia don't settle down and quit bomb-rattling and threatening each other, if we don't get sane and some peaceful sense, we probably will destroy ourselves and the world.
The area around Penn Station and Madison Square Garden (32nd St. and 7th Ave.) is littered with trash. Bums slouch and slump along railings outside the station. Several sleep on drab concrete near the Garden entrance, hands clutching their genitals as if these things were all that mattered, asleep in tattered clothes and dirty beards and torn socks, out of their booze-blasted, drug-dregged minds while junkies and pushers and whores step over and around them.
Down in the Penn Station Men's Room, blacks and whites wink and blow kisses at anyone who glances their way. Toilet-paper the stool as best I can. I dump warily, wallet tucked under my arm, afraid some needle-punctured arm will reach under the partition and slip it out my pocket if my pants drop. Keep them around my knees. Walls of my stall are full of graffiti, a few witty, most ignorant, stupid. Two sneakers enter the stall next to mine followed by two more sneakers. I hear giggling, see shorts drop to ankles. Sneakers on sneakers—heavy breathing—moaning. I wipe, jerk up my pants, rush out to await my train.
It'll be a while before Amtrak announces mine. A well-dressed man fishes in a garbage can for a newspaper, brings it over, sits next to me and starts reading. I'm roasting in Penn Station. AC must be off. I drift outside again, sit on a railing, light a cigar. A black kid asks for "a smoke." I shake my head. He asks others, black and white, but doesn't ask any Orientals. All turn him down.
August 3, 1985 We're staying at the Hotel Barbizon at the entrance to Central Park South. Compared to the townhouse in North Conway (which we exchanged this year for our place in North Carolina), the Barbizon is feces. Last night we slept on short-lumpy-dippy beds in a cramped room. When you flush the small commode, mess splashes your butt. This hotel robs you at more than $80 a night. Contrast it with the townhouse in New Hampshire or our time-share condo in Carolina where we have two levels, two baths, full kitchen facilities. In NH we had a television upstairs and one downstairs. Of course, all this is the height of bourgeois extravagance.
At the strip of 8th Ave. near Times Sq a guy slept across a 46th St. sidewalk. Theatergoers had to step over him. His clothes were rags, he was shoeless, his socks full of holes and his pants shit-sodden. He reeked. An empty liquor bottle he clutched to his chest as if it were his only friend on earth. On 47th St. another wretch pawed in a trash can and pulled out two cola cans, no doubt bent on selling them to recyclers. In the face of this mess, I feel sad, disgusted, helpless.
Strolled Central Park this morning and then saw "The Figure in 20th Century American Art" which the Metropolitan is featuring at the National Gallery of Design. Two of my favorites in this one: Edward Hopper's Office in a Small City and Gaston Lachaise's Knees. Black woman with strawberry blonde hair just spit a big gob a few feet from us. Sue, deep in her diary, didn't notice, thank goodness. See such mess a lot and you get numb....
The band plays in Central Park on this sunny day filled with pigeons and people and cars and horse-drawn carriages. This afternoon Sue had Mocha Crème and I Crème au Chocolat at the Café de la Paix just across the street from the Barbizon. These drinks cost an outlandish $13.75 because the waiters wore tie and tails and we were sitting in the outdoor section. In other words, they charged us out the gazook for a pseudo piece of France. Sue: "This is probably the only place in the Western world where you can sit outdoors, be served by waiters in tuxedos, and smell shit from all the horsey carriages clomping by."
I love to rail at New York and confess tingles of excitement every time I come here. I love and hate the place and wonder why I find the freaks and clowns and jerks and pathetics so fascinating. I have to wonder why in this wealthy nation and cosmopolitan city people get the point where they sleep on sidewalks or dig in trash cans or dress up like bizarre clowns. There are reasons of course, but they don't satisfy me....
Aug. 4, 1985 At Village Corner, an outdoor café in Greenwich Village. The menu promotes the food as "seedy but stimulating." Sue and I sip beers at $1.50 each, much better than the outdoor beer price at the Café de la Paix attached to the St. Moritz Hotel. A guy in dirty clothes and red ball hat digs in a garbage can as a woman in pantaloons strolls by. An ammo belt holds up her pantaloons. She has a burr haircut and saunters like she's the coolest thing in town. Loud guffaws erupt from two tables. Other tables are quiet with gays romancing. One has a remarkably pointed head. Another strokes the arm of a swarthy Hispanic boy and with the other hand dips his fingers in his beer and wets his mustache with them. The garbage guy finds nothing he likes and pulls his battered red wagon away. Another pointy head saunters by with a woman who's wearing white-mesh knee socks. Across the street a Mohawk head appears, Hell's Angels jacket slung over his naked shoulder, his unzipped boots flopping as he struts by two girls....
Scenes and thoughts in Massachusetts
Idyllic Turner Falls
July 15, 1986 Have to think hard what day it is. Days blend together when you're on holiday or at workshops. It's Tuesday and I'm at a rather bland park in Turner Falls, 4 miles from Greenfield. The weather has finally brightened up after almost 3 days of chilly, dreary rain. Don't want to journal but something compels me to—some mysterious daemon drives me on.
Turner Falls Lake (I think it's a lake): Few yards in front of me a man fishes from the bank and shows a boy how it's done. Sun sparkles off the water and a breeze slowly spreads wavelets. Distant sailboats drift into my picture while a woman sits in a lawn chair reading, her feet on a smooth boulder. Behind her a carousel goes round and round to the tune of children laughing and playing. Across the lake two-story houses look as if they have always been there, natural frame reliefs in a greenscape of rolling hills, not high or awesome, but plain and gentle these hills as if this scene could be none other than what it is, at first very common, even bland as I said, then growing on you: soft, green grass waving in the breeze, pine trees and boats and leisured people blessed in a still life of summer. Things move or don't move in the eyes of the viewer who is both creator and created, who if he were a genius could take line and color and freeze this scene for the ages.
Across the lake three boys in swimsuits laze on a high ledge; now they shuffle. One eases to the edge, bends his knees and leaps up and out, his figure fully extended like a bird gliding over the surf in slow motion then dipping and diving down to knife the water in a plunging splash. I think of Eakins' The Swimming Hole and then of Knoxville [my hometown in TN]and Chilhowee Park, the lake there in 1947 and the boy I was then in those summers I thought would go on and on. And now the dream returns again, it all returns again: the sun and lake and hills and houses but most of all the peace…the warm, precious peace....
Atop Poet's Tower
July 17, 1986 ... 1500 feet above Greenfield [MA], I'm Lord of all the town. I wave a hand and down below I get a vacant field complete with diamond, backstop and bleachers. I blink and five tennis courts appear. Players look like tiny toys. I snap my fingers and two players amble and two more bat violent volleys; others lunge and dash and cut around right and left court. All I make rational in form but insane in aim for batting white dots back and forth at each other. People and cars in the distance I render insignificant, even absurd. All around I'm enclosed by hazy hills and suddenly I feel less creator and more captive. Who knows what I am in of all this? The distant hills look blue; nearer ones varying shades of green. Oaks and maples, pines and spruces partly hide some houses, fully hide others. I gaze and marvel at the prince of Northern pines, the stately blue spruce.
A woman and two kids interrupt my reverie. They stay a few seconds, see nothing and leave. Now two teen boys come stomping up. One mouths a can of Slice. The other snaps, "I could whip a tennis ball way out there." His friend spews a gob that goes down down, white speck of spit before it vanishes. I'm the Lord of Misrule and these slobs are my unwelcome lieutenants. Maybe that's why the sun's retreating into the misty sky—it doesn't like us. The day turns fuzzy, grayish green. My lieutenants go bounding down the steps like apes. In a minute they've seen nothing.
Across my ball field I nod and brick buildings with flat roofs appear bordered by strips of asphalt. Only a few trees in this area! Did I really condemn them to grow stunted beside silly streets? Sun struggles to shine then dims behind haze again. I walk to the other side of the tower to see the Green River still as glass, trees reflecting in the water like little gazers mesmerized by their own images. Maybe Narcissus was a tree.
I puff on a Bering cigar and wonder if anything in nature gives a damn about me. How could it if I'm the Lord of Misrule? Have I become Lord as defense against indifferent nature? Oh I don't lament this indifference. I seek to join it and blend with it. I cast my mind up and out—over the land I float, drifting down down into the trees. I try to blend into a blue spruce but it won't have me, nor will the earth receive me—yet. I cannot separate from self—still crave my certain self—still cling to me of things and rebound to me of this Tower.
Down below one ape throws his can down the hill, laughing like a loon as it clanks and clatters against the rocks. If reality is only what we create by perception, why in the hell did I create these cretins? Why didn't I leave them as clods? I start to yell at them but spy a handsome cameraman slinking up the steps. We greet with perfunctory hellos. He scans about with his device then slithers back down the steps hunching and crouching like a voyeur filming an orgy. In 45 seconds he's seen nothing. Is he a newsman? Will I appear on the evening news? Nature doesn't care and neither do I. Cameras bug me. They get in the way of my eyes....
Veritas Supra Omnia
July 21, 1987 My birthday at Stoneleigh-Burnham School in Greenfield where Sue and I are on this year's staff of the National Institute for Teachers of Writing. I try not to think what day it is, but everything here reminds me. The sign at the entrance to the school proclaims "Veritas Supra Omnia." What is my "veritas"? Damn it, I know very well what my veritas is. I see it in the circularity of this place. I see it on this entrance sign: the drawings of an owl in a lighted lamp and fluttering banner on which is the "Veritas" motto—verbal and visual meaning caught in a circle, a tight ring that cages wisdom and traps truth in a dot of the mysterious all.
I see my veritas as I stroll this campus, in the riding rings where nubile girls ride their genitals on the backs of horses they work. Round and round the rings they ride, cantering out and around and back to where they began and doing it all again and again. I see it down the hill there in the stagnant pond over which willows hang heavy and weep. I feel it in my varicose veins and in this heat that cut short my walk down Federal St. and sent me back to where I began. I see it in the dust these horses kick up, dust that powders things a sickly sallow, curls like smoky specters above the riding rings and drifts far beyond water hoses that wheeze and rasp like dying men. Almost breathless from the heat, I keep trudging and finally reach our cottage. Before entering, I stare at the dark woods and pinch my clammy arm. "Happy birthday," I whisper.
July 25-26, 1987 The Institute has been going well. The participants have been enthusiastic about our workshops on the one-to-one conference method. My presentations on the journal and essay questions have gone over so much better than I expected. I think I'm finally conquering my inferiority complex about workshopping.
As the Institute ends, I see another veritas no less true than the stark one I saw July 21. It's the veritas of a private-school setting for a public-school meeting, the truth of Stoneleigh-Burnham, the rhythm of horse and rider, the harmony of human and animal, the fresh glow of girls in riding caps in summer and sun. It's the veritas of teachers eager to share and learn together, of North and South blending so well. It's the veritas of the jokes these teachers tell, the hilarious poems they write to each other, like those that jest about how Yankee Doodle and Johnny Reb gulp their grits.
It's the veritas of the recital last evening at Blessed Sacrament Church given by these teachers themselves, the truth of Bach and Couperin, of Jewish-American Joy Pitterman and German-American Hartley Pfeil singing "Shalom Rav," the beautiful song of peace. It is the veritas that ended the American Civil War and the Holocaust. It is the vision of an age-old dream in the process of becoming in the United States. And in this vision, my friend, lies my fervent hope that you will be reading this a century from now, in another time, in a better place.
Wretched Jersey Turnpike
July 14, 1989 Leave Jax for the Northeast where Sue will help run the Master Teacher Seminar in Greenfield, Mass. while I'm attending the Conference on Creative and Critical Thinking at Wellesley, Mass. As usual the drive discomforts me, especially the Jersey Turnpike where wretched service centers pop up every 15 or 20 miles. Hordes pile into these centers to fill their bellies and gas tanks. A few companies—like Texaco and Shell for cars and Roy Rogers for food—hog all the business. The few clerks I've dealt with have been curt and impolite. One Texaco gas jockey smarted off at me when I asked if a pump was self-service (I saw no signs indicating the kind of service). We argued heatedly and ended up calling each other "assholes" (he said it first). It seems funny now but could have been a serious situation.
Beauty and "Metacognition" at Wellesley, MA
July 16 - 21, 1989 At Wellesley College I'm staying in a dusty dorm with cobwebs on the window sills. The bed is comfortable enough. A student told me that the tuition here is at least $20,000 a year, about $100,000 for a four-year education. The campus is one of the most beautiful I've ever seen: 500 acres of smooth greens bordering Lake Waban, around which runs a nice path for strolling and taking in nature. Like the college, the town of Wellesley thrives on natural and cultivated beauty: large 2-story homes, well kept lawns, various flowers—some in gardens, others borders of colorful blooms. People here move with a certain ease. Maybe a better word is grace. I've seen no jerky or loud folks. I heard some rock music coming from a dorm building where the kids looked high-schoolish in age and manner—maybe visitors getting the feel of the school. The rock group was mild really and didn't begin to suggest mob behavior.
I have two professors who have been presenting "a framework for approaches to critical thinking." (their words) They teach from 9 to noon each day, talk mostly in esoteric tongues, and offer little of practical value for the kinds of students I teach. To these profs thinking skills come in three types: micro skills, macro skills, and meta skills. "Metacognition" is one of their favorite terms, meaning to think critically about one's own thinking. In the afternoon (1:30--4:30), an attractive woman gives us some of her ideas on critical thinking and literature. She dwells on myth and literature and has much praise for Annie Dillard and Joseph Campbell. I haven't learned much from her either, but she's easier to talk with than the two theoreticians in the morning. Today she wore a transparent black skirt with a sheer white slip under it, sat on the desk, occasionally squirmed as she lectured. Once she threw one leg over the other but not fast enough to hide mid thigh. I wondered if she were an exhibitionist warming to student stares and the feel of the desk. A woman sitting next to me whispered, "Isn't that the most provocative skirt you've ever seen?" I said, "Oh yes, and it adds another level of interest to the class."
John Dillinger and henchmen in Phlox, WI, my wife's hometown
Dec. 15, 1985 Al Koeppel is a tall, thin man of 77 who has borne more than his share of life's troubles with dignity and grace. He has lost two sons and two grandchildren in car crashes and now his wife is in the middle stages of a major disease. He cares for her constantly, taking her to the bathroom, dressing and sometimes feeding her. Despite all this, he is a man of good humor who always has a joke handy. He's an excellent source of information about the Midwest of the 20s, 30s and 40s. Here are some memories in his own words:
"Some of those big-time gangsters used to come through Phlox. There was Baby Face Nelson. He called himself Charley Rand. He'd pull up to my filling station and get some gas and be as nice as he could be. He could talk on anything the folks around here knew, like making maple syrup.
"John Dillinger'd come through too because he had an Indian girlfriend out in Neopit [in the Menominee Indian Reservation]. Her name was Evelyn Frechette. He had a chauffeur who'd drive him and Evelyn around. They'd stop a lot at my station to get gas. One time on Easter Sunday my father took them to church with him, one on each arm.
"I don't remember exactly whether Charley Rand was really Baby Face Nelson or Pretty Boy Floyd. I'll have to check that out at the Antigo History Museum. I do know Charley Rand, as we called him, would hang around the station, shoot the breeze with all us fellas, and he'd make himself right at home. He even helped me pump gas once when we were very busy. We never knew where he went at night, but come daytime he'd show up often to get batteries charged. He'd often keep two batteries charging at my station. He said he liked to listen to his car radio a lot. We didn't know who these guys really were till they got killed and all the news came out in the paper.
"Back around World War I we had prostitutes who made a regular living out of Phlox. There was a regular family of 'em: it was first the mother, then the daughter when she was old enough to get customers. Everybody knew who the whores were and accepted it because there was a saw mill and hotels in town and lumber camps around and the single men had to have their women once they got through work.
"Yes," Emmy said, following her husband's memoir pretty well... "and those naughty ladies made it safe for decent women to walk the streets."
"Later in the 20s and 30s," Al continued, "the demand for whores got so great they were shipped in from Chicago and the big cities; they even came from smaller towns and were loaned out to whore houses around Phlox till the demand went down. For a while these girls were coming in all the time, but when the saw mill burned down all that whore-stuff stopped. That was way before World War II."
Ice Fishing in Phlox
Dec. 22, 1988 ...Observed an ice fisherman on Phlox Pond. Here and there along the pond you could see little huts to which the fishermen retreat to avoid the blasts of bitter-cold wind. The wind chill factor must have been 10 to 15 degrees below zero. I took the cold pretty well except my face which kept stinging from the icy gusts. The guy I watched had such tough hands he fished without gloves, took the fish off the hook barehanded and pitched them in a bucket which his little daughter was holding. As soon as the fish hit the air, they moved very little. Cold must stun them. Someone said the ice was about a foot thick. There were plenty of holes which men had drilled earlier in the day and left. They drill with augers, some hand-powered, others gas-driven. When they sit in their huts (warmed by little stoves), they attach an orange flag to their line; when it falls they know they have a strike. To ice-fish one has to be rugged and hearty....
Struggling in Wisconsin Winter
Dec. 15 - 26, 1990 ...In Wisconsin this time: first a week at Olympia Village, a winter resort in Oconomowoc. Driving in Milwaukee, we saw a bumper sticker that said, "Wisconsin, the Land of Cheese Heads and Beer Farts!" In Oconomowoc (about 40 miles from Milwaukee) I saw another bumper sticker that said, "My Ex-wife's Car Is a Broom." A tree right outside our apt. at Olympia Village still had cherries on it in dead winter. Some looked ripe, even edible, though surely not. This situation struck me as analogous to old age.
"The cold and bloody North!" my mother used to say about the weather she endured when she lived as a single woman in Chicago and worked at Marshall Fields. Well, we're really living through the same during these few days in Phlox. Garages and service stations throughout most of this state are working overtime trying to get cars and vehicles started. We hear report after report of pipes freezing up. Plumbers spend most of their work time unfreezing pipes. You walk outside and a wind chill of -30 blasts you in the face. My damned knee has frozen up. Its arthritis just loves this cold. I can't fully bend the leg when I walk, so I walk crooked. A few minutes walking like that and I must look like a weird gimp. I know it hurts like hell so I don't do much walking outside. Christmas night it was 25 below; next day it didn't get above -10.
Strangest thing: flies in the upstairs bedrooms of the house! Scads litter the floor and window sills. Some hang upside down on lamp shades; others stick to walls. Some crawl along the sills near the window panes that are frosted over on the inside. The cold soon kills them or knocks them out. "I've never seen anything like this in all my years in this house," my wife said. Her father said, "I scooped up a bunch of those flies and threw 'em in the toilet. I thought they were dead, but they started swimming around in there...."
It was nerve-wrecking driving to Milwaukee on Highways 45 and 47, both of which had many ice patches. We'd be driving along on a clear stretch and suddenly run into dangerous patches of ice. Once the car hit a patch and swerved a bit, scaring the hell out of me. Highway 41 was pretty clear, though....
Langlade County Fair in Antigo, WI: Pig Wrestling.
July 24, 2008 Thousands milling around, many farm and blue collar folks swilling beer and soft drinks, chomping brats, hotdogs, elephant ears, funnel cakes, and other junk.... Kids and young adults shriek on rides. One ride's a gigantic windmill arm whirling screaming bodies up and around and upside down. Sue and I are with her brother Tim and his pre-teen son Adam and we join the orgy, we three adults drinking dull lite beer, Adam a Coke. Sue and I gorge on elephant ears and I add a funnel cake. These things nothing but fried dough. Brown and powdered sugars coat elephant ears. Acid starts sizzling in my belly. It'll be Mylanta tonight. Oh what the hell, we're here like all the rest, for fun....
We get choice seats in the grandstand. The MC stands in a tower overlooking a small pen, the place of action, a barrel in the center. He pleads with people to get seated. "No standing in the aisles. No loitering at the fence." Finally, after a half hour delay over 3,000 butts are seated. Make that 6,000 plus buttocks. Thirty-two three-person teams crowd around a pig truck. The teams are young and frisky, 17 male and 15 female, dressed in all kinds of comical garb. One male team wears tutus. A female threesome preens in prom dresses. On the other side of the pen another pig truck, a long tube-like enclosure attached to the back of each vehicle for pig entry and exit.
"OK, folks, it's pig time!" bellows the MC. "Each team has 45 seconds to catch the pig and put it in that barrel. No pulling the pig's tail. No grabbing the pig's snout. Attendants lead the pig out one truck into the ring and take it out of the barrel and into the exit enclosure." An attendant quickly hoses the pen. A male team enters. I don't get their name. The pig toddles out. It just stands there, confused by human hullabaloo. "OK, folks, let's have a countdown!" yells the MC. We howl out the count. On 3 the team rushes like hulking wrestlers slipping and sliding and grasping and catching the poor porker and dumping it in the barrel in about 20 seconds. The ritual is the same each time as teams with names like Three Stooges (male), Peace Lutheran Piggy Catchers (male), Hog Heaven Hotties (female), and Raggedy Hams (female) try to be fastest and best. Here comes Promiscuous Prom Pig Pouncers. The gals stagger and stumble and slosh after their pig. Two totter-tromp like old ladies as if they're afraid to touch their "prey." One Pig Pouncer trips and falls. Two bump and bounce off each other. After 45 seconds the gals are disqualified. They don't seem to mind. They climb out of the ring slime-smeared and guffawing. Wonder if their messy dresses can ever be cleaned.
Bacon Mackers does nicely under 10 seconds. Paul Bostwick, brother of Mike, Jessie Koeppel's (Sue's niece's) fiancé, is one of the Bacon Mackers.... Many fans leave before it's over. We stay the course to see Team Porkies (men of the Antigo Fire Dept.) declared grand winner with a time of 7 plus seconds.
The Great Wife-Carrying Race, Minocqua, WI
Sept. 20, 2008 A bunch of slim younguns in their 20's and 30's line up (I saw a couple in their 40's; they really struggled). Each guy loads his gal this way: her crotch on his neck and butt to the back of his head, he holding her legs thrust out from his face, she hanging face down his back, clinging to him wherever she can get the best hold. Whistle blows and off they go rushing around hurdles (or jumpin' em if they can), splashing through thigh-high water, huffing and puffing up a steep hill to the finish line. I forget what the top prize was; there were plenty of prizes, ranging from 100 pounds of potatoes to 100 pounds of manure. We got interviewed by an NPR reporter, a woman who, like us, was enjoying the whole thing.
I remarked, "If Gloria Steinem were in her halcyon days, she might want to give this a go with a younger feller, if his wife could spare him for a run."
"Do I hear South in your mouth," she asked chuckling.
"Yep, Tennessee! And I tell ye, maam, my home state's got nothing on Wisconsin." I started to tell her it might, only because of the legendary One Legged Man at an Ass Kicking. Some locals swear this event occurs every four years at Dixie Lee Junction where the one-legged man swings from a tree and punishes the backsides of backsliders. But discretion grabbed my tongue and held it tight.
University of Wisconsin School of the Arts, Rhinelander, WI
July 25-30, 2010 An annual week of teaching and learning, featuring arts, crafts, music, literature, drama, and other things, even blacksmithing. You can get college credit for a number of courses. I've taken playwriting courses and this year had my best learning experience yet at SOA in Body, Mind and Spirit Practices from Around the World, an experiential course taught by charming Elizabeth Lewis who also teaches at Alverno College in Milwaukee and UW Waukesha. Body scans, deep breathing, meditation, activating energy centers (chakras), acupressure, mandalas, finger holds, hand massages were some of the practices we did. I'd had a few of these before from a highly skilled teacher, my sister-in-law, and thus was well prepared to expand my learning under Elizabeth's excellent instruction. At the end of the course Elizabeth gave each of us a card on which appeared the following in a circle:
Mandalas
The sky where it touches the earth
is a circle. The north star awakens in the
nest of night. Seasons form a great circle in their
changing, always coming back to where they were.
Our lives are circles from childhood to childhood.
Fists take the form of fully realized worlds. Birds make
their nests in circles for their religion is the same as ours.
My backyard is a yoga studio, the snow-covered earth a
practice mat. Looking east over the grey-washed lake, five
white tailed yogis salute the sun. On inhale antlers lift, on
exhale antlers bow, puffs of chilled breath touch air then
are gone. The seasons form a great circle where the earth
touches my yard. Outstretched hands can form fully
realized worlds. Life is a sacred circle wherever
Spirit moves. We all honor the same creator.
We always come back to where we are.
Elizabeth Lewis (2009)
Animals, Langlade County Fair, Antigo, WI
July 31, 2010
We've been attending this event the last several years. We like the 4-H arts and crafts, flower arrangements, cakes, bakes, and square dancers. As an eighth grader, Sue won top 4-H prize at the fair for her loaf of bread. That year she was the area's best public speaker and went on to compete at the state level. I especially like the Fair's animals. Some wonderful Guernseys and Holsteins this year, a number entered by young girls! Spying an udder full and veiny, I felt my fingers twitch and I was on that New Market, Tennessee stool again under Lady, Ross McNish's favorite heifer, Ross hovering over me.
"Don't grab or jerk them things, young Gentry. Git ye some rhythm thar. Keep that thumb and forefinger top the tit; don't want milk goin' back in her. Awrite, you're gittin' it. Lady likes Eddy Arnold. Ye know Cattle Call?"
"Not well enough to serenade Lady. I can't yodel either."
Ross let out a yodel almost as good as Eddy's best and followed with "The cattle are prowlin'/ The coyotes are howlin' /Way out where the doggies roam/ Where spurs are a jinglin'/ And the cowboy is singin'/ His lonesome cattle call...." He sang the whole song, yodels and all. Lady loved it. Wasn't long before squirts and squishes became a bucket of fresh milk, 101 degrees Fahrenheit! We let it cool a spell. Then Ross and I each had a glass full of the richest, tastiest cow's milk I've had anywhere.
Pigs are my favorite animals. This year the Fair's pig barn housed some fine ones and young girls were among the entrants. If you're not a devout vegetarian, you might find some of the signs over the stalls clever and amusing. "Samson," read one. "A lean, clean, bacon machine." Each stall gave the pig's name, its sire, the entrant's name and hometown. In admiration, one guy was rubbing the back of a hefty, pink porker as it poked into a pan of finely ground feed. I added two caresses to its back; the skin felt tight and nipply.
"I always wanted a pet pig but never lived anywhere where that was doable," I said.
"Chickens are my favorite," he said. "If I could, I'd have a whole field full."
[In August of 2007 I took the following piece from my journal and posted it in segments on the Cormac McCarthy Forum. It has since been slightly revised. A growing number of scholars and discerning readers rate McCarthy America's best living novelist. Yet in 2012 he was again not among the American nominees for the Nobel Prize. I comment on this matter at the end of this article.]
A Comparison of Thomas Mann's The Magic Mountain and Cormac McCarthy's Suttree
Thomas Mann's The Magic Mountain, Cormac McCarthy's Suttree—I thought I knew why I wanted to talk about these works—for their "modernism" I told myself. Upon reflection I find great difficulties with this approach. First, after much study of Western modernism and its creators—artists, thinkers, scientists—and critics, I must be honest with myself (and anyone reading this) and say that I'm no longer sure what "modernism" is except that "newness" seems to be one its salient characteristics, if not its overarching ideal. In this sense Suttree with its esoterica certainly qualifies as "modernist." Mann, however, recalls earlier novelists in his use of devices like the narrator-commentator who takes the reader into his confidence, calls the protagonist "our hero," occasionally intrudes and transitions like this: "the reader can believe us when we say…"; "we let the curtain fall now, to rise one more time." Yet Mann's brilliant focus on time, nature, music, nationalism, sickness, health, medical institutionalization, his survey of ideas and arguments and philosophical currents that helped to push Europe into World War I, his use of Nietzsche—all these elements stamp The Magic Mountain with the indelible mark of modernism.
Another difficulty in arriving at anything like a workable definition of modernism is that it began sometime in the mid to late 19th century and may still be going strong. Depending on which scholar you read, modernism as a cultural movement ended in the late 50's, or about 1963 (a watershed year: the murder of JFK, ground-breaking works like Betty Friedan's The Feminine Mystique), or in the early 70's, or is still with us. I think you could make a pretty good case that "postmodernism" is really evolving modernism inclusive of globalism, multiculturalism, high technology, and other relatively recent developments.
Still another difficulty for me in dealing with modernism is the extremism of some of its leading figures. The Futurists, for example, celebrated modern technology in a number of dynamic paintings. Influenced by Nietzsche, they also scribbled wild manifestos that had he lived to read them might have cheered Nietzsche or sent him screaming out the door to hug another horse. Arguably, the most notorious piece is F. T. Marinetti's War, the World's Only Hygiene (1915). Written at a time when Europe was hell-bent on committing its first act of 20th century suicide, this thing reminds me of something Judge Holden, the arch-villain of McCarthy's novel Blood Meridian, says, "War is god" (249). Ezra Pound's optimistic dictum "make it new" resonates with belief in the power of art to invent, improve, transform. Yet he took his ideal and marched backward with it into bloody fascism. Film pioneers Sergei Eisenstein (Potemkin) and Leni Riefenstahl (Triumph of the Will, Olympia) used their art to support regimes that murdered millions. Is "extremist" too mild a term for these movers and shakers? Maybe fools or schizoids might be more to the point.

Yet, who but a politically correct enthusiast would deny them their rightful places in art's pantheon. I think of other modernist lights and their defects: T. S. Eliot's anti-Semitism, for example, William Faulkner's rash statement about racial conflict (''If it came to fighting, I'd fight for Mississippi against the United States even if it meant going out into the street and shooting Negroes.''). As far as I can tell, World War II and the Holocaust cured Eliot of his prejudice. Thankfully, his "Four Quartets" boosted the spirits of many of us sick of war and disillusioned by modernist excesses.

Those who have almost succeeded in dumping Eliot in the dustbin because of his pre-war backsliding do literature and culture a grave disservice. Shame on you! As for Faulkner, certain black aesthetes tried hard to dump him and Mark Twain. Fortunately rational heads prevailed, including insightful African-Americans, and helped to preserve the reputation of these great writers. Let's hope that Eliot has such rescuers! Anyway, in all fairness, it should be said that Faulkner remained a gradualist on racial integration (and in this respect on the wrong side of history as did many whites then). He died not long after he made the inflammatory statement. In fact, he passed several years before the worst of the riots.
Back to Mann and McCarthy. I have no particular reason for discussing The Magic Mountain and Suttree except that they fascinate me with their striking similarities and differences. A summary of Mann's novel follows:
The Magic Mountain is set in the decade before World War I. The story opens with Hans Castorp, the protagonist and a young German engineer in his early 20's, about to embark on a shipbuilding career in Hamburg, his hometown. Before starting his career, Hans decides to visit his tubercular cousin, army Lieutenant Joachim Ziemssen, who is trying to get well at a sanatorium in Davos.
Davos is a quaint town located high in the Swiss Alps. I enjoyed two visits there before I read Mann's novel. When I began the opening chapter years later in Jacksonville, FL, it immediately engrossed me. It wasn't long before I became one with Hans, both of us transported from flatlands near the sea to the beauty and rarefied air of the Alps and the sanatorium (called the Berghof in the novel), a little world that unfolds as a microcosm of pre-war Europe.
While visiting Joachim, Hans gets what seems a minor infection and fever. The trouble won't go away. Behrens, the Berghof's chief doctor and director, diagnoses it as symptoms of tuberculosis and persuades Hans to stay for treatment. Hans stays seven years. During this time his militarist cousin dies as a result of leaving the Berghof in a weakened state to engage in army maneuvers and exacerbating his condition. Joachim's death is one of many experiences that deeply affect Hans. He matures; learns about art, culture, politics, human frailty, disease, death, and love. His principal teachers are the secular humanist and encyclopedist Lodovico Settembrini, the apostate Jew and Jesuit absolutist Leo Naphta, the medical director Behrens, the magnetic hedonist Mynheer Peeperkorn, and the elusive Russian beauty Madame Chauchat. (Her French name translates as "hot pussy cat.")
The novel concludes with the beginning of the war. Hans is drafted into the army. We last see him on a battlefield, one of three thousand troops charging into deadly fire to try to retake a nameless hill. Hans is singing to himself about love as he stumbles on. It doesn't look like he will survive.
The Magic Mountain combines realism, autobiographical touches, and allegory. Mann's narrator functions like a kindly father-professor sitting at the reader's side to help us understand his "hero" and all the situations that affect him. At the beginning of the story, Hans Castorp is a provincial young man with a narrow technical education. Through his disease and experiences at the Berghof he gains greater understanding and insight. In Mann's words (in his afterword for the 1927 English translation), "what [Hans] came to understand is that one must go through the deep experience of sickness and death to arrive at a higher sanity and health…." Allegorically, the Berghof is Europe: beautiful, sophisticated, learned, and sick. Hans and gung-ho Joachim are Germany, pressured by East and West, acted upon by forces it helps to unleash but can't control.
Suttree combines realism, autobiography, and allegory. With its loose episodic structure and lack of chapter divisions, this semi-autobiographical novel defies clear summary. Cornelius (Bud) Suttree and the narrator are two sides of Cormac McCarthy interwoven with considerable fiction. Rather naïve, Bud throws himself into situations that almost destroy him. Like Hans Castorp, Bud goes through deep experiences of sickness and death to arrive at what he sees as complete selfhood: "I learned that there is one Suttree and one Suttree only." (461) Like Mann's narrator, McCarthy's is learned, a keen observer and reporter of copious details in the physical world. Unlike Mann, McCarthy does not reach out to the reader. More complex than Mann's, McCarthy's narrator is aloof, a master of disgust, sometimes in Bud's head, mostly out. Allegorically, Knoxville is a doomed Atlantis, a prison, a hell that will destroy Bud if he stays there. McCarthy is more surreal than Mann. For example, after the witchy Mother She gives him a good hexing and humping, Bud knows "what would come to be that the fiddler Little Robert would kill Tarzan Quinn."* (430) [Quinn, the brutal cop in the novel, is based on a real person with the same nickname, "Tarzan." See endnote for details.]
Epiphanies! We have all had them in one way or another. Consciously or subconsciously, in daydreams or night dreams or both, or fully awake in deep concentration on something—in any of these situations an epiphany may come to us, sometimes suddenly with no apparent cause, other times after an accumulation of intense, closely related thoughts and deeds. Either sudden or the result of cumulative forces coming to a head, the epiphany is revelatory, to some degree awesome, insight-producing. We see deeply into people or places or things. If the epiphany is especially powerful, we see deeply into all these elements, even into what we think is the real nature of the world (of course, we could always be mistaken). Epiphany itself doesn't last long. Its effects may be short lived or long-lasting, life-changing.
In the chapter called "Snow" (Magic Mountain, 460-489), Hans Castorp experiences the Alps in ways that culminate in a profound epiphany for him. Hans has enjoyed sitting many a wintry day on his balcony "playing king" of a wonderland of snows and forests and mists and fogs and magic mountains that disappear "in the misty phantasmagoria" only to be freed of clouds and appear again in wondrous fragments. But he wants "a freer, more active, more intense experience of the snowy mountain wilderness." Encouraged by Settembrini, he buys skis and under the critical eye of his Italian mentor, he practices with them behind the Berghof out of sight of the authorities who forbid strenuous exercise. He revels in his new skills, finds deep solitude in the beautiful mountains that rise up around him—"not hostile, but simply indifferent and deadly." He gains courage, feels sympathy with the elements that awaken in him a "devout awe," that give him "a suitable arena where he [can] resolve his tangle of ideas" imposed by Settembrini and Naphta who, in his words, "scuffle pedagogically for my poor soul, like God and the Devil struggling over a man in the Middle Ages." Now he's ready to venture much further into the wilderness.
He poles away from Settembrini, vanishes into white darkness ignoring the pedagog's cupped-hands-warning of danger. Ever higher he goes, pushing his way toward "a misty nothing," sometimes stopping to thrust his ski pole into the snow and watch the greenish- blue light jump from the deep hole as he pulls the ski out. The light and color of this "optical phenomenon" remind him of the eyes of the school boy Pribislav Hippe with whom he once was deeply infatuated and of Clavdia Chauchat with whom he is still in love. He skis on. Suddenly he's racing downward, then up again, then down into "fogged-in forests," that jut wedge-like into open ground. He stops to smoke a cigarette, feels oppressed by the silence and dangerous solitude. But he's "proud of having conquered it," feels "a courage that came from his intrinsic right to such surroundings." He pushes on "delighted by this freedom to roam, by his own winged independence."
He presses "ever deeper into the wild silence, into this uncanny world that [bodes] no good." Fear grows in him. He realizes that he has "secretly, and more or less purposefully, been trying to lose his bearings all this time…." Fear oppresses him. A snowstorm is threatening. Prudence cries, head back! "Oh, so what! I'll chance it!" Thus he defies prudence, even repudiates it, and "[plunges] ahead in his long wooden slippers."
What is this defiance, what is this repudiation but something close to the "contempt" Zarathustra expresses in Nietzsche's Thus Spoke Zarathustra: "What is the greatest experience you can have?" Zarathustra asks his listeners in the marketplace and answers his own question. "It is the hour of the great contempt. The hour in which your happiness, too, arouses your disgust, and even your reason and your virtue."
I see a very fine line between Hans Castorp's defiance and Zarathustra's disgust. As daring skier, Hans has repudiated the Berghof whose reasonable rules are designed to protect him and try to cure him. He has defied his own common sense. Even the narrator calls him "the crazy fellow" for pushing on. But push on he does into a blinding snowstorm. He's battered by terrific flurries; feels "fear, rage, disdain"; gets lost; suffers exhaustion. '[A] merciful self-narcosis' almost overcomes him, but 'my stormily pounding heart does not intend to lie down and be covered by stupid, precise crystallometry.' He skis around in circles, back to the hut he passed earlier, rests there, thinks he can stand there all night if he has to by changing leg positions.
At this hut begins the climax of a long adventure that started with Hans on his balcony enchanted by the magic Alps. Standing in the freezing cold, he dreams of being at a Mediterranean beach where he's never been before. The day is sunny, the sea blue, the area idyllic. It thrives with youth and beauty and all kinds of lovely people—all described by the narrator in elaborate detail. Then a boy points to a towering temple behind Hans. Hans trudges up the steps, goes inside and sees "two half-naked old women …dismembering a child," devouring it "piece by piece." He wakes up in the snow relieved to be rid of the awful women. Of the dream he says, "I knew all along that I was making it up myself." He gets up, checks his watch, is amazed to find he's been gone only a half hour. After a lengthy meditation on life and death and love, he sees clearing weather and manages to ski safely back to the Berghof.
In his meditation Hans states the essence of his epiphany:
"Man is the master of contradictions, they occur through him, and so he is more noble than they. More noble than death, too noble for it—that is the freedom of his mind. More noble than life, too noble for it—that is the devotion of his heart….Love stands opposed to death—it alone, and not reason, is stronger than death. Only love, and not reason, yields kind thoughts….I will keep faith with death in my heart, but I will clearly remember that if faithfulness to death and what is past rules our thoughts and deeds, that leads only to wickedness, dark lust, and hatred of humankind. For the sake of goodness and love, man shall grant death no dominion over his thoughts."(487, italics Mann's)
Hans Castorp and Bud Suttree gain knowledge and insight in a mountain area. At one point Hans stops to study some crystal snowflakes. He sees that no two are alike, the result of nature's "endless delight in invention, in the subtlest variation and embellishment of one basic design: the equilateral, equiangular hexagon. And yet absolute symmetry and icy regularity characterized each item of cold inventory." Curiously, Hans and the narrator find this absolute form "eerie…anti-organic….Life shuddered at such perfect precision, regarded it as something deadly, as the secret of death itself." Similarly, in his October visit to the Smoky Mountains, Bud is "surprised to find small flowers still." He studies "the delicate loomwork in the moss," "lichens fiery green," "scalloped fungus" on rotted logs, "pale indianpipes in pulpy clusters among the debris of humus and rich decay and mushrooms with serrate and membraneous soffits." He breaks a mushroom in his hands, has forgotten he's hungry. These little nature studies of Hans and Bud end with thoughts of death. However, unlike Hans's snowflakes, Bud's mushrooms are neither eerie nor hostile to life unless they're poison. Bud wonders if "you eat the mushrooms, would you die, do you care." (285)
Bud's attitude toward the mushrooms suggests that he's still fragmented, still in his psychic valley of despond. Yet there are signs in the mountains that he's dealing with his condition, suffering, working through it. He has visions: an "elfish apparition," "mauve monks in cobwebbed cowls and sandals," "old spectral revenants armed with rusted tools of war colliding parallactically upon each other like figures from a mass grave." Sitting on a gravel bar near icy water and "a green and reeling wall of laurel," he crosses his wrists in his lap and looks "at a world of incredible loveliness." The rest of this epiphany is best illustrated in McCarthy's past tense narration:
"Old distaff Celt's blood in some back chamber of his brain moved him to discourse with the birches, with the oaks. A cool green fire kept breaking in the woods and he could hear the footsteps of the dead. Everything had fallen from him. He scarce could tell where his being ended or the world began nor did he care." (286)
This revelation is soon followed by another one. Bud sees and hears a wild, hellish carnival of laughter and screams and "foul oaths" and all kinds of weird creatures and bizarre things, including "a gross and blueblack foetus" (perhaps symbolic of Bud's twin who died in childbirth). These visions enable Bud to see "with a madman's clarity the perishability of his flesh." Still, his other self, "[s]ome doublegoer, some othersuttree," eludes him and he fears that should he join that figure "in this obscure wood he'd be neither mended nor made whole but rather set mindless to dodder drooling with his ghostly clone from sun to sun across a hostile hemisphere forever." (287)
It will take other epiphanies for Bud to get spiritually whole. I need only mention them: the experience with Mother She helps him see "with perfect clarity" a number of important things in his youth involving life and death and pain. These visions conclude with a fantastic one of the future killing of Tarzan Quinn (427-430). And then there are the profound revelations and visions in Bud's typhoid delirium, this section of the novel a complex mix of Knoxville hospital treatment and Bud's spiritual insights. One of the most important he reveals to a nurse: "I have a thing to tell you. I know all souls are one and all souls lonely. (459)
Hans Castorp and Bud Suttree are upper middle class, educated, get funds from relatives, lose family members and friends to death, gain insight through dreams, exile themselves, experience violence, suffer and are cured of diseases, see death up close. I don't want to make too much of these similarities. Hans is a graduate engineer. We never learn what university Bud attended (probably the Univ. of Tennessee.), what he majored in, or whether he graduated. Hans is an orphan, raised by his great-uncle, and gets a substantial inheritance that enables him to reside seven years at the sanatorium. Mostly a fisherman, Bud goes stretches without hitting a lick of work: a short one after he receives a small inheritance from the estate of a dead relative, a long one when his whore funds him. Hans loses his beloved cousin to disease and another friend to suicide. He tries to stop a senseless duel between two of his "mentors" whose extreme ideas he's come to see as absurd. Ironically, well-intentioned Hans contributes to this situation that ends disastrously. Bud is haunted by the fate of his twin. He tries to save his black friend Ab Jones from the police but loses Ab to the murderous tactics of Tarzan Quinn.
Hans and Bud are drinkers, drifters, dreamers. Hans drinks to excess on occasion. Bud is alcoholic through much of the novel. Hans and other patients at the Berghof often engage in aimless diversions. In the chapter "The Great Stupor," for example, Hans "[plays] solitaire everywhere, at any time of day—at night under the stars, in the morning in his pajamas, at meals, even in his dreams." At times Bud wanders aimlessly around downtown Knoxville. Hans gradually cuts all ties with his past and hometown, makes the final break when his great uncle dies. Bud is a self-chosen outcast from the start.
Love! Hans has a great capacity for it, but his shy nature and the qualities of his romantic interest, Frau Chauchat, abort their relationship. While his boyhood fascination with a school peer may suggest incipient homosexuality, his adult affections for male friends are clearly platonic. His romanticism and rational scruples, his meditations on love and death, his ability to "play king"—all these enable Hans to achieve a Nietzschean "triumph over self," a new sense of transcendent love.
Love for a female—if this is what Bud Suttree finally feels for the girl-woman Wanda—plays a small part in his psychological odyssey. Much more significant are his complex feelings for his dead twin; his rejection of a ragpicker's nihilism; his personal suffering, visions and insights, an important one of which is "A man is all men."( 422) All these experiences result in a new self at novel's end, one that Bud and the narrator see as a healthy self love: "he'd taken for talisman the simple human heart within him."(468) This "simple human heart" is blessed by grace in the form of a waterboy, Bud's new spiritual twin, and a motorist who gives Bud a ride out of town and helps him "fly" all the death-in-life demons that Knoxville, the huntsman and hounds represent. (470-1)
The Magic Mountain is tragic. Europe with all its art and beauty, all its science and sophistication, all its philosophy and inspiring traditions nevertheless ossifies into rigid cultures that clash and finally erupt in war. Within this evolving tragedy Mann creates high comedy with sly parodies of 18th and 19th century narrative techniques, gentle pokes at the naiveté of his maturing "hero" and of cousin Joachim, amusing exposes of Berghof foibles. The novel is a marvel of organic development. All the characters and episodes in the little world of the sanatorium are magnetized toward the Great War. The chapter "The Great Petulance" contains passages that remind me of the divisiveness that has plagued the United States since the 1960's. Here Mann's narrator describes the mood of the Berghof before the start of the war:
"What was in the air? A love of quarrels. Acute petulance. Nameless impatience. A universal penchant for nasty verbal exchanges and outbursts of rage, even for fisticuffs. Every day fierce arguments, out-of-control shouting-matches would erupt between individuals and among entire groups; but the distinguishing mark was that bystanders, instead of being disgusted by those caught up in it or trying to intervene, found their sympathies aroused and abandoned themselves emotionally to the frenzy. They turned pale and quivered. Eyes flashed insults, mouths wrenched with passion. They envied the active participants their right to shout. An aching lust to join them tormented both body and soul, and whoever lacked the strength to flee to solitude was drawn into the vortex, beyond all help."(673)

In "The Thunderbolt," the last chapter, the Berghof is like "an anthill in panic" as the residents, most still sick, go "tumbling head over heels all five thousand feet down to the flatlands and its ordeal…storming the little train, thronging its running boards—if need be, even without their luggage." The last four pages show Mann the equal of Remarque and Hemingway in describing the horror of a modern battlefield. Stumbling into the hell of machine guns and artillery shells, singing part of a song about a tree on which are carved "[s]o many words of love," Hans Castorp symbolizes the patriotism and romanticism, especially the German varieties, that plunged Europe into the blood and mire of World War I. On a deeper level Mann prepares us for his hero's battlefield song in the earlier chapter "The Fullness of Harmony" where Hans is enchanted by a recording of Schubert's lovely "Lindenbaum" (linden tree). The song arouses in Hans feelings of love and death and most importantly a sense of transcending these contradictions and overcoming self. Here's Mann's narration:

"It was truly worth dying for, this song of enchantment. But he who died for it was no longer really dying for this song and was a hero only because ultimately he died for something new—for the new word of love and for the future in his heart." (643)

Earlier the Nietzschean spirit thrives in Hans Castorp's full realization of what the "Lindenbaum" means to him. But here on the battlefield he is caught between the clash of massive contradictions to which he is contributing and which will likely kill him. Here the Nietzsche that Mann has put in Hans "uses what tatters of breath he has left to sing to himself" only four shaky lines of the song and then "in the tumult, in the rain, in the dusk, [Hans] disappears from sight." Bidding farewell to his hero, the narrator/Mann takes the Nietzschean ideal as far as he can take it under the terrible circumstances, but that isn't very far. What we have in the last three lines of the story is Mann's slim hope for a better world:

"And out of this worldwide festival of death, this ugly rutting fever that inflames the rainy evening sky all around—will love someday rise up out of this, too?" (706)

Suttree is a comedy in the sense that it ends somewhat happily. Bud gets a complete self, though a lonely one; comes to terms with his dead twin; symbolically gains a new one (waterboy); and escapes Knoxville. Unlike Mann's sophisticated comedy of manners, McCarthy's Tennessee type rocks with raw, earthy, crazy frontier hilarity: Suttree's friend Harrogate screwing watermelons, sewer-rat Harrogate trying to blow into a bank only to explode himself back in a deluge of shit, the river baptism Bud witnesses, and other amusing instances.

Comedy, however, is a distant second to this novel's gloom. Its self-centeredness, its sadness-violence-doom all add up to a powerful story of high pathos. To me the ending seems overly contrived, as I argued in a previous McCarthy Forum thread. Mann ends much more convincingly than McCarthy. He controls his Nietzsche and allegory beautifully and doesn't let either upstage the realism of a now anonymous soldier "dazed" and "thoughtless" (Mann's words) singing to himself as he pushes on to almost certain death—a personal tragedy in itself. In contrast, McCarthy overloads Bud's situation with symbols of grace and medieval soul-devouring (huntsman and hounds) which seem to me quite Catholic and reactionary Catholic at that. I can't help thinking that McCarthy took Francis Thompson's "Hound of Heaven," one of the poems in the lit book we used to read at Knoxville Catholic High, and reversed the heavenly image to his huntsman-hell hounds that are hot after Bud as he leaves Knoxville.
I certainly don't fault McCarthy for debunking Catholicism and then using parts of it to suit his purpose. After all, artists are free to choose what they like from a system of thought, reject the rest, or use what they like and dislike separately or in combination. Some fail at it, some succeed. McCarthy doesn't fail with his ending, but he's heavy-handed about it (an opinion I defended in a previous McCarthy Forum thread.) He's capable of better endings as he will show in his later novels and in the play The Sunset Limited.
I come to the end of Suttree. I reread it, I study parts of it over and over, and I still wonder how much you've really changed, Bud. Sure, you've had incisive dreams and visions and your narrator-creator has built a hell for you to bum around in and escape. You leave behind friends who care a lot about you. How much do you really care for them? I wonder if you really mean it when you tell Trippin Through the Dew, your black friend, you'll return "sometime maybe" then weakly agree to write him a postcard. (468) I'm tempted to ask you where you're going, if you'll find things all that different in whatever territory you're lighting out to. If it's the West, no doubt more wide-open spaces and cleaner waters. But stick around there a while and things won't be so open or clean or nice. Those Texas wells will pump more and more bloody "black gold"—ah the oil business, now there's a "benign" industry for you (I knew it first hand and it's worse now than when I worked in it). And the western drug business, especially along the Tex-Mex border, will bring loads of misery and murder that will make Tarzan Quinn and his cop cronies seem almost nice by comparison.
Well, the story's over and you're free as the west wind, Bud—for now anyway.

* McCarthy's Tarzan Quinn is based on a real person, Lester Woodrow (Tarzan) Gwinn. At my request, McCarthy scholar Wes Morgan of the University of Tennessee sent me details on Gwinn which Morgan sometime ago had gleaned from Knoxville newspaper articles of 1955. Here are excerpts from Morgan's report: ...Gwinn was a large man standing 6 ft.-3 1/2 inches tall and weighing some 280 pounds. He had been a local Golden Gloves heavyweight boxing champion and an amateur and professional wrestler earlier in his career. During the Second World War he had earned the Silver Star, the Oak Leaf Cluster, as well as the Purple Heart, Good Conduct and marksmanship medals while serving as a sniper in the Pacific. Gwinn joined the Knoxville Police Department on July 9, 1949. On August 13, 1952, Gwinn was suspended for allegedly taking $40 in what became known as the "whisky bribe case." He was later reinstated. As a police officer he was known to be particularly tough on drunk "repeaters" and "shady characters" who made trouble on his beats. Some who remembered him described him as a sadist.
He had another side to his personality as well. He grew flowers and operated a seller's truck on Market Square during flower season where he habitually gave away the flowers that did not sell on a particular day. He was well known for his youth work and worked as a counselor at the FOP boys' camp. He and his wife Rose adopted a son, Harlas, after the child's father was made an invalid in an accident and could no longer care for the child. The Knoxville Journal also printed a brief account of officer Gwinn carrying a drunk found lying in the street about 50 or 75 yards out of the subfreezing weather to the warmth of his cruiser….
Gwinn was killed in the line of duty as a police officer on January 31, 1955. He was 40 years old....McCarthy seems to have gotten things a little mixed-up in his recounting. Officer Gwinn was killed by Roy Porter at the home of Robert Van Winkle, not by Little Robert. At the time, Robert Van Winkle was a hillbilly entertainer and musician who went by the name "Little Robert" ....In addition, Little Robert was best known as a guitar picker, not a fiddler as McCarthy would have us believe....Quinn was the maiden name of his [McCarthy's] paternal grandmother. A coincidence?
Mann, Thomas. The Magic Mountain. Trans. John E. Woods. Alfred A. Knopf, 1999. According to most Mann scholars today, this translation is superior to the first English translation of 1927.

McCarthy, Cormac. Suttree. Vintage Books paperback, 1979.
_______________. Blood Meridian. Vintage Books paperback, 1985.

Nietzsche, Friedrich. Thus Spoke Zarathustra. Trans. Walter Kaufmann. Penguin Books, 1976.


Unfortunately, McCarthy was again passed over for the Nobel Prize, which in 2010 went to Peruvian writer Mario Vargas Llosa. One wonders what chance McCarthy will ever have when the American nod in recent years has been going to, arguably, lesser writers. Even if he were to be nominated, he would have a hard time winning because of the strong Eurocentric nature of the Nobel Prize. It certainly doesn't help any American nominee's chances when his or her country is branded literarily inferior to Europe. According to Horace Engdahl, the 2008 secretary of the Nobel Academy, "There is powerful literature in all big cultures, but you can't get away from the fact that Europe still is the centre of the literary world ... not the United States," he told the Associated Press. "The U.S. is too isolated, too insular. They don't translate enough and don't really participate in the big dialogue of literature ...That ignorance is restraining." However, Peter Englund, Engdaul's 2009 replacement, sees Eurocentrism as "a problem" and has taken a better view of American literature and its Nobel potential.
Though Engdahl's criticism grates on my American ears, I believe there is considerable truth in it. With all our educational opportunities and multicultural advantages, we are pretty insular and seem to be getting more so. Our news is more and more local. Our media sensationalizes sleaze and violence and serves up too much celebrity fluff. I often have to turn to the BBC to get some idea of important developments in other parts of the world. Few of us know any language other than English, and many of us lack sufficient fluency in it. Sloppy, lazy usage is epidemic, even among journalists and professional writers who should know better. As Engdahl and other critics have observed, our art is much too concerned with mass trends in our culture. American literature has narrowed in focus and scope. Most of our writers are not wrestling with the big issues
A major exception is the work of Cormac McCarthy. At his most lyrical and transcendent, McCarthy is the equal of his influencer Faulkner; in dialogue and dialect he surpasses Faulkner. As a minimalist novel, McCarthy's The Road is better than most in the genre and, I believe, as good as Nobel winner J. M. Coetzee's best. McCarthy's most profound work—and there is much of it—speaks for itself and should alert any Nobel official that he is a worthy candidate for the Prize.
Still, there are elements in McCarthy that may hurt his chances. His fascination with "pure evil" (his description of the villain Chigurh in No Country for Old Men) and with hellish, almost unrelieved violence gives some of his work a medieval coloring. This emphasis probably stems from his belief (stated publicly) that we are going to destroy the planet well before any scientifically estimated end time. This may happen, but art should not despair to the point of offering little to no hope for the human condition. Interestingly, some devotees have called The Road, a post-apocalypic novel, McCarthy's most hopeful work and I agree. He has been rightly criticized for having few important women characters. When Oprah asked him about this lack, he said that he found women "mysterious." This is not surprising. American male writers generally have had a hard time creating memorable women characters. Notable exceptions include Nathaniel Hawthorne's Hester Prynne (The Scarlet Letter), Tennessee Williams' Amanda Wingfield (The Glass Menagerie) and Blanche DuBois (A Streetcar Named Desire), and John Steinbeck's Ma Joad (The Grapes of Wrath).
It may well be that Cormac McCarthy, 77, still very productive and reportedly in excellent health, may yet produce his greatest work and an American epic for the ages. He is currently at work on a novel tentatively entitled The Passenger.
November 17, 2009 Yesterday I finished a class at Oak Hammock at the University of Florida's Institute for Learning in Retirement. Taught by UF Prof. John Van Hook, it dealt with three novels: John Updike's rabbit, run and Rabbit Is Rich and James Kelman's Kieron Smith, boy. (this is the second class I've taken from Van Hook, the first one on three Southern novels, including McCarthy's The Road).... In addition to the class assignments I wrote the following argument:
Pro vs. Con on rabbit, run and Brief Mention of Two Other Rabbits
(Editions cited: rabbit, run. Fawcett Books, 1988. Rabbit Is Rich. Borzoi Books, 1981.)
PRO: rabbit, run still reads well after all these years.
CON: Aw, early Updike! Young writer straining to show he can turn a phrase about the American variety of the human condition.
PRO: Well, he still impresses this discerning reader.
CON: How so? Examples please!
PRO: Take that wonderful description of Rabbit ejaculating in Ruth. It's on p. 74: His sea of seed buckles, and sobs into a still channel.
CON: Pathetic fallacy!
PRO: Synecdoche extraordinaire!
CON: C'mon! Sperm doesn't sob.
PRO: But the mind does and it spurs the seed. Brain and ejaculate here make up one sad unit.
CON: You speak truer than you know. I guess you justify sea of seed on the salt connection.
PRO: Makes perfect metaphorical sense to me!
CON: Little reason for Rabbit to feel sad.
PRO: There most certainly is. He feels guilty. He's copulating with a prostitute while his wife is home worrying about him. When he sees the rose window church light on, he lowers the shade guiltily. (70)
CON: His guilt's here one minute, gone the next. Rabbit mainly wants to show her what a super sex pistol he is. Updike's having fun making the big bunny a classic bed bumbler. Maybe our author once had the same problem and he's comically exorcising the demon.
PRO: You are just speculating about Updike's sexuality. In their sexual tug-a-war Rabbit and Ruth do exhibit some comicality. But you overlook an important element: Rabbit's feminine tenderness! He wants to put Ruth on a romantic pedestal. Ruth feels transparent; Rabbit sees her heart. (74) Rabbit just about convinces himself he really loves her.
CON: Oh, please! On the next page he calls her "a beautiful piece." And down this page and onto the next his Christian Puritanism feels disgust at her washing up: There's that in women repels him: handle themselves like an old envelope. Tubes into tubes, wash away men's dirt—insulting really. Faucets cry. (75-76) "Faucets cry"—oh my!
PRO: Read on and you see guilt implied again. The more awake he gets the more depressed he is. From deep in the pillow he stares at the horizontal strip of stained-glass church window that shows beneath the window shade. (75-76) Updike is preparing us for the argument Rabbit and Ruth will soon have about religion and God.
CON: Before that Rabbit has a dream that turns wife Janice into a block of ice and melts her; then he awakes to sleeping Ruth beside him warm like freshly baked cake. (77) He soon prays silently, asking for forgiveness (presumably for bedding Ruth whom he earlier tried to romance) and for blessings on those closest to him, including Ruth. But when Ruth asks him if he believes in anything, he replies weakly, "Well, yeah, I think so" and he wonders if he's lying. He looks across the street and sees church people in their best clothes, wonders if they're walking on air, and clings to the thought of their best clothes as visual proof of the unseen world. Rabbit reduces spirituality (unseen world) to materiality (best clothes). (78-79) With this shallow simpleton Updike has become a deconstructionist.
PRO: Oh balderdash! He was writing long before deconstructionism was in vogue. Besides, when it did become the rage, Updike was highly critical of it.
CON: A proto deconstructionist then. Maybe an ur deconstuctionist! An artist can show certain characteristics and not even be aware of 'em. Remember Milton and Paradise Lost? That Puritan was of Satan's party and didn't know it.
PRO: That is highly debatable. I would certainly be on the con side in any such argument. I would hate to be somebody reading this. One might well wonder what you mean by deconstructionism. I'm not at all sure you know.
CON: Deconstructionism is anti-arbitrary judgment, anti-universal meaning. It's complex. I don't have time for a long explanation. To oversimplify, anything can be deconstructed, that is, subjected to intense analysis, broken into smaller and smaller parts, reduced down, down. Deconstructionists put a literary work under an analytical microscope. They finally find it meaningless because the author's intention is modified by so many factors: artistic, linguistic, historical, social, psychological, etc. Doesn't mean the work's worthless. Means it ultimately belongs to readers, not to the author. If it's really good—and rabbit, run overall is pretty good—its meaning will change over time as readers modify it with their ideas and values, some no doubt less valid than what Updike gives us, others more valid but none in any universal sense. It's like African shamen who tell a tale or sing a song. One shaman spins it one way; another shaman spins it another way. Truth is relative, depends on the point of view of the observer—Einstein!
PRO: Your physics is misleading. There are absolutes, the speed of light, for instance. Let us get back to rabbit, run shall we? The existential dread Updike said that Rabbit feels is as relevant today as if was in 1959 when Updike wrote the novel. It is universal, meaning for the ages, in this sense a literary absolute!
CON: Grant you, existential dread is Updike's intention. The angst in Rabbit's name and in the novel shows it. But the story itself undercuts the author's intention.
PRO: There you go, deconstructing again.
CON: Listen! Ruth tells Rabbit she likes him, in her words, "Cause you haven't given up. In your stupid way you're still fighting" (80). Old lady Smith tells Rabbit that when she sees him burning her rhodie stalks, "I knew life hadn't left me. That's what you have, Harry: life." (192) The irony is that Ruth and Janice are the ones who don't give up. We feel their pain; we're sorry for their weaknesses. After all bunny boy has done to them, they still love the lug. For every positive Rabbit shows, he falls down with greater negatives. When things get extra tough, he withdraws into himself and runs like the scared, hyper-sexual rabbit that he is. The novel moves not toward life but toward death. I could cite many examples of death and deathly suggestions, particularly in the last half of the book. At key points Rabbit feels death. In place or two it's almost as if he wishes it. He doesn't wish his baby's death, but he starts the awful road toward the baby drowning by getting Janice to take a drink. Rabbit is a running embodiment of chaos. He's finally meaningless.
PRO: Don't you feel any sympathy for Rabbit?
CON: Yes, but it's undercut by his faults.
PRO: "Undercut"! You love that word, don't you?
CON: Okay, overwhelmed! To gain my sympathy, a character must show something approaching parity of virtues and faults or at least suggest potential for balancing these. Too much virtue the character slides into sentimentality. Too flawed he or she suggests utter despair or cynicism or both. My sympathy for tender Rabbit is overwhelmed by his titanic egotism, his ignorance, his simplistic religious impulses, his selfish sexuality, his colossal immaturity. He's 26, been in the Army, presumably two years as a draftee. Yet he often acts as if he's barely pubescent. Updike has unwittingly created a straw boy and this discerning reader has little trouble knocking him down. Yet in the macho-American maleness of 1959 Rabbit's femininity, if not original in American lit, is fresh, rather novel.
PRO: Yes. When he stops for gas on his night ride to West Virginia, Rabbit has a weird impulse to hug a colored boy. (30) When he fantasizes about "nailing" Lucy Eccles, he thinks of her love for Freud and makes that attraction his own: come here you primitive father what a nice chest you have and here and here and here. (198) The Rabbit-Skeeter relationship in Rabbit Redux hints of homosexuality.
CON: Doesn't Rabbit panic when Skeeter gets off in front of him?
PRO: Yes. But in key places Rabbit thinks of appendages, especially of Ronnie Harrison's penis in Rabbit Is Rich. Updike may have hit upon a truth: at bottom homo sapiens is basically bisexual.
CON: That's highly debatable. If there's homosexuality in Rabbit it's incipient.
PRO: Well, it's a subject that deserves more study. But let's get back to Rabbit in the first novel. As things get tough for him, he gets more confused. There is a dynamic quality to his confusion, a sympathetic quality if you will. We feel Rabbit's pain and we should. We want to reach out and save him from himself. Mailer said it well, Rabbit is a young man who is beginning to lose nothing less than his good American soul, and yet it is not quite his fault. The power of the novel comes from a sense... that the universe hangs over our fates like a great sullen hopeless sky.
CON: Rabbit is mostly a static character. He runs at the beginning and he runs at the end. He doesn't know where he's going early in the novel, and he doesn't know where he's going at the end. If there's any dynamism to him, it's that he makes people worse than they already are. Because of him Ma Springer and Mom Angstrom are bigger nags and scolds; Jack Eccles gets more shallow and false; Lucy Eccles becomes more bitch, more like a tart; Fred Springer more angle man and crook; Janice more of a drunk. Rabbit's lust for Lucy prompts his desire to penetrate Janice front and rear. Her rightful rejection of him sets in motion a chain reaction that leads to baby Becky's death. Rabbit confesses to Janice it was his fault. But at the gravesite, he deconstructs into a defensive, self-righteous monster: "Don't look at me….I didn't kill her….Hey it's O.K….You didn't mean to." (253) How can you have much sympathy for this guy?
PRO: Because of his tenderness toward Janice as nursing mother, toward son Nelson. Because he is overwhelmed by circumstances, boxed-in, oppressed by a terribly materialistic society. Because of his spirituality!
CON: His spirituality! Didn't you see him reduce his cloudy notion of the "unseen world" to Sunday clothes?
PRO: He is really much deeper than that. There is a Heideggerian being-in-the- worldness about Rabbit.
CON: Really? You'll have to refresh me on Heidegger.
PRO: Like you on deconstructionism, I must oversimplify here. I think Updike oversimplified Heidegger, but the author used the philosopher pretty effectively. According to Heidegger, we are thrown into the world at birth. We did not choose to exist. We did not choose our bodies or our families. Yet we exist and we are constantly surrounded by the world. In this changing world of possibility we have Being (German, Dasein.) Dasein is the It that we cannot fully grasp because we are constantly moving, changing, thrown into possibility all the time. We are innocent of our thrownness, and we are responsible for how we relate to that thrownness. Though we cannot fully grasp this It, we can be with-It by making authentic life choices. Dasein can also be inauthentic depending on the choices one makes. What I especially like about rabbit, run is the profound tension between Rabbit's sweet innocence and his irresponsibility as he makes choices, often wrong ones, but tries to grasp the it, the thing he thinks is behind everything around him and his rightful place in this thing.
CON: Interesting! How about a major example?
PRO: The golf match between Rabbit and Eccles, one of the most important scenes in the novel! Rabbit tells Eccles that he knows what the thing is, Janice doesn't have it, so that's why Rabbit left her. Eccles doesn't believe in it, mouths a little Christianity, and gets sarcastic about Rabbit's it. Rabbit thinks to himself that he really wants to be told about it, wants to be told that it is there, that Eccles is not lying in church every Sunday. Eccles then raves about Rabbit's selfishness and cowardice. Angry at Eccles, thinking to himself that the minister is a madman trying to swallow his soul, Rabbit hits the golf ball and hears a hollowness, a singleness he hasn't heard before. He sees the ball rise and then recede along a straight line. Stricken; sphere, star, speck. It hesitates, and Rabbit thinks it will die, but he's fooled, for the ball makes its hesitation the ground of a final leap: with a kind of visible sob takes a last bite of space before vanishing in falling. "That's it, Rabbit cries….That's it." (114-116)
CON: Thought you said the Heideggerian It was ungraspable.
PRO: Rabbit has made the authentic choice not to rave back at Eccles, not to look at him, but to keep his cool and focus on the golf ball. When the ball's trajectory surprises him, Rabbit grasps its significance in terms of his life. It falls and vanishes out of sight, but it still exists somewhere, on the fairway, in a sand trap, in bushes, or some other place in the vicinity. Importantly, it didn't disappear. It did not die. Analogously, Rabbit wants Eccles to preach authentically, to tell him and the congregation that it (God) is alive, really exists. Though Rabbit cannot fully grasp it or the Godness it represents, he is suddenly with-it in the spiritual thrownness of the ball and of his life at this point.
CON: Well, you make a pretty good argument, but I think the few references in the novel to it and the thing behind everything are traits Updike has loaded on a simple, irresponsible being who's too emotional and volatile for contemplation. Rabbit doesn't have the education, maturity, or intellect to think in the figurative and philosophical contexts Updike puts him in. In one place Rabbit thinks of himself as the Dalai Lama (45). He doesn't know anything about the Dalai Lama except two radio reports that his whereabouts are unknown. In Rabbit Is Rich, a much better novel, Rabbit recalls his youthful interest in the Dalai Lama, but that's 1979 and here we must talk about what we're given and not given in 1959. This golf scene and its Heideggerian coloring are mostly Harvard Updike, not ignorant Rabbit. In this scene Rabbit would be much more in character if he called it God, but Updike keeps explicit mention of God out of Rabbit's mind. Rabbit's in true religious character when he prays a simple prayer like the one he said to himself after sleeping with Ruth the first time (78). The golf ball taking a final leap with a kind of visible sob is another Updikean pretension, literary artifice, this "sob" as bad as the last one.
PRO: Oh the figure is brilliant! Symbolically Rabbit is the ball thrown upward toward heaven. He doesn't want to be a speck and disappear. He wants to be a visible being rising toward God. But the ball's hesitation in space sparks a thought of death, but only for a second. Then a flash of sadness that the ball (Rabbit) cannot keep rising but must fall back down to the uncertainty of earth! Rabbit, however, has achieved new awareness of his place in the scheme of things and he exults, "That's it!"
CON: Okay, you make your case, but you make it for Updike not for Rabbit. The more I consider this scene, the more it says to me: Updike as Shillington Lutheran vs. Updike as Harvard intellectual. The intellectual wins, golf ball down.
PRO: Now don't tell me that there aren't people like Rabbit and the other characters in this novel. There most certainly are. Rabbit is a kind of mid 20th century American jeder mann.
CON: Oh my God! You and I and Updike are of the same generation. I'm not saying that there weren't Rabbit types in our day. Certainly a lot of 'em living off their parents today! But most of us in the middle and lower-middle classes then got up each day and went to work. Many worked and went to college. Don't know about you; I did both. If Harry Angstrom were truly representative of American man in 1959, we wouldn't be here talking about him in 2009. We'd be dead or in captivity somewhere.
PRO: You sound quite cynical.
CON: No. Updike's the cynic. rabbit, run's a cynical book. Well written, amusing in places, quite limited in truth, pretty much devoid of redemption.
PRO: There is redemption in its art, in Updike's marvelous use of figurative language, in the complex feelings of Rabbit and some of the other characters.
CON: It takes much more than skillful language to make a great book. Sometimes Updike turns preacher, like when Rabbit's walking a Brewer street in knots over Becky's death; the faces he sees wear the American expression, eyes squinting and mouths sagging open in a scowl, that makes them look as if they are about to say something menacing and cruel.(231)
PRO: That is fine psychological insight. Rabbit projects his sorrow and guilt on the faces of the people he sees.
CON: Okay, I'll grant you part of that interpretation. But what does Rabbit know of the "American expression"? He hasn't been out of the Mt. Judge-Brewer area except for an Army tour in Texas and a night drive to West Virginia. The "American expression" is Updike's sweeping generalization. At its core is a cynical attitude.
PRO: Oh let's just agree to disagree.
CON: Okay.
PRO: You said Rabbit Is Rich is a better novel. Do you have something more positive to say about Updike?
CON: Well, he's certainly matured as a writer. I didn't see any violations of point of view in Rabbit is Rich, but there are a number in rabbit, run. For example, in the St. Joseph's waiting room Rabbit feels anxiety, guilt, distaste for officious Eccles. Suddenly Updike makes Rabbit a satirist: Sister Bernard is relieved by another nun, a very old one, dressed in sky blue. As if in her climb toward holiness she got stalled in the sky. If this isn't meant as Rabbit's thought, then it's just amusing authorial intrusion. Toward the end of the paragraph containing Sister Bernard, Rabbit becomes a self-conscious philosopher: His life seems a sequence of grotesque poses assumed to no purpose, a magic dance empty of belief…. He feels underwater, caught in chains of transparent slime, ghost of the urgent ejaculations he has spat into the mild bodies of women (170) Later, in a playground scene with son Nelson, Rabbit reflects on his lost youth and for two sentences he's in character: He feels the truth….no search would recover it. No flight would reach it. But a few words later here comes Updike sounding his philosophical gong: The fullness ends when we give Nature her ransom, when we make children for her. Then she is through with us, and we become, first inside, and then outside, junk. Flower stalks. (193-194) I don't see this kind of pretentiousness in Rabbit Is Rich. The narration fits the characters pretty well. The scene I like best is when Rabbit's running in the Poconos above the dead and [t]he dead stare upwards…..He is treading on them all, they are resilient, they are cheering him on, his lungs are burning, his heart hurts, he is a membrane removed from the hosts below, their filaments caress his ankles, he loves the earth, he will never die.(141-142) Most of this passage is appropriate to the mind of a man, 46, trying to slim his fat body, still obsessed with athletic glory, increasingly aware of his mortality.
PRO: Yes. This scene is one of my favorite scenes, too. Rabbit's sensitivity and insights that were growing in rabbit, run have evolved into keen middle-aged awareness of things. He is more in tune with nature, more accepting of the world and his place in it.
CON: Rabbit Is Rich also moves toward death. The novel ends with Rabbit thinking of Fortune's hostage, heart's desire, a granddaughter. His. Another nail in his coffin. His. (467) Pretty depressing stuff!
PRO: Updike has captured the deathly materialism at the core of the American bourgeoisie.
CON: There's more to the core of the American middle class than Updike shows or knows. Oh, let's just agree to disagree!
Heidegger, Martin. Being and Time. Harper & Row, 1962.
Robert Gentry's essay below first appeared in 2012 on the Film Club website of Oak Hammock, a retirement community affiliated with the University of Florida. Writecorner Press published Gentry's revised version later the same year. He has been a member of the film club since its inception. Led by former UF Professor Norman Holland, the club consists of members from diverse backgrounds and professions. They vote on, then view and discuss a variety of films, American and foreign, classic and contemporary. The club's list includes works exceptional in technique and profound in human interaction, like Ingmar Bergman's Cries and Whispers, Yasujirō Ozu's Late Spring and Roman Polanski's Repulsion.
Gentry's awards include a grant from The National Endowment for the Humanities, a Pushcart nomination for short fiction, the First Coast Writers' Festival's top award in short fiction, and a prize in the University of California's Quest for Peace Writing Contest.
Complexity and Tragi-Comedy in David Lynch's Mulholland Drive
Robert B. Gentry
In complex works like Blue Velvet and Mulholland Drive, Director David Lynch works like a trickster. He plays filmic games, mixes implausible situations with plausible ones, spins fantastically off seeming reality, turns logic on its head. Critics whom I've read posit two stories in Mulholland Drive, one about two young women, a blonde and a brunette, who fall in and out of love, suffer illusions and confuse their identities; the other about film director Adam Kesher who gets romantically involved with the brunette and mixed up with a crime syndicate. According to this criticism, the narratives overlap and essentially become two separate, alternate realities that are extremely difficult if not impossible for critics to unify. In this scenario there are two blondes: Betty Elms who dreams herself as Diane Selwyn (or vice-versa) and Camilla Rhodes, a mob-favored actress. There are also two brunettes: Camilla Rhodes who suffers amnesia and assumes the name "Rita" and another Camilla Rhodes who becomes engaged to Adam Kesher and gets the nod for the leading role in his film. 1
I agree with much of this criticism but disagree with the idea of alternate realities. I see one overall reality of a young woman's tragic decline and fall, a story with overlapping situations and interrelated parts. I also differ on the brunette Camilla Rhodes. While she does suffer temporary amnesia and calls herself "Rita," she remains essentially the same person throughout the film. By taking a relatively common name, Camilla Rhodes, and giving it to two characters, a blonde and a brunette, Lynch plays on coincidence as he jumbles and relates plot details but leaves a few loose ends. My task here is to unscramble these elements, order them for clarity, and thus interpret the film's multilevel meanings. This process necessarily entails some speculation, particularly on the loose ends.
Overview of the Film's Disjointed Action. The opening scenes signal the style that Lynch and his crew use in the film: nonlinear action; abrupt transitions; intertextuality; striking variations in movement, light, sound and music.
First we see teens jitterbugging 1950's style. On the wall huge dancer shadows flicker ominously. Suddenly the radiant face of Betty Elms (Naomi Watts) fills the screen in a burst of movie-star music from Angelo Badalamenti's intriguing score--then come tones rumbling, haunting as the camera follows a black car cruising slowly down Mulholland Drive in Los Angeles--now a car with open sunroof and wildly cheering teens speeding down the same street-- back to the black car with two dark-suited men in front and a beautiful brunette (Laura Elena Harring) in back--the car stops in the middle of the street. One man says to the woman, "Get out of the car." He gets out pointing a pistol at her. The teen car roars in and crashes into them. A blood-red comforter appears; we hear heavy breathing.
Betty Elms won a jitterbug contest in Canada and a chance to audition for a part in "The Sylvia North Story," a film set in the late 50's and directed by Adam Kesher (Justin Theroux). The money Betty got from her dead aunt's will enables her to travel to L.A. for the tryout and stay in her aunt's apartment. She wants the starring role in Adam's film that a crime syndicate headed by Mr. Roque (Michael J. Anderson) is trying to control. Roque wants Camilla Rhodes (Melissa George) for the role, a blonde who resembles Betty. Adam, however, has chosen a brunette with the same name, Camilla Rhodes (Harring) with whom he is romantically involved.
Roque's two executives are brothers Luigi and Vincenzo Castigliane (Angelo Badalamenti and Dan Hedaya). One of their henchmen talks to Roque about "the girl" who is still missing. The girl is the brunette Camilla Rhodes, and the two black-suited men who stupidly park in Mulholland Drive are the hit men Roque sent to kill her. The hit men and teens are killed. Camilla survives the crash with a slight head wound but is unable to recall her name. She wanders into Betty's apartment, takes a shower, and is discovered by Betty. An incipient lesbian, Betty is immediately intrigued and offers her clothes and lodging. While Betty is getting the clothes, Camilla sees a movie poster of Rita Hayworth in Gilda and assumes the name "Rita." One of the film's keen allusions to Hollywood!
Betty and brunette Camilla become lovers while Camilla is involved with Adam. Betty loses the role to blonde Camilla, and Adam loses the film to the mob, but ironically it never gets made. Eventually brunette Camilla recovers her identity, she and Adam get engaged, and Betty is devastated. Her life degenerates into drug addiction, prostitution, confused identity, hallucinations. Seething with revenge, she hires her pimp to kill Camilla. Despair, drugs, and crime eventually send Betty to a tragic end.
Complexities and Meaning in the Non-sequential Story of Betty and Camilla
* The film begins near the end of Betty's life. Under the red comforter she has a drug-induced dream of herself as both dance contest winner and a movie star, her face up in lights. The comforter blankets her insecurity; its redness symbolizes the film's bloody violence, part of which will engulf her. During the film Betty dreams intermittently. In waking drug states she hallucinates.
* Betty arrives in Los Angeles, innocent-looking, awe-struck by the city, thrilled at the chance to become a movie star. At the airport she chats with an elderly woman (Jeanne Bates) and man (Dan Birnbaum). After they leave Betty, the oldsters sit in a taxi and grimace-grin like imbeciles. They represent age, cynical and callous, amused at Betty's naiveté, certain she will eventually be disillusioned.
* After Betty gets "Rita" comfortably settled, she finds a bag which she first thinks is "Rita's" purse. But it's full of cash and Betty is baffled. "Rita" has no idea about it either. She didn't have a bag or a purse when she wandered away from the crash scene. How did the cash bag get in the apartment? It makes no sense in this setting. It does make surreal sense in Betty's dream of Camilla as "Rita." There it prefigures Betty's purse full of cash that she pays her pimp to bump off Camilla.
* In the waking situation in Betty's apartment, she tries to help "Rita" recover her identity. She begins to remember things, like an accident on Mulholland Drive the night before. Betty calls the police to check. They reveal an accident on the street but no details. This is standard police procedure when all the dead's next-of-kin have not yet been notified. Betty and "Rita" find nothing on the crash in the newspaper since it happened too late to get in the edition they have. They go to Winkies Diner and are served by a waitress named Diane (Melissa Lahlitah Crider). The name triggers "Rita's" recall of the name "Diane Selwyn." They find Diane Selwyn in the phone book; Betty calls her number but gets no answer. Then they go to Selwyn's apartment 17 on Sunset Blvd. No one answers the door. They break in and find a woman's corpse on a bed. The body and clothing look like "Rita's" but the face is hideously shrunken. The corpse terrifies the women, "Rita" dons a blonde wig, and they return to Betty's apartment where they have sex with erotic intensity comparable to that of Dorothy Vallens and Jeffrey Beaumont in Blue Velvet. At 2:00 a.m. "Rita" suggests they go to Club Silencio. Again she wears the blonde wig.
All this action could also be interpreted as Betty's dream. Whether dream or non-dream, the corpse, I believe, symbolically points to the eventual break-up of Betty and Camilla. It also suggests the failed affair of Betty and the woman who lived with her after she broke up with Camilla. "Rita's" wig underscores her conscious or subconscious fear that the mob may again be trying to kill her and her desperate need for disguise.
* Betty and "Rita" become lovers. The highpoint of their affair occurs in scenes in which they have sex and attend a bizarre performance at Club Silencio. Silencio and action directly related to it constitute, arguably, the film's most complex scenes. My explanation of them fits better in the last part of this essay.
* Betty auditions for the leading role in Adam Kesher's film and wins the praise of a casting director (James Karen). He introduces her to two female associates and they lead her into Adam's movie set. On a sound stage a quintet with a brunette in the lead is lip-synching Connie Stevens' hit song "Sixteen Reasons." The brunette bears some resemblance to brunette Camilla Rhodes. Adam in the director's chair turns around and his hard-looking eyes meet Betty's anxious ones. The song ends and Adam calls blonde Camilla Rhodes to sing another hit, "I've Told Ev'ry Little Star." While she lip-synchs the song a tall man approaches and asks, "Have you got anything to say to me, Adam?" Then a bald man approaches and as Camilla finishes the song, Adam looks up at the men and says sullenly, "This is the girl." Bald man replies, "Excellent choice, Adam." Adam turns around again and he and Betty lock eyes. Betty breaks the "lock" by telling a movie woman that she must leave to meet a friend. Adam gives her a blank look as she flees the set. She descends the studio stairs and gets into her car where "Rita" is waiting.
This scene conveys five important meanings: (1) innocence and young romantic love shown in songs from the 1950's, to Lynch a far more wholesome era than the postmodern period of Mulholland Drive; (2) mob power over Hollywood, (3) shattering of a young woman's ambition for stardom, (4) intrusion of illusion signified by the lip-synching, (5) stunning loss couched in parallelism/irony: Adam has lost the film; Betty loses the role. She has already lost or soon will lose to Adam what she believes is her lovable gain: "Rita." Lynch sends Betty down the studio stairs into the car with "Rita" to signal Betty's early decline--a subtle, ingenious trope.
* Camilla eventually recovers her identity and is unfaithful to Betty. I see evidence of this in a car scene that occurs before Adam loses control of his film. It's part of a rehearsal in which Adam directs Camilla to snuggle up in the car and kiss him. It also suggests that Adam and Camilla are real lovers. They don't see a blonde standing nearby, staring at them with subdued anger. To me this woman's face differs considerably from those of Betty Elms and blonde Camilla Rhodes. Lynch may intend her as a combination of the two characters, a personification of distress over the misbehavior of Adam and Camilla.
* Camilla invites Betty to a party given by Adam's mother Coco (Ann Miller). To Betty's surprise, the party turns out to be in honor of Adam and Camilla's engagement. Adam further humiliates Betty by asking a blonde (Melissa George) to kiss Camilla "the right way." (my quote) Betty bursts into tears.
* Rejected and dejected, still carrying a torch for Camilla, Betty takes up with another woman who resembles Camilla. They break up and the woman takes her things out of Betty's apartment, which now may be Apt. 12 on Sunset Blvd, but the exact place isn't clear.
* Betty gets into hard drugs and prostitution; Winkies Diner becomes her place for drug and sex contacts. Her pusher and pimp is grungy Joe Messing (Mark Pellegrino), the same man who earlier killed a drug rival and two other people. In a scene outside the diner, Joe escorts Betty and a "john" to a dark van. She climbs up into the back of the van apparently to prepare for her "trick," and the scene abruptly changes.
* Betty meets Joe at Winkies, and they are served by an attractive waitress named Betty (Melissa Lahlitah Crider). This Betty signifies a normal woman, seemingly healthy and responsible, in contrast to unhealthy Betty. When the waitress leaves, Betty gives Joe Camilla's photo and a large amount of cash. The hit man tells her when the job is done, she will find a blue key. She asks him what the key is for and he laughs. Then he gives her an empty blue box. Betty looks up and sees Dan (Patrick Fischler) at the counter.
* In an earlier scene Dan tells Herb (Michael Cooke) that he dreamt a horrible figure behind the diner. They go out to check and approach a low wall. Suddenly a filthy, scarred face appears, Dan collapses in fright-- the face withdraws behind the wall. It belongs to a dirty, ragged, drugged-out squatter. In a night scene behind Winkies he lights a fire near an empty blue box. Then he trips out, hallucinating two wee people beside the box.
* After the Silencio scene, Betty finds a blue box in her purse that matches "Rita's" key. Upon returning to the apartment, "Rita" retrieves the key and finds Betty gone. "Rita" unlocks the box, and it falls to the floor with a thump.
The blue box is for drugs, probably LSD blotters that Betty, the squatter, and Camilla use. In asking Joe what the key is for, Betty is feigning the innocent girl she was before she became an addict. Sensing her pretense, the hit man laughs. The squatter, Dan, and Camilla with key and box I take as figments of Betty's dream or her waking hallucinations. They represent her dark side of drug addiction, hate, guilt and fear of death.
* Betty's personality severely disintegrates into waking perceptions of herself as Diane/Betty. A blue box and a blue key appear on her table. Drugged-out, she hallucinates herself topless straddling nude Camilla on a couch, then getting into a hot argument with Camilla over her involvement with Adam.
* Diane/Betty realizes the police are closing in on her. Like the squatter, she hallucinates two mini people, but hers morph into the old couple she met at the airport and then into wild fiends that chase her running and screaming around the apartment. She jerks open a drawer, grabs a pistol and shoots herself.
* What happened to Camilla? Either Joe terminated her or she married Adam. But since Joe Messing (notice his last name) and the other hit men in the film are bunglers, I think it more likely that Camilla became the new Mrs. Adam Kesher.
There is much more to Betty's last moments relative to the Silencio scene. Before discussing these, I want to illustrate the lighter side of the film.
Examples of Dark Humor
* Adam Kesher and his manager meet with Luigi and Vincenzo Castigliane and their henchmen about the leading role in "The Sylvia North Story." Lynch and his actors do a brilliant job of ratcheting up this scene's tension. The Castiglianes appear cold-laconic-threatening, typical big-dog mobsters; a waiter (Tom Morris) is nervous about the espresso coffee he serves Luigi; a henchman shows a picture of blonde Camilla Rhodes, the mob's choice; Adam protests; he and Vincenzo stare daggers at each other; Luigi spits a dark stream of espresso into his open napkin; Adam jumps up and shouts, "Get out of my film!" Vincenzo glares at him and says, "It's no longer your film"; Adam storms out of the room; Luigi gets up to leave; Vincenzo jumps up and yells, "Help me!" This outcry may be his drug flashback or a burst of Tourette's Syndrome.
* A henchman reports to Mr. Roque about "the girl" who is still missing. (brunette Camilla Rhodes) Roque sits motionless in a high chair in glassed-in isolation and says little. He represents evil incarnate, diseased and paralyzed, who would contaminate anyone who came into his room. He reminds me a little of Satan, the paralysis of evil in Paradise Lost, frozen in ice at the bottom of Milton's Hell.
* Adam runs to the parking lot, grabs a golf club from his sports car, dashes over to the Castigliane limo and bashes it with the club. He then drives to his own house, finds his wife (Lori Heuring) in bed with the yard man (Billy Ray Cyrus), and trashes her jewelry with paint. He and irate wife mix it up in a paint-smeared clash; yard man slugs Adam and throws him out of the house. Adam flees to a seedy hotel where he can't pay the rent because his wife has cleaned out their bank account.
* A huge mobster stomps into Adam's house, bellows out his name and incurs the wrath of Adam's hapless wife. She slaps on him and jumps on his back. Thug shrugs her off like a bear shaking off a fly. Yard man rushes in to fight thug--thug floors him with one blow. This scene recalls the slap-face antics in Mack Sennett films and those of the Three Stooges.
* Mob operative Cowboy summons Adam Kesher to his apparent corral. I say apparent because all we see is a light bulb and a cow's skull high above an entrance frame. In comical contrast to Adam and the other characters, Cowboy wears a ten-gallon hat and a heavy winter jacket. His speech is laconic; his accent sounds like a cross between West Texas and East Tennessee. Like Sandy Williams in Lynch's Blue Velvet, he walks out of darkness to make a point. Unlike Sandy, he makes his point almost devoid of expression: (paraphrasing) Adam, you got a bad attitude. You better correct it and give the girl the lead in the film if you know what's good for you (the girl is Mr. Roque's choice, blonde Camilla Rhodes). Then Cowboy walks back into darkness. Interestingly, he makes a passing appearance at Coco's engagement party for Adam and Camilla. The mob still has them under surveillance.
* Before his meeting with Betty at Winkies, hit man Joe, acting on his mob's orders, shoots a rival; in the process of trying to steal a list of drug contacts, Joe unwittingly fires through a wall into an obese woman's derriere. He rushes over there; he and the woman (Diane Nelson) start wrestling. The action gets hilarious as fat woman appears to get the best of hit man, but he manages to drag her by the neck down the hall and shouts to a vacuum-cleaner guy to call an ambulance. Vacuum man (Charles Croughwell) stands there mute and blank as hit man wrestles fat woman into another room. They bump and bang around in violent tussle as vacuum man pushes his cleaner going full blast into the room. Is he bent on sucking up all the dust and human mess, too? I ask myself chuckling. But my rib tickles abruptly end when hit man shoots fat woman and vacuum man dead. Vintage dark comedy a la David Lynch!
Crux. In the plots of a number of great works, I've found what I call a crux, a situation integral to the work and central to its meaning (not to be confused with literary crux, a difficult passage in literature possibly caused by corrupt text). A crux is like a keystone. Without it the art work loses something in plot and meaning. The crux of Hamlet is the "Murder of Gonzago," the play within a play which Hamlet uses to trap Claudius into revealing his guilt. The crux of Thomas Mann's The Magic Mountain occurs in the chapter "Snow." Here Hans Castorp, the main character, achieves dramatic self realization and comes to terms with his illness and life. In the film The Thin Red Line mystic warrior Private Witt envisions glory in nature amid Guadalcanal warfare to which he has contributed as killer of enemies and protector of his comrades. In the crux Witt is cornered and killed by a Japanese soldier as the sun shines above. This scene profoundly suggests humanity tragically contending with itself in war as glorious nature beams radiantly and indifferently through the trees.
The crux of Mulholland Drive occurs in Club Silencio. As I stated earlier, Betty and "Rita" make love then go to Silencio where music is playing. A bizarre M.C. (Geno Silva) shouts, "No hay banda [there is no band] it's a recording!" 'Rita" and Betty take a seat on or near the first row. A strange blue-haired woman (Cori Glazer) sits in the balcony.
A singer (Rebeka Del Rio) with garish make-up starts singing Roy Orbison's "Crying" in Spanish. The song rings beautifully, hauntingly. Like two endearing schoolgirls, "Rita" and Betty hug in glowing admiration of singer and song. Then teary-eyed they cower in cold fear suggesting their love for each other and sense of death. The Spanish singer collapses; M.C. and an assistant drag her off; the song goes on, a recording; no live singer. All this is a stage trick to make it look as if the singer dies in the middle of the song. With a grand sweep of his hand the M.C. declares, "All is illusion." The scene ends with a goateed, Satanic-looking figure filling the screen.
Lynch may be using this scene to suggest: (1) Club Silencio and its illusions are a kind of hell. (2) Film stardom, music, even love, are all illusory. (3) The ultimate reality is the silence of death. (4) Lynch's Silencio recalls Hamlet's last utterance: The rest is silence. No heaven, hell, or purgatory. Just silence, the big Nothing, which Western thought has an awfully hard time with.
As Betty is dying a monstrous image appears, similar to that of the squatter behind Winkies. The blue-haired woman from Club Silencio whispers "Silencio." After Betty's suicide there are 90 seconds in which her bed goes up in smoke and she and Camilla are shown in radiant white angelically beaming at each other." Their faces here compare and contrast with Betty's shining face that began the film on notes of joy and ambition. These last images express a fleeting vision of joy and love that death extinguishes. According to film theorist Andrew Hageman, "the ninety-second coda that follows Betty/Diane's suicide is a cinematic space that persists after the curtain has dropped on her living consciousness, and this persistent space is the very theatre where the illusion of illusion is continually unmasked." 2
Outcome. Whether the action in Mulholland Drive occurs mostly in dream settings or mostly in realistic situations, the outcome is the same: Betty Elms is a tragic victim of her own starry-eyed ambition and of societal corruptions.
David Lynch has brought fresh creativity to an American horror genre full of cliché, repetition, and gratuitous violence. Mulholland Drive is a prime example of his genius as a postmodern film artist.
1 Philip Lapote presents two especially engaging views of the film: Betty and Rita and Diane and Camilla exist in parallel universes that sometimes interconnect. Or the entire film is a dream, without a known dreamer. See "Welcome to L. A." Film Comment, 5 (37): 44–49 (September 2001).
2 Hageman, Andrew. "The Uncanny Ecology of Mulholland Drive," Scope: An Online Journal of Film & TV Studies, 11, June 2008.