Mary Sue Koeppel won the Esmee Bradbury National Poetry Award; an Art Ventures Grant; the Frances Buck Sherman Award for her editing of Kalliope, a Journal of Women's Literature & Art, the national literary journal; the prestigious Red Schoolhouse Award for Excellence in Teaching from the State of Florida; and the Faculty Excellence Award as well as many other awards for her poetry and short fiction. She is a Florida Humanities Council Scholar.
Recent Activities: Koeppel has again been invited to teach summer courses at the Univ. of Wisconsin School of the Arts, an annual week long program in Rhinelander, WI. Her courses this year: "Getting Mona Lisa to Talk - Art Inspires Writing" and "Mindful Poetry - Attentiveness to Creative & Spiritual Life." Recently, she taught "Poetry Books: The Chapbook Process" and "Poetry Critiques." In other summers she taught "Poetry: Sounds and Images," and "Poetry Books: Create a Manuscript of Your Poems."
Koeppel's books include Between the Bones (Canopic Publishing, 2005), In the Library of Silences: Poems of Loss (Rhiannon Press, 2001), Write Your Life: the Memory Catcher (Oldfield Press, 2000) and Writing Strategies Plus Collaboration (Pearson, 4th edition revised 2005). Order these books at
Award Winner: Koeppel won the First Place Royal Palm Literary Award for published poetry. Her book: Between the Bones (Canopic Press, 2005). She received the award at the 2006 annual Convention of the statewide Florida Writers Association.
Workshops: Koeppel holds creative writing workshops for college students, writing groups, elder hostels, retirement communities, and the visually impaired. She has often presented at the First Coast Writers' Festival and other writing events around the Southeast. Summers, she teaches poetry at the University of Wisconson School of the Arts at Rhinelander.
Readings: She does readings, recently at the Cummer Museum of Art and Gardens in Jacksonville, FL; the Spring Literary Festival in Charlotte, North Carolina; the Foxfire Gardens in Marshfield, Wisconsin; Barnes & Noble for the women's center benefit; Florida Community College African American History Month; Fernandina Beach for N.I.C.E.; the Unitarian Church of Mandarin in Jacksonville, FL, and others.
Koeppel is available for readings and other literary festival presentations.
Koeppel interviews writers for the T.V. show Writer to Writer picked up sometimes by PBS special programs. Her half hour interviewees include Joy Harjo, Carolyn Forche, Susan Vreeland, Robert Morgan, Yvonne Sapia, Les Standiford, Elizabeth Lund, E. L. Koningsburg, the Folktellers, Leslie Schwartz, Shelley Fraser Mickle, and others.
Between the Bones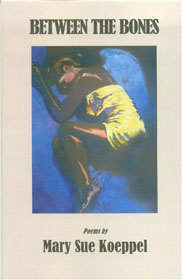 Softcover, 5.5 x 8.5, 96 pages
Praise for Between the Bones:
The Southeast Review: Between the Bones is gutsy....These poems demand answers to the questions humans cannot help but ask.... She even includes "For the Children of Oklahoma and 9/11" in this collection-a poem that most poets would not even attempt, let alone pull off. Koeppel's language is sparse, like the flesh found in between anatomical bones, yet rich and sinewy, confident in its quiet assertions. Dominika Wrozynski
Vol. 24, No. 1-2
Lola Haskins: Mary Sue Koeppel's poetry is compassionate, female, and distinctive. If you don't know her work, here is a great place to start. If you do, you won't be disappointed. From gentle build to intensity, from intensity to gentle fall, this is a lovely book.
Small Press Review: ... A brilliantly written collection. This is a welcome addition to our contemporary poetic world. January - February 2006 Joyce Metzger
Dorothy K. Fletcher: There can be no spot so deep, nor place so tender as that one which lies between the bones. Here is the place where flesh and spirit meet and where the secret pains and desires of a person live. Mary Sue Koeppel's new book of poems takes us to many of these deep places where she helps us examine what really matters-living, loving, dying, grieving, and overcoming.
To order Between the Bones, contact the Canopic Publishing Bookstore at www.canopicjar.com or www.amazon.com
In the Library of Silences,
Poems of Loss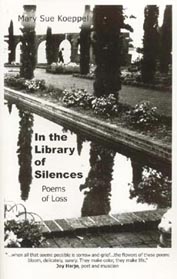 Praise for In the Library of Silences, Poems of Loss:
Marge Piercy: This is a strong focused book about the dimensions and intensity of loss and the slow healing after it. These are deeply imagined and fully realized poems. This is a book small in length but large in impact.
Joy Harjo: These are poems born in the dark, constructed during the winter of life when all that seems possible is sorrow and grief. But in the snow the flowers of these poems bloom, delicately, surely. They make color, they make life.
In the Library of Silences can be ordered on line through contact@writecorner.com or www.amazon.com
---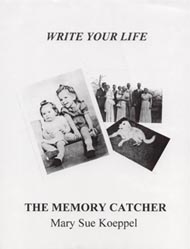 Write Your Life, the Memory Catcher is a workbook for writing your memoirs. Special sections take you through your life with questions to answer. Unusual for such workbooks, this one includes a section on hints for making your memoirs interesting reading and a special section about Sacred Family Stories. Write Your Life, the Memory Catcher can be ordered on line at contact@writecorner.com