Henry A. Sheldon holds a BS in Agricultural Engineering and an MS in Environmental Engineering, both degrees from the University of Florida. He is a licensed civil engineer in Florida and Georgia, specializing in the planning and design of municipal water and wastewater systems. He has worked as a consulting engineer for 40 years, twenty-three as Staff Engineer with CH2M Hill, Inc. and seventeen years self-employed as a consulting engineer for Leesburg, Lake City, Jasper, Greenville, Fruitland Park, FL and the University of Florida. Henry also worked on various national and international planning, design, construction, and training projects and served as a line manager for various operating divisions and construction groups. He is active in the Archer Historical Society, Fort King Heritage Association, Inc. (President), Athenaeum Society at UF (Past President), Friends of Dudley Farm, Inc., Florida Historical Society, Inc., and the Native Plant Society. His historical research includes the History of Fort King, placed in the U.S. Congressional Record and Sheldon Spring, a Florida spring in Lake County, named in his honor. Henry currently lives in Gainesville, FL with Patty, his wife of 42 years. They are avid travelers and outdoor enthusiasts and are devoted to their two dogs and two cats.
The following story deals with Henry Sheldon's service as a Combat Engineer (Airborne) in training and during the Vietnam War (1965-1972). It concludes with his assessment of that war and insights into the West's current struggle against fanatical Islamists. Henry's military decorations include the National Defense Service Medal, Parachute Badge, Vietnam Service Medal, Overseas Service Bar, and a Letter of Commendation from his CO for all his accomplishments as Executive Officer of the 45th Engineer Group in Vietnam.
What motivated you to join the Army?
I was full of esprit for the Army as a kid.
My father, Harold A. Sheldon (b. 1915), had joined the Army (illegally but with permission) at age 16 (1931) in Tampa to ride the horses at the Fort Homer Hesterly Armory. Horses were used by the Army in those days to pull artillery pieces. He was a small frame, 5'10" kid and only 16 when he entered UF in September 1930 (he had skipped two grades of school in Tarpon Springs and Tampa). Horses were his confidence. At UF he became cadet master of horses. He graduated in 1935 with a B.S. in Pharmacy and with a Reserve Officer Commission (ROTC) as a Second Lieutenant (2LT) in the U.S. Army. This picture of him was taken in 1940.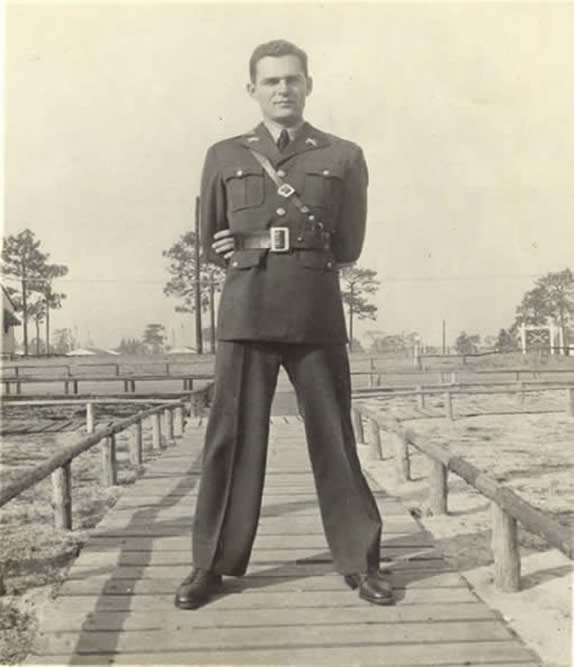 He was with the first American troops to face the Japanese in the South Pacific on Guadalcanal and fought them as an Artillery Officer for the entire duration of the war remaining 36 months in combat from Guadalcanal to Empress Augusta Bay, Bougainville; to McArthur's Philippines invasion; and finished the war as a Provost Marshal in Yokota, Japan. He went in as a 2LT and came out as a Major. He brought all kinds of pictures, samurai swords, Japanese weapons, and memorabilia back home that I spent hours intrigued with as a kid. He took me hunting and fishing and he always wore his Army green fatigue jacket while in the woods and digging fence posts. He retired as a Lieutenant Colonel in the Army Reserve.
His sister, my Aunt Helen, also served in the U.S. Army as a nurse. She looked great in uniform. She served with the 2nd Marine Division and treated the Marines wounded at Iwo Jima. I spent a lot of time as a kid with her and her husband AV Wilson as they did not have any children. At age 18, AV got me a job on the railroad. Both my father and my Aunt Helen were born in the wheat fields of Central Canada.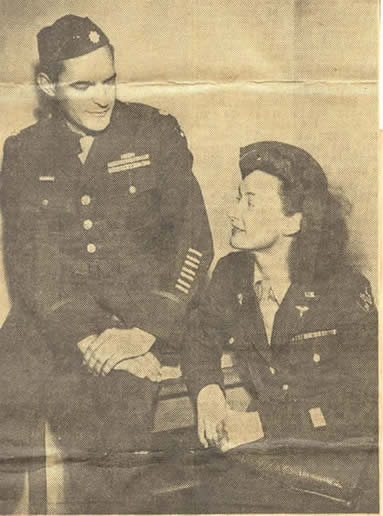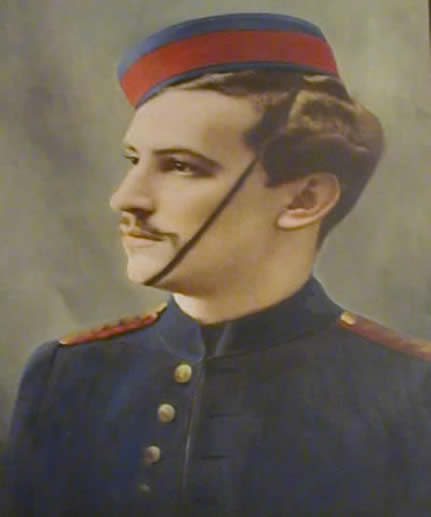 Tampa Tribune, 1945 Charles E. Sheldon, British Army, 1901
I also knew their father, my grandfather, Charles Edwin Sheldon (b. 1869). He was a full-blooded Englishman who had served in the British Army during the Boer War. A lesser son of English gentry, he moved his family from England to Manitoba, Canada, in 1906 to be his own boss. His British Lancer photo hung above our piano and still hangs in my family portrait hall today. When I was 7, I shined his shoes and he taught me how to play checkers. Two of his other sons, my uncles Alf and Charlie (both of whom I knew), fought with the Canadian Army in WWI and WWII. These Englishmen were all proud to serve their country whether it be England, Canada, or the U.S. I admired and was proud of these men and women and wanted to live up to their expectations.
Here's a picture of my mother, Harriet Ellen Hawxhurst (b. 1923). She was a New Jersey farm girl who met my father while working in Webb City, Saint Petersburg. She brought New England country wit, down-to-earth living, and rock solid equanimity to my life. She had keen insight and complete belief in me. She remains my primary Guardian Angel to this day.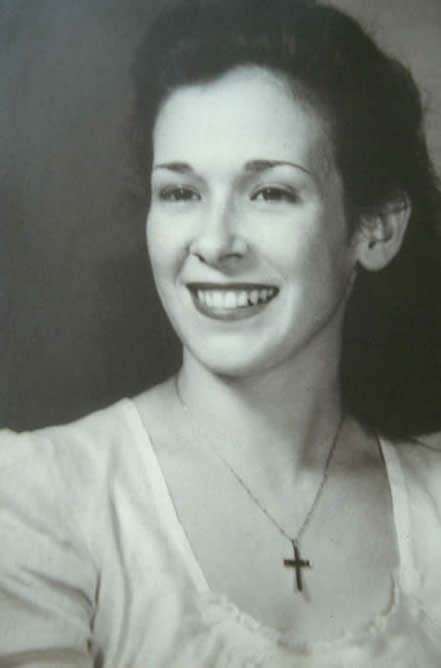 Another person that influenced me was President John F. Kennedy. I saw him up close in Tampa two days before he was killed in Texas. He had told us to "Ask What You Can Do For Your Country." The concept of country has always been important to me.
Finally, while most boys my age growing up in the late 1940's and 1950's were inspired by John Wayne's movies, my favorite movie hero was the Australian (British) actor Errol Flynn. I idolized Flynn, as the English pirate Captain Blood, the aristocratic rebel Robin Hood, and the English privateer Geoffrey Thorpe fighting for Queen Elizabeth in the Sea Hawk. This English daredevil fighter and romantic reminded me of my English heritage. However, nobody played a better George Custer than Flynn in They Died with Their Boots On. But Flynn's movie that inspired me in the Army was Operation Burma. Here Flynn played an Army Paratroop Captain who landed behind Japanese lines in the jungles of Burma and fought his way out. When I was assigned to Jump School at Fort Benning, Georgia, I would be jumping with Flynn in the jungles of Burma.
What units did you serve in?
The 47th Engineer Battalion (Combat/Airborne) Fort Bragg, NC from Oct. 1970 to Aug.1971). At Bragg I was the Assistant Supply Officer in charge of an Airborne Water Treatment Plant which would supply potable water to the Battalion, if deployed to the jungles of SE Asia.
I made 8 simulated combat jumps with the 82nd Airborne Division: 5 at Ft. Benning and 3 at Bragg from C-130's, a C-141 (Jet), and one from a Huey Helicopter. While at Fort Bragg, I completed training in a Cessna 150 and received my VFR Pilot License. I figured if I was going to jump out of a plane, I should know how to fly and land one. I left the states and entered Vietnam as a First Lieutenant.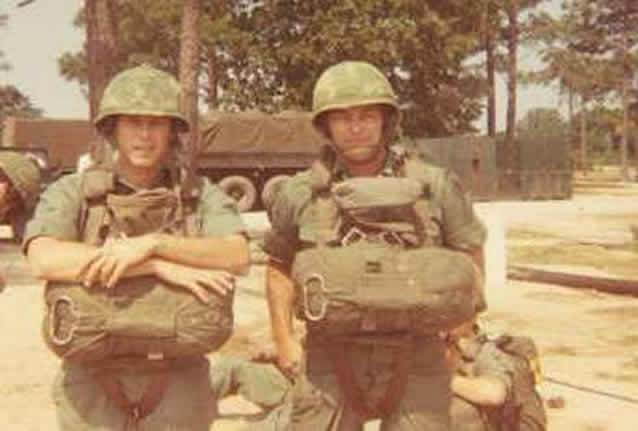 2LT Henry Sheldon (left) on Jump Day
What was your mission in Vietnam?
I was assigned as the Executive Officer, 45th Engineer Group, headquartered in DaNang, Vietnam. I was in charge of the Motor Pool, Finance (Pay Officer), Mess Hall (Food), Armor (Weapons), and Supplies (Expendables). I was also Provost Officer in charge of retrieving AWOL soldiers in the slums of DaNang. I assisted in shutting down Army basesas the U.S. began pulling out of Vietnam. Here's a picture of me standing beside one of our vehicles.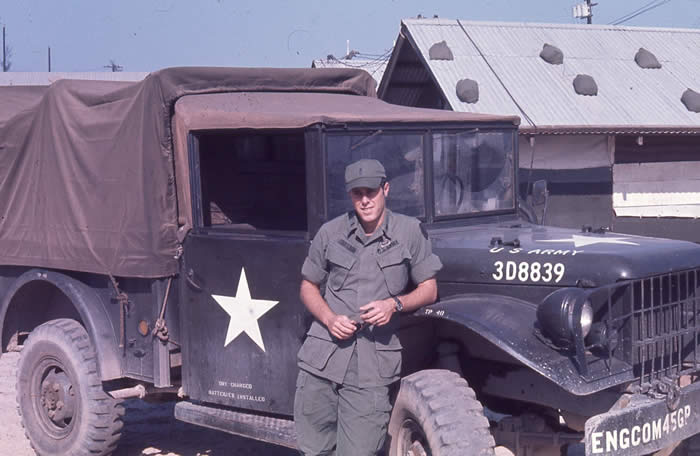 I stayed with the 45th Engineer Group until it left the country in January 1972. I was only in Vietnam for about 5 months. The Army was in full retreat and was standing down.
What was the most dangerous situation you were in?
Occasionally we took incoming rounds from VC at night but these were just harassment fire. No-one was ever hit. I was never in the jungle on combat missions. The jungle was in the mountains not far from the camp but we stayed on the coast roads. At this time (late 1971) the NVA/VC were in their final stages of recovery from the Tet Offensive (Feb 1968), 3 years earlier, and were staging for the March 1972 Easter Offensive. U.S. Army platoons patrolled the jungles above us but for the most part, the period was quiet. Active combat resumed just after I left.
Probably the most dangerous situation I faced was on the almost daily jeep runs through the refugee villages along QL1 (the main coast highway of Vietnam). I made these runs from Camp Haskins around the Bay of DaNang, across the Dong Saw River and through downtown DaNang to China Beach to pick up supplies and payroll. It was just me and my driver in a WWII jeep. I carried a 45 cal. pistol and he carried an M-16 rifle in his lap. When I carried payroll, $50K was in a briefcase strapped to my wrist, I had an extra armed soldier ride in the back seat for escort protection. I took various routes to minimize the likelihood of ambush. Several times Vietnamese boys and men would rush out of the shacks along the road and try to grab the briefcase away from me. One time they got my watch. Our SOP was to step on it to escape the "ambush" and not fire unless we were fired upon. There were several close calls, but I never had to open fire on them in their villages. I got good at escaping. I felt like a deer. Can't fight, but can run.
During these jeep runs through the refugee villages, what ran through my mind was always to be alert. Look for everything. I ended up buying a camera and taking a lot of pictures of the countryside and people at their daily routines. I was never scared, just alert. The thought of dying was not relevant. I wasn't planning on it, and if it happened, it was out of my control. I didn't want to kill anyone, but if someone was trying to kill me, I would defend myself. By the time I got to Vietnam, Westmorland's "Body Count" strategy of the war was history. We were now just trying to accomplish Nixon's "Peace with Honor."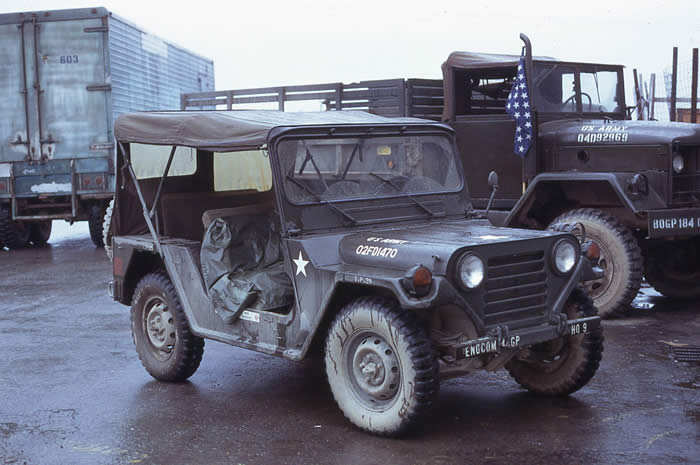 My Jeep, DaNang, Vietnam (Sept. 1971)
I just followed my orders and trusted to my guardian spirits (my mother, grandfather, grandmother, etc.) to get me back. In the meantime, I made Vietnam an extension of college: studying the people, their land, and their faith. I took an interest in the South Vietnamese and was invited into their homes for dinner, accessed via small alleys. Maybe these were dangerous situations, but I was not going to turn down a dinner invite even if it meant going down narrow alleys in the city. I was on a learning experience.
I was filled with calmness in Vietnam, not fear. I wanted to help bring the war to an end and be a good American in the process. If I died, it was OK. I had served my country and had been a good American in the process. I did not fear death then, and do not fear it now. I have known too many good people who have gone there before me.
I used the same state of mind 23 years later when I led a team of American (USAID) engineers into the deserts of Central Asia to build a water treatment plant for the people living in small collective farms 300 miles into the Kara Kum desert. We were the first Americans ever to enter this area. I went not as a soldier (as in Vietnam) but as an engineer. I went in as an American wanting to help. It was like a high-tech Peace Corps assignment. In both places I was honored and appreciated. In both cases I may still be alive because the local people looked after me while I was there.
What was the worst thing you saw in Vietnam?
I did not see any blood and guts. At Fort Bragg in infantry school, we were warned about atrocities we should expect including dismemberments, seeing our dead comrades with their penises and testicles cut off and stuffed in their mouths, etc., but I was fortunate I was able to come and go from Vietnam without exposure to such scenes. Had I witnessed them, I don't know how I would have reacted. I tried to stay on as high a ground as I could and see the scenes for what they were: a civil war between the people of Vietnam with no threat to the U.S.
The worst thing I saw was the sad dispossession of the village people into these trash heaps. I drove by little kids looking for food in the gigantic garbage dumps. I heard village elders tell me that the Vietnamese people are proud of their land and all of their hearts were broken by having to live like rats in these refugee villages. It was sad, but I saw behind it a proud and heroic people that could rise from the trash and rubble, after we left them alone.
What is the most valuable thing you learned in training that helped you in Vietnam?
Again I was in a combat zone, but not engaged in combat itself. However, I was always ready for it at any moment and was guided by these Army combat principles:
Be prepared (Boy Scout motto).
Know first aid, e.g. How to stop a bleeding wound.
Stay close to your men.
Fight in close, compact, formations.
Always carry a compass.
Always carry water.
Always take a different route returning.
Keep an eye on other vehicles and wagons.
Have a well-defined support network.
Study the land and the people, know their history, their religion, etc.
Know your weapon.
How did you relax in Vietnam?
I was mostly in a base camp (Camp Haskins), and it was relatively easy to relax. We had an officer's club where we could go have a beer and BS with the Huey pilots, play poker, and even play an out-of-tune piano. Occasionally, really talented Philippine rock bands would come in to perform with some lead female singers dressed in bikinis.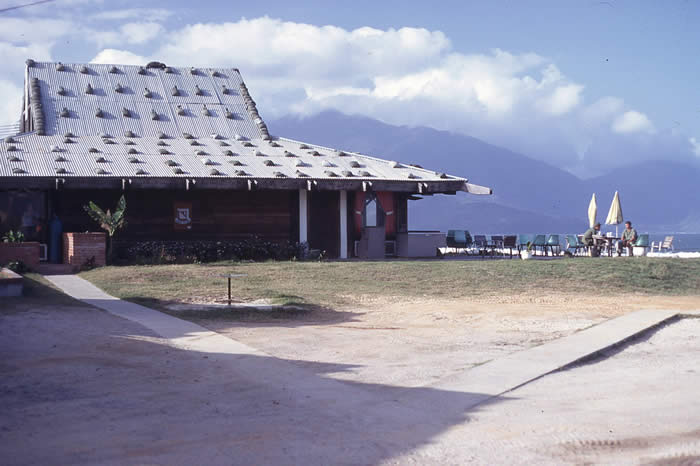 Officers' Club, DaNang, 1971
The commanding officer allowed prostitutes to come onto base to minimize the number of AWOL's and the runs we had to make into the villages to retrieve soldiers. The women were signed in and out by MP's at the main gate. They were treated well and paid well. We had more women wanting to get on post than we could accommodate. They were mostly ARVN officer wives looking for extra money. Still it was sad to me because they probably were doing this as a result of the war which had broken down their societies, and they were now reduced to basic survival. I never saw or heard of one of these women being harmed. We would not have tolerated it.
I never participated in this "cultural exchange" preferring the camaraderie of the Officers' Club and reading. Plus, the posters of Black Syphilis scared the hell out of me. This was a contagious sexual contact disease in Vietnam that would rot your genitals off as shown in big posters all over the base. I preferred the piano and singing along with the other officers, "We Got to Get Out of This Place.'' We told a lot of jokes and enjoyed the music of the Stones, Lightfoot, Kristoferson, Simon and Garfunkel, etc. We also enjoyed dances by Vietnamese children, dinners, pagodas, etc. An especially good way to relax was writing letters to my future wife Patty and to my parents. We had a library on the base and I always had a book in my hand.
What is your opinion of the fighting ability of the VC and the NVA?
While in Vietnam I had no contact with the VC or NVA and had very little opinion of their fighting ability. We were all very ignorant of the reasons we were there or the history of Vietnam that had led up to us being there. I tried to read everything I could find on Vietnam but there were no books available. The Pentagon Papers, the first real history of the Vietnam War, was published while I was in Vietnam (1971).
How did you find U.S. morale in Vietnam?
Generally, morale was bad in 1971. There was a state of unreality. We were shutting down bases and retreating in an organized manner. By 1971, we all knew we had lost the war. We knew the VC and NVA had not given up and at sometime in the near future would make another Tet-like attack somewhere. We didn't believe the South Vietnam Government would last. We felt sorry for the people.
Nighttime guard duty was a dangerous assignment. Many times I would call out the password to the guard tower 30' in the air but got no response. The guards could be dead of sniper fire. However, they were always doped out of their minds with drugs. We had no security. All I could do was turn them into the first sergeant and go back being Officer of the Day (OD). I knew I had to get out of there if I was going to survive. I stood as much of a chance of being killed accidentally by my own troops as by a VC attack.
AWOLs were rampant as described above. No punishments were inflicted. It wasn't worth killing someone for being AWOL in the arms of a woman.
Did you have any serious wounds, suffer any flashbacks, or receive any treatment?
I didn't receive any serious wounds from battle, but to this day I have tinitus (ear ringing) from all of the rifle and pistol firing we did. I can't watch a loud movie as it is painful to my ears. The only flashback I can remember was in 1994 when we moved into our new house and the burglar alarm accidentally went off. I jumped out of bed and grabbed my 45 Cal. thinking I was in Vietnam and the VC were attacking. We regularly had nighttime simulated attacks on the base with sirens blasting and everyone running to their battle stations. I disconnected the security alarm in our house and brought the dogs inside.
The lack of interest in us returning from Vietnam was hurtful but I understood it. We were all baby killers from the massacre at My Lai (1968). Of course, we weren't, but the Army was badly stained from that culminating event of the Body Count strategy. Throughout the country, ROTC was no longer a mandatory course at the Land Grant colleges for freshmen and sophomore boys. Patriotism became pecuniary. Whoever made the most money was the best patriot. This concept of what you can get out of the country rather than what you can contribute to it persists to this day, thanks to the Vietnam War.
I never had a treatment from the Vietnam experience. I began studying other unpopular wars in American History, namely the Second Seminole War and have since become an expert on it and a noted lecturer on it. It was my therapy.
What is your overall assessment of the Vietnam War?
For 20 years I basically forgot about the Vietnam War. No one was interested in seeing my slides or even talking about it. It was like losing a football game. You just didn't talk about it. In the 1980's, history books and movies slowly started exposing it. Now Vietnam represents two shelves of my 3,000 book library and I have read at least a dozen of the 30 books I have, on it.
I have changed my opinion on patriotism from the Vietnam War experience as follows:
Wisdom is more important than patriotism.
Patriotism without Wisdom breeds barbarism.
Ignorant, arrogant men got us into the Vietnam War. They are some of the worst statesmen the country has ever had, with the exception of the leaders of the South who supported Secession to "Save the South" rather than the end of Slavery to "Save the South."
If John Kennedy would have lived, it is possible that he would have withdrawn us from Vietnam. His murder paved the way for the Christian invasion of Vietnam.
In Vietnam and ever since, patriotism has come to mean dying for Christ, your Savior. You are no longer required to die for your Country.
This is the exact reason why South Vietnam (the Saigon regime) lost and North Vietnam (the Country) won. The North Vietnamese were fighting for their Country. The South Vietnamese were fighting for a corrupt, capitalistic Catholic regime. We sided with the Catholics (Christians).
We should never have been in Vietnam or sided with the Saigon regime. To the extent we were in Vietnam, we should have sided with Ho Chi Minh, not Diem.
We should have let the 1954 Geneva Accords play out around the proposed "Country Wide Election." Unfortunately, we backed the Saigon regime in cancelling the election because Diem (the Catholic) knew he could not win a country-wide election. Everything else just followed suit: Johnson's 1964 Tonkin Gulf incident, the 1965 landing of the Marines at DaNang, the bombing campaigns, the massacre of civilians, search & destroy, the siege of Khe-Sanh, Hambuger Hill, Tet, defoliation, Agent Orange, body counts, Kent State, demise of ROTC, post traumatic stress, the Hanoi Hilton, on and on. Everything started and could have been prevented in Geneva in 1954.
By 1954, we had become arrogant and militant having defeated the "Krauts" (Germans) and "Nips" (Japanese) during WWII. In 1954 (the same time of the Geneva Accords meeting), Congress inserted a couple of new words in Francis Bellamy's 1892 "Pledge of Allegiance". Instead of "One Nation, Indivisible," Congress made it "One Nation, Under God."
For good measure Congress also added "In God We Trust" to our paper currency. Now we were officially a chosen nation like the Jews and Christians of the Bible and free to wage war as we saw fit to promote God's bidding as he was "on our side." God certainly wasn't going to let some squint-eyed little communists, who didn't believe in him, prevail. We were given free rein to destroy Vietnam and its communists as a threat to God (Jesus) Himself. Off we went.
Only a few wise men suggested that Ho Chi Minh may be just another Tito, not bent on worldwide communist domination and only wanting his country back from the capitalists. But these men were not listened to.
We don't promote wisdom and humanism in the U.S.; we promote technology, superficiality, and greed. Technocrats (scientists, engineers, and computer technicians) are now the supreme threat to civilization. Bin Laden's 9/11 strike was a well-planned and executed feint. His goal was twofold:
1) Psychological -- To prove to the Muslim World that they could strike with impunity the Great Satan (the Christian U.S.) in his homeland centers (New York and Washington, D.C.) and as a consequence motivate the Muslim world to join them in their Jihad (to spread the faith) or "die for Allah" trying. In this regard, Atta was on the same type of mission as was Jimmy Doolittle when he and his raiders struck Japan on April 18, 1942, letting the Japs know that we could strike them at will and would soon be coming after them in full force. Although both were suicide missions, Roosevelt did not order Doolittle to die in carrying out the mission. Roosevelt wanted Doolittle to survive and fight another day.
Mohammed Atta who led the hijacking of American passenger planes on Sept 11, 2001, was a graduate architect and engineering student at Cairo University. He was ordered to die during the raid and willingly obeyed (surrendered to the faith). It was the only way they could make it successful. Neither Christian America nor Socialist Russia, England, and Germany have ordered a soldier to die as part of a mission. That doesn't mean that there are many men and women like Doolittle who would volunteer for suicidal missions, but their goal was to survive, not die. Atta planned and wanted to die. In fact, if he didn't die, the mission would have been a failure. In Atta, we face a new and far more dangerous kind of enemy. A highly educated technocrat, indoctrinated with being "Chosen by God." This enemy does not value civilization or even life on earth. They value only the "After Life." They will destroy all civilization and life on earth to achieve their "After Life Goals."
2) Economical -- Bin Laden knew he could not defeat the U.S. militarily. The 9/11 attack was an ambush intended to draw us into a prolonged war in the deserts of the Muslim homelands (Iraq, Afghanistan, etc.) and slowly bleed us to death economically. Bin Laden knew that our weakest "link" was our economy. As September 15, 2008 proved, our economy was a house of cards having been based for over 30 years on credit, greed, and accrued economics. Bin Laden's strategy was to force the U.S. (by the 9/11 attack on us) to spend billions and trillions of dollars fighting him and accelerating the collapse of the house of cards. Although we have killed him, our house is still made of cards with the wealthy getting richer and middle class getting poorer with job security diminishing. There is a day of (economic) reckoning coming and when it comes, we will have to pull all U.S. forces out of Islam (the Muslim homelands) because of the bad economy. Our only hope to contain the Muslim Jihad is to ally with the Russians as they are also threatened on their Southern borders by Islam. But we are still led by Cold War, After-Life, Midgets (primarily Republicans, but even some leading Democrats) who see the Russians as the main threat to Civilization. I disagree. The Russians along with all other Socialist countries of Europe are now the best hope for Civilization. Evangelical Christians and Jihadist Muslims are driven by Afterlife nonsense. The world must stand together to counter this new threat or we will all go down along with Mother Earth. I agree with Steven Segal. We need to support the Russians and let them have Ukraine so they will help us save the Earth and Civilization and fight the Jihadists and other "After Life" fanatics.
I still believe in the U.S. Army but in the context of the Preamble to the Constitution: "We the People ... Provide for the Common Defense...." It doesn't say we the Christians provide for the missionary extension of Christianity, nor does it say that we provide for the common "offense."
When I left Vietnam I was a First Lieutenant "up for Captain" upon reenlistment. I'm glad I went back to school and got my MS degree.
In February of 2011 Oak Hammock at the University of Florida lost two of its beloved founding members in the deaths of Gordon and Ruth Streib. Gordon and Ruth were dear friends of my wife Mary Sue and me. A sociology professor, Gordon retired from Cornell University as Professor Emeritus in 1975. Shortly thereafter, he joined the faculty of the University of Florida as Graduate Research Professor of Sociology. An internationally known scholar of retirement housing, Gordon was a key figure in the establishment of Oak Hammock at the University of Florida, the first continuing care retirement community that had a genuine relationship with a university with signed agreements about their mutual relationships.
Ruth and Gordon met at Columbia Presbyterian Hospital in New York City and married in 1943. At the time Ruth was a nutritionist and Gordon was a conscientious objector (CO) working in the hospital kitchen under a pacifist program sponsored by the Religious Society of Friends (Quakers) "I thought he was the smartest man I had ever met," Ruth said. "I was impressed with his ideals and his courage to stand up for them, though I personally didn't go against the majority on the war."
In 2009 I asked Gordon to talk about his experiences as a CO. Here is what he said:
I grew up in Rochester, New York, in a very religious family. The church we attended was The Evangelical Association which later merged with the Methodists when they became The United Methodists. I do not recall peace or objection to war ever being a part of the religious discussion at church or at home. I developed my thinking about war and peace quite freely and independent of any affiliation. While at North Central College in Illinois, I heard a number of speakers about world affairs and peace: Dewitt Baldwin, Sherwood Eddy, Kirby Page. These speakers may have mentioned Gandhi and his non-violent approach to change. The speakers were invited by Professor E. E. Domm who taught my only Bible course. Professor Domm was a great influence on me. I became a CO well before the war.
Characteristics of Conscientious Objectors
I had to write to my draft board explaining why I was a CO. I must have convinced them because I was given IV-E, and I didn't have to meet with anybody on the board. Some CO's got a hard time from their draft boards when they registered, but I was lucky. IV-E was one level above IV-F. IV-F meant unfit to serve in the military for medical or psychological reasons. IA-O was another status. A man classified IA-O did not want to "fight" but could wear the uniform, serve in a non-combat role, and was eligible for the GI Bill of Rights. My cousin had this status and became a chaplain's assistant. CO's like me were not eligible for any government benefits.
The CO program in World War II was deemed Work of National Importance Under Civilian Direction. The Civilian Direction was given by three peace church organizations, not by Selective Service Director General Hershey. The three peace churches were the Quakers. Mennonites, and Brethren. The Amish also had a strong peace church. Amish, Brethren, and Mennonites sponsored only those CO's who were their church members. The Quakers took anyone who was a genuine pacifist. CO's were often assigned to labor-intensive jobs.
As conscientious objectors we were not trying to keep from dying. We did not want to kill others who had not harmed us personally. I did not want to bayonet someone or machine gun people who had not done me any harm. Although I was of German descent, my pacifism was not ethnically driven. All the German Americans I knew were intensely patriotic. My brother was strongly opposed to my CO status. He said it would ruin my life and disgrace the family. He wanted to go in the Army to prove he was a patriotic American. He was sent to Ft. Bragg, worked in the Officers Mess, and was promoted to sergeant. They liked him so much they kept him at Bragg for the duration of the war. He married a North Carolina girl and stayed in Fayetteville the rest of his life.
An interesting aside about my brother: when I was on sabbatical at Duke University, he came to pick me up. I didn't see any car to ride in. He pointed to a state patrol car and said, "They owe me one." My sister later told me my brother was "a bullshit artist." (Laughs.)
Gordon Streib's Work as a Conscientious Objector
My first CO work was at a CCC [Civilian Conservation Corps] camp in Royalston, Massachusetts. We were assigned to a fire-fighting unit but there weren't many fires. My group dug water holes and put water in them for fire trucks to draw out in case of a fire. One time a Forestry Service bureaucrat tried to order us into a truck. We refused. We told him we took our orders from the Quakers. This same officious guy tried to get us to raise the flag. Again we refused on grounds that we reported to the Quakers.
I didn't work very long at Royalston. Columbia Presbyterian Hospital asked for CO's to work as orderlies or kitchen help. A burly guy advised me to take one of the hospital jobs because of the bitter winter cold in Western Massachusetts. I figured I'd work best in the kitchen so I washed dishes and did other kitchen chores at Presbyterian Hospital. Eventually, I was promoted to something like assistant chef. After they closed down the CO program at Presbyterian, some of us were sent to work at Welfare Island outside Manhattan. It later was renamed Roosevelt Island.
While I was a CO, I went on furloughs to Cheltenham Boys School in Maryland and to Byberry Mental Hospital in Philadelphia. I went there as researcher to gather information that later became the basis for my master's thesis at New School in New York. Cheltenham was segregated by race. Conditions in the mental hospital were terrible. I saw naked, incontinent men herded together in a room. Waste and feces all over the place! The way they cleaned these men was to hose them down. By the end of the war, there were 1,200 CO's working in mental hospitals. In fact, the movement to improve conditions in mental hospitals was started by conscientious objectors.
After the war, large parts of Europe and Asia were devastated. Before the Marshal Plan, Quakers were doing rehabilitation work in war-torn countries; they also aimed to help out in Germany and Japan. However, Congressman Joe Starnes of Alabama pushed through a bill that prevented the Quakers from giving any aid to our former enemies.
Gordon as UNRAA Worker in Devastated Poland, 1946
In '46 I volunteered to work for UNRRA [United Nations Relief and Rehabilitation Administration] on a ship, the Calvin Victory. It was 465 feet long and carried 500 horses bound for Poland. These horses and many others had been acquired from Nevada to help the agricultural situation in war-torn Europe. We unloaded the horses at Gdansk, formerly Danzig. I'll never forget the devastation in Gdansk. Piles of rubble just about everywhere! There were few people around. Some peered through basement windows at us. I went down into one basement with Hershey bars, aspirin, band aids and other things in short supply. The people couldn't speak English. I tried to communicate using some German. I said to one woman, "Ich bin Amerikaner," and they got very suspicious. But they accepted the things I offered because they had so few necessities.
We don't go to any church now. We tell people who ask what church we belong to that we're "home-churched." (We laugh.) Over the years I've gotten more realistic about world affairs and conflicts. Like the Jesuits, I came to see that some wars are justified. Looking back on it, I think that World War II was a just war. The Nazis would not have been able to conquer the world, but they and the Japanese had powerful forces and were doing tremendous damage. We did terrible things, too: the destruction of Dresden: almost 200,000 people killed; the fire-bombing and atom-bombing of Japan—those were atrocious things. In 1945 Japan was weak. I've often wondered why we didn't bomb the emperor's palace as a less destructive way to end the war.
My eulogy for Gordon and Ruth Streib given in the Oak Room of Oak Hammock at the University of Florida, April 2, 2011:
I want to thank Carol Nielsen, the Streibs daughter, and the rest of the family for inviting me to speak today. A week before he died, I visited Gordon in Assisted Living. I had a book to show him, for Gordon and Ruth were always interested in what Sue and I were reading and the projects we were involved in. "Virginia Woolf," he said when I showed him To the Lighthouse. I said I liked the novel very much, had studied it in an ILR course on women writers. "Good!" Gordon said. He was very weak that day; but in our last brief time together, his few words were strong and the glimmer in his eyes spoke profoundly to me. That glimmer was the same light that had shone much brighter in Gordon's active days and illumined his long, productive life. It was the light in Gordon's vision that helped to create Oak Hammock at the University of Florida. It was the light of Gordon's knowledge that had enlivened the philosophy series at Oak Hammock. It was the light of Gordon's wit and insight at many dinners he and Ruth shared with Sue and me. Yes, like the positive power of the lighthouse in Virginia Woolf's novel, Gordon and Ruth Streib were the light of dear friends to Sue and me
Ruth's light also shone in her keen ability to listen and assimilate points in our conversations about films, books, history or other subjects of mutual interest and importance. In these conversations, Ruth would often comment or inquire and get right to the heart of the matter. From what I know of Gordon and Ruth and their backgrounds, I believe they lived lives of compassionate wisdom. In the wake of World War II, compassionate wisdom took Gordon to Poland. Here's what he told me about that trip:
(quote) After the war, large parts of Europe and Asia were devastated. Before the Marshal Plan, Quakers were doing rehabilitation work in war-torn countries; they also aimed to help out in Germany and Japan. However, Congressman Joe Starnes of Alabama pushed through a bill that prevented the Quakers from giving any aid to our former enemies. In 1946 I volunteered to work for a United Nations relief ship called the Calvin Victory. It was 465 feet long and carried 500 horses bound for Poland. These horses and many others had been acquired from Nevada to help the agricultural situation in war-torn Europe. We unloaded the horses at Gdansk, formerly Danzig. I'll never forget the devastation in Gdansk. Piles of rubble just about everywhere! There were few people around. Some peered through basement windows at us. I went down into one basement with Hershey bars, aspirin, band aids and other things in short supply. The people couldn't speak English. I tried to communicate using some German but they got very suspicious. But they accepted the things I offered because they had so few necessities. (unquote)
In 1946 the Cold War was rearming Europe in fear and preparation for a hot war. But Gordon and the UN mission chose peace; they brought life to a suffering area in the time-honored tradition of reviving and nurturing the land. Gordon and Ruth would NOT want us to mourn their passing. I can imagine Gordon telling us, Mourning takes up too much energy. Use that energy to help improve the world. I can imagine Ruth telling us, What's the big deal? We all have to cross the bar. Have a glass of wine, enjoy yourselves.
So let us not mourn. Rather let us be ever inspired by the legacies they left us: Their marital devotion. Their love of family. Their strong, ethical principles. Their keen sense of humor. Their intellectual curiosity and growth. Their noble service to Oak Hammock, to Florida, to the world.
[As representative of the Streib family, Carol S. Nielsen, daughter of Gordon and Ruth Streib, approved the publication of Gordon's story and my eulogy on this website.]
William (Bill) Tango and his wife Carmen are founding members of Oak Hammock at the University of Florida. Bill is a retired school principal from South Florida, and Carmen worked in that area as a librarian and teacher. We looked through Bill's scrapbook of photos and news clippings about his Navy experiences in World War II. His war account follows:
Code Work, Kamikaze Attacks, and the High Value of Navy Sheets
I went in as a seaman, became a radioman, and eventually made Radioman Second Class. The rank's equivalent to one of the Army sergeant ranks. The test I took in basic training showed I had aptitude for radio and code work. They sent me to Keystone Radio School in Pennsylvania. I got very good at Morse code. They gave us a test every Friday. The tester would speed up the code rate to see how fast and accurate you were. Top five guys on the test got a full weekend pass starting on Friday. The rest had to wait till Saturday for their pass. I was usually in the top five.
My ship was the USS Appalachian. It was an amphibious communications ship. I believe there were only seven of these in World War II. I stayed on the Appalachian for the duration. I was in four invasions: Saipan, Guam, Leyte Gulf, and Luzon. We were also involved in two major sea battles in the Marianas and at Leyte Gulf during the invasion of the Philippines. The Marines suffered very heavy losses on Saipan. One reason was there wasn't enough shelling of Saipan and many Marines were cut down on the beach. Saddest thing I saw was killed and wounded being brought back in rescue boats. Each ship had a sick bay, but there was only so much room to handle the dead and wounded. I saw guys in terrible shape: legs off, bodies bloody, mangled. They were taken from first one ship then the other. Medics were desperate to find a place where the wounded could be placed and cared for.
We didn't want to repeat the mistake made at Saipan, so our ships and planes bombed Guam day and night for three weeks. Every enemy gun knocked out meant many Marines would not be killed. I mainly took code during these operations. Code came in a five-letter group, a space, and another five-letter group and so on. I didn't know what it meant, just took it down and handed it to another guy to put in plain language. I also gave target coordinates to our pilots.
Admiral [Richard] Conolly was nicknamed "come in close Conolly." He'd get as close as he could to the enemy shore. One time we were firing 5-inch guns at the shore. I was on deck then. Conolly kept giving orders to move the ship closer and closer; everyone was tense and unhappy. Finally he stopped; the Japanese opened up at us. Their shells dropped about 10 or 15 yards in front. We were bouncing around a lot but we weren't hit. My guess is Conolly knew the range of the enemy guns.
Your Oak Hammock bio lists five Bronze Stars. What did you personally do to earn these?
The Navy awards a Bronze Star for every major sea battle and for every invasion of enemy territory. We were involved in three invasions and two sea battles; so I was awarded a total of 5 Bronze Stars. I came close to death six or seven times. We had to dodge torpedoes and mines. Several times we were almost hit. You could see the torpedo coming; the ship had to outmaneuver it or be hit. There were times when I'd be in the code room working and hear our 5 inch guns start firing. When they fired, you knew the Japanese planes were pretty high. But when our 20 and 40 millimeter guns opened up, you knew a Jap plane was diving toward you—kamikaze pilot on a suicide mission! I got really worried. Just held my breath! That plane's coming in at tree-top level and they're either gonna shoot him down or he'll crash into us. I got so scared I stopped taking code. Just held my breath! This kind of thing'd go on all afternoon. One day I was on deck and a suicide plane was coming right at us. I had to decide whether to jump or stay on ship. I thought, "Oh my God, I'm gonna die at 19." We made a sharp turn and the plane flew over us. I saw the pilot in the cockpit; he hit another ship about 100 feet from us. The kamikaze went down 3 decks and 35 men died. We were just lucky. In war luck plays a large part in whether you live or die.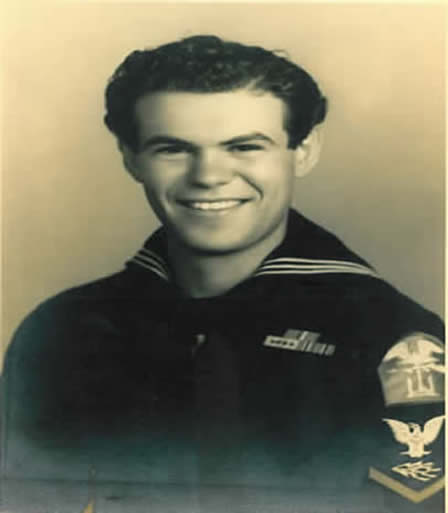 Petty Officer Second Class Bill Tango, age 19, with four Bronze Stars and the Navy Amphibious Forces patch. He would earn the fifth star for his part in the invasion of the Philippines.
Folks in the States really didn't know what all was going on with the kamikazes. The Japanese almost won the war with those attacks. It was a very effective strategy; they sunk and damaged a lot of our ships. We put out smoke screens which thwarted some kamikaze attacks.
I hated those helmets. They were hot and heavy on your head. If you weren't on duty, you could walk around, take a break, etc. One time I was on deck without a helmet. An enemy plane swooped in and strafed us—row of bullet holes right above me! Whenever I start to complain about little things like having to get up two or three times a night to pee, I think, hey, I'm here and I'm in pretty good health and darn lucky. I could've been killed over there at 18 or 19. You're gonna die from something.
Code taking is tedious work; you have to break occasionally and try to relax. We enjoyed going up on deck and watching the dogfights. I saw many planes drop from the sky, theirs and ours. Our guys shot down over 300 planes in one day. It was called "The Great Marianas Turkey Shoot." Here's a news article about it. Whenever a Japanese plane went down, we cheered. But when you stop to think about it, a guy's dying and you shouldn't be cheering. Wish I could find those Japanese letters a Marine gave me. Apparently they were letters written to loved ones back in Japan. Even though they're the enemy, they write home but they're killed and the letters don't get sent—another sad situation.
The Japanese used all kinds of ways to attack us. They'd hide under debris in the water: boxes and other objects. They'd float close to our ships and try to blow us up. Any boxes got near us, we'd fire on 'em. Every so often, I'd see machine gunners cutting loose at crates and other things in the water. The Japanese would take American planes that'd been shot down and repair 'em. They'd fly the planes to our bases, and throw grenades in the cockpits of our planes. One guy told me he was on guard duty with a sidearm and he saw this American plane fly in; Japanese guy got out—for a moment they just stared at each other. Our guy got scared, took off running and the Jap chased him. He ran so fast in and around parked planes, he found himself behind the Jap and shot him in the back and killed him.
In combat areas radiomen worked 4 hours on and 4 hours off. So did the radar guys. The other day I had dinner with Stanley Wolfe [another Oak Hammock resident]. He was in radar and started talking about 4 on and 4 off. You never got enough sleep. You'd see guys sleeping all over the place. Had to get your own replacement! If you couldn't wake him, you had to do his shift. Man, I hated waking replacements. They'd resist, curse you, kick at you, even threaten to punch you out. The only way to get 'em out was to grab their feet and pull. Some were bigger and tougher than me. It wasn't easy dealing with them. From then on I always treasured sleep. Now I sleep 8 or 9 hours.
The chief form of entertainment in the Pacific was movies. The Navy had a real caste system. The film couldn't start till the CO sat down. Officers sat on buckets and enlisted men sat on the ground. When the Marshall Islands were secure, we went there for liberty. They were pretty shot up, not a leaf on the trees. (Japs used to get up in trees and gun down Marines. The Marines got wise; first thing they did each day was machine-gun the trees.) The Marines had dug little holes and we all played a coconut game. Roll a coconut in one hole you win, role it another hole you lose. I didn't see any natives in the Marshalls. I guess a lot left and others were killed.
On New Guinea we traded with the natives. They wouldn't take anything but coins; they valued coins according to size. They thought a nickel was worth more than a dime. I was on liberty one time, just wandering around by myself. Natives started coming up; they were mostly naked. I took out a silver dollar and they surrounded me with spears. I thought, "Oh my God, just like in the Tarzan movies, they're gonna boil me in a pot." They crowded closer, jabbering, stretching out their hands. Then I realized they wanted to trade cat's eye seashells for my silver dollar. I gave it to the highest bidder and got several cat's eye seashells. They have two black marks—that's how they got the name. They're very rare.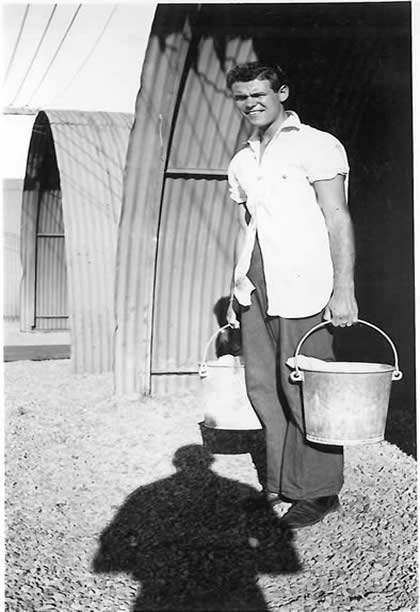 Bill Tango at New Guinea with buckets of clothes for the wash. "We carried around a lot clothes buckets," Bill said.
The Japanese stripped the Philippines bare. The people didn't even have sheets. A Navy guy found he could sleep with a girl if he gave her a sheet. The word got around. Sheets got very valuable. It was an economic thing. (Chuckles.) I recall going to the ship store to get toothpaste. There was a long line of guys buying sheets. Soon guys were running out of sheets; they were too valuable to sleep on. Guys stole sheets. They went on leave and hid sheets in their pants so the officers wouldn't see them.
Didn't the sheets give them a noticeable bulge? (Chuckles.)
Guess not. They got pretty ingenious hiding them. When another ship pulled near us, we'd signal we wanted to trade movies for sheets: Betty Grable, Tarzan, or some other popular film. They'd signal back, "Good deal!" We'd send films on a pulley and get back a basket of sheets. When they found out how valuable the sheets were, they were furious. See, this is a good lesson in economics. (Laughs.)
Often times I had to stay on the ship and take code while other guys went ashore. They'd come back and tell me their stories. At New Caledonia there was the Pink House. It sat on a hill and closed early in the day. When I went ashore, I saw guys running like mad up the hill to the Pink House, kicking up dust to make the deadline. The prostitutes at Pink House were French gals. The word was you could stay with a girl till your feet hit the floor; then you had to pay and get out.
At Pearl Harbor I got more liberty. The prostitution houses were always on the second floor. Below people were shopping and doing everyday things. The houses were like department stores. I didn't buy any girls, but I went in with guys who did and looked around. A girl cost $3 for 3 minutes. "Around the world" cost $4. There were rooms set aside for certain acts. If you wanted "Old Fashioned" you went to that room. If you wanted "Frenchie," you went to another room. Rooms were ethnically set up. If you wanted a Chinese girl, you went to the Chinese room. If you wanted a French girl, you went to the French room. I don't recall anybody ever choosing an American girl.
The Navy knew all this was going on; they condoned it, even gave shots to counteract venereal disease. I never saw any guy with venereal disease.
Yeah, the war was bad and you remember how bad it was. But you also remember other things. My cousin and I were at Guadalcanal at the same time, but we didn't know it. He was in the Navy too, and he wrote me a letter. I got it about three weeks after my ship left Guadalcanal. Some time later we sailed back to Guadalcanal. My cousin was in a motor boat next to our ship. He yelled, "Anybody know Bill Tango, my cousin?" A guy yelled back, "Yeah. He's a radioman here!" My cousin and I got together on board my ship and had a nice visit. There were the humorous things and fun times and things that make you laugh to this day.
I was 18 then and very patriotic. Everybody was patriotic then. I was inspired to write this poem. I didn't pay much attention to punctuation and things that English teachers worry about. I just wrote it from the heart.
yes, this is America
With the broad plains of our prairies,
With its guardian the western fairy,
With its full moon above on a silent night,
Giving out with its sparkling light,
yes, this is America
With New York City, which no one can compare,
With the bright colored lights of our own Times Square,
Where you can hear the rustle of the subway,
And the splashing of the water across Hudson Bay,
yes, this is America
A country where the morale is never low,
A country where every house is a U.S.O.
A country where the people can work 24 hours a day,
A country where there is now little time for play,
yes, this is America
This is the way it should be, as said by fate,
With its cities and states which are so great,
With its snow capped mountains and sun burnt sands,
For without doubt this is the greatest of all lands
yes, this is America
Where all good tidings the people bring,
Where of all its freedoms the people sing,
This is the land where we shall be,
For this is the land of the brave and the free,
yes, this is America
On August 16, 1944, I was serving on the USS Appalachian and wrote the following letter* to Joe and Rachel Ramey, first cousins of my mother:
Dear Joe and Rachel,
I guess it's been quite a while since I've been able to write you. I haven't been able to write to hardly anyone, practically all summer, not even home. You probably know some of the things that are happening out here and why I haven't been able to write. We were over in the invasion of Guam in the Marianas Islands most of the time. We really pounded the hell out of Guam, warships and planes working together just pouring shells and bombs into the island. Sometimes it looked like a blazing inferno with large fires all over the island, ammunition dumps blowing up, etc.
The Japs had quite a number of planes around the Marianas at first, and they had some pretty big sky battles as you probably read about, where we almost had a major engagement with the Jap fleet. We had a few air attacks on our convoy, too, but I can't tell you the results. Our planes really did some outstanding flying. You couldn't see any better. They were running rings around the Japs and bombing the heck out of them. They really went to town with their new rocket guns, too.
They had some tough battles to take some of the high mountains on Guam, and the Japs were stubborn as heck. They either fight to the last man or kill themselves. Some of them were dug deep in caves and hard as heck to get out. They had to use flame throwers on the them, that sure got them out in a hurry.
When we went ashore later on, all we could see was dead Japs all over the place, planes shot down, and cities completely destroyed. I got some souvenirs, and I'm going to try and make a bracelet out of a piece of a Jap Zero I got, which we shot down. We could have gotten some nice souvenirs if we could have taken them off dead Japs.
One afternoon when the Japs weren't returning our fire from shore with their shore batteries, we thought we'd be a little bold and move in a little closer. Well, curiosity killed the cat, and it came close to getting us in a jam. I guess that's just what the Japs were waiting for because soon a few shells just fell short of our ship. We sure got the heck out of there in a hurry before they got our range.
Some of our gunboats did get in a jam, though. When they went in to shell the island one day, one of them got beached right near shore and was under Japanese fire all night long. It wasn't until the next day that we were able to rescue them. They sure had a hot seat for a while there.
Guam was the first American territory reconquered from the Japanese, so it made us feel pretty to get it back. The civilians on Guam sure felt good about it anyway. You probably know how the Japs were treating them. They can be pretty mean when they want to, and it seems they always want to.
I can tell you now, Rachel, that we're part of the_______________________________.*
Joe probably knows what it is. And I'm also allowed to tell you that we were on Guadalcanal a while back, and that our ship was in the Marshall Island invasion, too.
But there's still a lot of things I can't tell you about and probably won't be able to for a long while. I guess you must be working pretty hard back there in Cleveland. The fellow who bunks right under me lives in Cleveland, and he's always telling me about how nice it is. He's a swell fellow, too. But of course Cleveland isn't as nice as New Jersey.
I still remember the time you paid us a visit, and what fun we had. I'll never forget the first time I saw Rachel and thought she was about 19.
Have to close now. It's getting near time for lights out. Please pardon the typewritten letter, but it's so damn hot here, if we write in ink our letters get all sweaty. It's been a while since we've seen any civilization at all, or had any ice cold soda or anything like that. You don't miss any of those things until you go without them for a long while. It's been about a half year since I've even seen a white girl, and I'll truthfully say I miss seeing them. I sure wish we'd go back to the states one of these days, but I guess that's just wishful thinking.
Really have to close now or I'll be writing by searchlight. By the way, I got my rate, and I'm now a Petty Officer Third Class, Radioman. That code will drive me crazy yet, I sure do take enough of it.
I'm sending you a piece of Jap paper with Jap writing on it that I picked up on Guam. I don't know what the heck it says. Maybe you can figure it out. It looks like a letter of some kind. Probably says how the Japs are winning the war.
So long for now. Give the gang my regards and don't take in too much of that Cleveland sunshine or you'll begin to look as black as me. As ever,
Love,
Bill
* A few typos corrected by the Writecorner Press editor.
* This part blotted out by the military censor.
In addition to his five Bronze Battle Stars Bill received these awards:
American Theatre Medal
Asiatic Pacific Medal
Philippine Liberation Medal
World War II Victory Medal
69th Infantry Division, World War II
A grain of sand may be intensely irritating, devastatingly destructive, merely abrasive, or immensely powerful—the silicon wafer. Together, the individual effects are multiplied to produce the aggregate strengths of buildings, the transparency of glass, the forbidding terror of deserts, or the infinite beauty of a tropical beach. Some are bad, many are good. So too are human beings. Rarely is a single grain of sand or a person acting alone, in isolation, but each must exist in the dual role, individually and as an integral member of a much larger society. This is the story of one such person's life and military service in WW II. Did he have a major impact on the outcome of the war? No! But with others like him and their colleagues they became "the greatest generation."
Call to Arms
So begins
"A Grain of Sand,"
Buford Dale Thompson's
memoir which he graciously lent me before our interview in the fall of 2011 along with three books and clippings that document his and his division's service during World War II.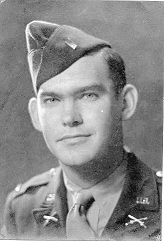 [he goes by Dale]
The memoir gives interesting details about the maternal (Durrance) and paternal sides of his family, all native Floridians; his youth and marksmanship during the Depression when, in Dale's words, "hunting and fishing were not as much sporting events as necessities;" some highlights of his student days in UF's Army Reserve Officers Training Corps (ROTC); and in Officer Candidate School (OCS). We get insights into the American military before World War II when "horses were veteran Army remounts who knew more about what to do than the trainees and often proceeded to demonstrate that knowledge . . .[and] the basic weapon of the field artillery was the World War I, or earlier, French 75 mm gun."
We also get details about soldiering at the posts where Dale was assigned, for example: Ft. Sill, Oklahoma, and, in contrast to the Florida humidity, the hot, dry wind that would dry freshly laundered fatigues in minutes; Camp Hood, Texas, where "the soil in that part of Texas is heavy with a gumbo consistency that sticks to the bottom of your boots if it is only damp"; Ft. Sill OCS where Dale and his fellow candidates learned "that a quarter would bounce when tossed on a properly made bed," and "became proficient with all weapons of the Tank Destroyers"; Ft. Benning, Georgia, where after eight weeks of "summer camp" Dale's Infantry Special Basic Course, Class No. 29 was treated with a graduation dinner of "fresh lobster … all you could eat and my first," and they were converted to Infantry Officers desperately needed at that time by the Army.
Love and War
Romance and marriage figure prominently in the memoir. When he first saw Margaret Virginia (Peggy) Cody in a study hall room at Lake Wales High School, Dale vowed to himself, "That's the girl I'm going to marry." A highlight of their early courtship was the UF Military Ball when Dale was in Advanced ROTC and Peggy was still a student at Lake Wales High School. She accepted his invitation to come to Gainesville for the weekend (unchaperoned) and be his date at the Ball. "We did have a wonderful weekend," Dale recalls. "Neither of us was accomplished as a dancer, and we simply enjoyed being together and experiencing the pageantry of the occasion. Let it be said loud and clear sex was not involved in our weekend. We may have been in the minority, but sex was not a part of our relationship."
Like so many couples during World War II, Dale and Peggy had to juggle love and military duty at a hectic pace with limited means. "Most of the weekends off from Ft. Benning were spent in Atlanta with Peg who was in school at Emory University School of Nursing," Dale remembers. They decided, on August 13, to get married in Atlanta on August 20, 1944, right after he graduated from Infantry Special Basic at Ft. Benning. Because Dale couldn't leave Benning, Peg in one week made all the preparations for the wedding in addition to attending classes and working night duty. "Peg was able to get an absolutely stunning wedding dress and all accessories in short order and on a very limited budget thanks to the bridal department and staff at Rich's Department Store in Atlanta." They also enjoyed a wedding supper at the Georgian Terrace Hotel. Despite "Blue Laws" that weighed heavily on the South then, Dale got a bottle of champagne, but the hotel could not serve alcohol on Sunday. "The head waiter solved the problem by the use of a water pitcher," and the newlyweds delightfully toasted each other with wedding bubbly.
Sixty-seven years later Dale and Peggy reside at Oak Hammock at the University of Florida. He is retired after 30+ years as a UF Professor of Horticulture, several years as a practicing attorney, and 31 years of US Army active and Reserve service (Colonel). She is a retired nurse. They have three children, six grandchildren, and three great-grandchildren.
World War II
The rest of Dale's memoir of his early life includes an overview of his Army service in Europe. Most of its details are included below along with an oral-history narrative and a written article, all in Dale's own words.
When Pearl Harbor was hit I was in advanced ROTC, but because of the rapid build-up, my class couldn't go to the usual summer camp. We were told "to stay in school and after you finish school then you go to OCS." So, after the fourth year of ROTC we were sent to Camp Blanding, and since I was in field artillery, it was on to Ft. Sill, Oklahoma. I'd heard all kinds of horror stories about the way they treated OCS candidates at Ft. Sill. But the day we were to start classes we were told the artillery did not need a lot of people any more. What were needed were armored forces, and I went to Tank Destroyer School at Camp Hood Texas (now Ft. Hood). By the time we finished OCS in January of 1944 our forces were out of North Africa and fighting in Italy, and there were no troop assignments available for us.
We had a somewhat intriguing incident while in OCS. Several of us participated in what we were told was a test procedure. The test personnel explained they needed some way to evaluate applicants for Bill Donovan's Office of Strategic Services (OSS), the precursor of the CIA. Whether we were truly guinea pigs or were being screened for OSS we never knew, but the testing was interesting and involved questioning about a number of things while being subjected to several practices and devices i.e., small electric shocks to finger tips while trying to relate some type of story during the testing (Torture?). Of course, we never knew the results of the program or exactly what our role may have been.
Most of our OCS class stayed in Camp Hood for a Motor Transport course and a Full Track Vehicle course. We learned about the newest tank destroyer, then designated the T-70. It had a completely new design with a lower profile, better equipment, and was highly mobile. One of our favorite exercises with the T-70 was chasing jack rabbits across the Texas landscape with the person manning the .50 caliber machine gun (unloaded of course) trying to keep the rabbit in his sights as the rabbit darted thither and yon. We had lots of fun in these courses at Camp Hood. OCS was a very good experience.
After that, the policy makers concluded that we weren't experiencing the kind of armored warfare that had been expected in Europe. Most of our class from Camp Hood went to Ft. Benning for a Special Infantry course and reassignment as infantry officers. We completed the course in August 1944, and I was assigned to the 69th Infantry Division that was at Camp Shelby, Mississippi, near Hattiesburg. I became the Third Battalion Motor Officer. The division was on maneuvers getting ready to go overseas. Just before we departed for overseas I was reassigned as a Rifle Platoon Leader in Company I, 271st Infantry Regiment.
Deployment
The division departed the port of New York in mid-November 1944, and it took us eleven days to cross the Atlantic on the MS John Ericsson. This ship had been the Swedish luxury liner Kungsholm, built by the Germans in 1928. The trip overseas was a new experience for most of the men; getting used to the rise and fall of the sea (seasick anyone?); constant life boat drills and zigzag submarine maneuvers. We arrived in England in early December 1944. Our battalion headquarters was in a manor house near Winchester in Southern England. Troops lived in Quonset huts scattered through the hedge rows.
We continued training and I attended a week-long British school in Salisbury (thickest fog I have ever seen) for updated information on mines and booby traps. There were opportunities for a short leave to London to enjoy some of the available entertainment and also view the enormous destruction of the "Blitz" and experience the apprehension when hearing the "Buzz Bombs" and wondering when the Buzz would stop and the bomb explode! It also was during the time of the V-2 bombs.
Christmas Day 1944 in England was the worst day of my life. The officers of the battalion were awakened at 0200 (2:00 a.m.), and the kitchen was instructed to prepare Christmas dinner to be served no later than 0600. We had to select our key NCOs in the company and make two equivalent lists of the other men. Those on one list were to remain with the company in England. Those on the other list were to leave, with full equipment, at 0800 for immediate airlift as replacement troops for Army units fighting in the Battle of the Bulge. After months of being together in training and schools, suddenly the unit was reduced to half-strength, like having 50 % casualties. Other units in the division were similarly affected with losses of men and equipment.
We left England in late January 1945 aboard the HMS Llangibby Castle and the "never to be forgotten" British delicacies of fish and brussel-sprouts. The weather and condition of the port at Le Havre required delay and transfer to LCIs [Landing Craft Infantry] for the final leg of the trip to shore in France. It was snowing and the most intense and bitter cold I had ever known. The infamous trains called "40 & 8s" [40 men, 8 horses] carried us into Northern France near Rouen where we were quartered in buildings that had been occupied by the Germans. A lesson learned by many of our men was "Calvados is a potent drink."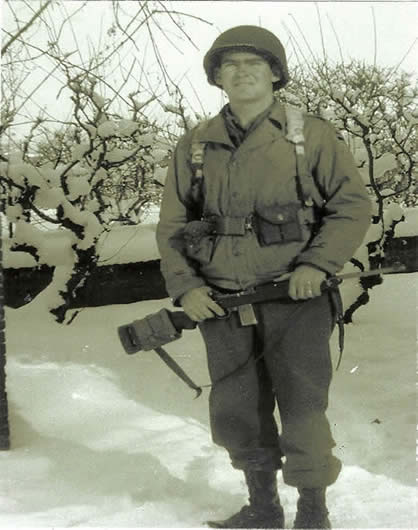 Dale in France, 1945
The first of February found us moving east again to a muddy "tent city" marshaling area and the arrival of many of our replacements for the men lost in England. We moved into Germany on February 10 to relieve units of the 99th Infantry Division. We were in defensive positions just inside the first line of pillboxes and bunkers of the German Siegfried Line with most of the Company housed in a former troop shelter; but without lights and water we called it a "dirty reinforced concrete hole in the ground." Duties included patrols, road blocks, assisting combat engineers with road maintenance (muddy trails actually), getting acquainted with the sounds and effects of the German 88s [artillery shells], the "Nebelwerfer" we called "Screaming Meemies" (rocket propelled mortars), total darkness, and combat discipline.
February 28 was our real "baptism of fire" when we attacked the German forces facing us and we suffered the trauma of our first casualties. First Platoon was under constant heavy artillery fire as we advanced with some haste toward our objective, the village of Oberreiferscheid. We encountered two German soldiers who reported the village abandoned. The prisoners were sent unescorted back toward the lines with hands on their heads. The interrogation was interpreted by my Jewish Sergeant Katz, who had learned Yiddish from his mother which could be understood by most Germans. Today I expect my interrogation might be considered "torture" under the so-called rules of engagement. I simply pointed my carbine at his head and asked the question. When he did not quickly answer, I fired--intentionally missing but very close.
Our platoon reached and occupied the first buildings in the village with all present but one. Sergeant Tommy Gillespie, our platoon guide, had been killed by a direct hit by an 88. I am forever so thankful he was the only casualty among men under my command during the war. To be sure there were many others in the Company killed or wounded, but none for whom I was directly responsible.
We continued to be pounded with shell fire and suddenly began to receive small arms fire from our left flank. Company "L" allegedly got lost but finally arrived without determining where other units were located. They were now attacking our position rather than the center of the village. We could tell the shooting was from other GIs and did not return fire. We were not able to make radio contact with them and could not attract the attention of those firing on us. Two of my men, who happened to be recently assigned replacements, went outside exposing and identifying themselves, and the firing ceased. They each received a Bronze Star.
For the next few days we continued our advance toward the Rhine River until we were "cut off" when the Allied Armies completed the capture of all of Germany west of the river. The division enjoyed a brief respite from fighting to replenish supplies and get much-needed showers and clean clothing. I was able to obtain a short leave to Paris, a promotion to 1st Lieutenant, and a new assignment as Executive Officer of Company I.
From Occupying Army to Fighting Army
About that time we were detached from First Army and assigned to 15th Army that had been designated part of the Army of Occupation. We began escorting Civil Affairs troops into the towns and villages on the west side of the Rhine. I think that duty lasted only a few days because of an occurrence that changed the conduct of the war. Unexpectedly, the 9th Armored Division captured the Ludendorff Bridge across the Rhine River at Remagen. Eisenhower immediately ordered as many units as possible to move across the river to establish a foothold past the last obstacle to the German homeland. We were in the vicinity of the Bridge; [aka Remagen Bridge] we were a combat infantry division, and were now reassigned to First Army.
A different phase of our combat started when we crossed the Rhine. The combination of circumstances put us in the forefront of the action. If you are in a rifle company, you don't know much of what is going on in the rest of the world. All you know is some of what is directly affecting you to your front and on your flanks. Germany at that time was somewhat in disarray, but their army was still fighting with desperation and ferocity. The Germans we faced at that time were some of the more experienced combat soldiers including some SS leaders and units.
As a consequence of the Bulge, Eisenhower needed replacements for the extensive casualties. The 69th Division was one of eight infantry divisions assigned African-American soldiers as combat troops in a "Grand Experiment" in the days before racial integration of the military. These soldiers had been in the top three grades, were usually from the Italian Theatre, accepted a reduction in rank, and volunteered for combat training and infantry assignments. They were designated "J" Platoon and served as a "Fifth Platoon" (40 men) that became an integral part of a company in the battalion – K Company for us. There was not a racial connotation for the name: the letter "J"
was not used in any other Army phonetics and thus became a special identifier for this testing.
The platoon was commanded by a white officer, but that did not cause any apparent problems in our battalion. One soldier in "K" Company said, "Boy, were we glad to have those 'J' Platoon boys out in front. It did not take long to take those Negro (sic) boys to our hearts and make them part of us. They dug those 'Sleeping Beauty' Nazis out of their holes like my dog going after a gopher!" They were excellent soldiers who made significant contributions to our combat effectiveness.
After crossing the river, the 69th Division moved south to the Weser River as the First Army made a "right hook" and then marched northward toward Kassel to meet the 9th US Army and complete the encirclement of the Ruhr industrial area of Germany. This maneuver trapped more than 300,000 German soldiers and four million civilians. We averaged about 25 miles per day during this advance – much by marching, some mounted on trucks or tanks with intermittent fighting.
Division in Pursuit
After the linkup with the 9th Army near Kassel, First Army began a classic maneuver with infantry and armor divisions. The 69th Division was paired with the 9th Armored Division driving east toward Leipzig. It was a wild ride with the 9th Armored Division driving as far and fast as it could, bypassing opposition, and our infantry division also moving fast and eliminating major pockets of resistance. When the 9th Armored stopped, our division would move through to establish temporary defensive positions. The entire operation would be repeated later or the next day. It is eerie to encounter a Sherman tank from the 9th Armored at a road block in the middle of the night, be told, "There's nothing beyond here but Germans," and you know you have more kilometers to go before you reach an assigned stopping point. Jack a round into the machine gun on the jeep and move out. I can remember going through a recently vacated house as we were clearing a town and finding that great German dark bread and homemade berry jam and having a feast, but I don't remember where or when. We also passed blooming cherry trees and wished for cherries, but where?
I do remember lying in a ditch along a street in a town about 1700, April 13, the day we received news of the death of President Roosevelt. There was a masonry fence about two feet high surrounding a large building set back from the road. I also remember what could almost be described as an "out of body" experience: the company had been engaged in a fire fight and suffered several casualties, mostly from sniper fire, and I was doing a search for the sniper. Suddenly it seemed I was alone on a long road moving up a hill when I stopped and said, "Where am I? What the hell am I doing here?" And then it was gone, but I never located the sniper.
The closer we got to Leipzig the more casualties we suffered. The area around Leipzig was greatly industrialized and heavily defended. Our division with the 2d Infantry Division and attached armor captured Leipzig on April 21, 1945.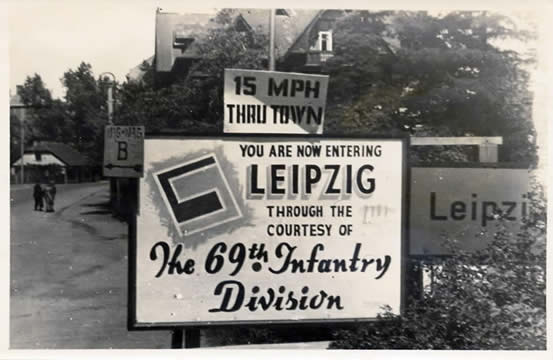 On April 25, two patrols from the 273rd Regiment of the 69th Division became the first Western troops to contact Soviet forces when they met Russian patrols along the Elbe River east of Leipzig. The German homeland was bisected. Except for minor operations and patrols, the war had ended for us. Thankfully, we were not fighting for Berlin!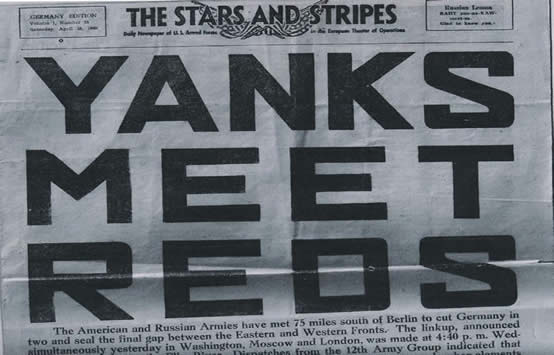 Did you shake hands with any Russians?
Oh gosh yes. All kinds of Russians. They were interesting, but each side was somewhat cautious and aloof. Lots of the Russian army doing the fighting were from the various Soviets. A lot of them were Asiatic people, almost a sub-culture but not entirely. Many hadn't seen wrist watches. They thought flush toilets were weird. Stories circulated that Soviet troops would rip out flush toilets, put them on trucks, and wonder why they didn't work. We also heard they used bidets for toilets. American and Russian brass got together at the Elbe River juncture. It seemed everybody in Europe came up to meet the Russian generals, but most of us in the regiments were isolated from that. There were, of course, lots of Russians in Berlin where I was later stationed, but contacts were somewhat limited. In general, Russians in Berlin were major players in the "black markets."
Was there apprehension about communism among American troops?
Yes, absolutely. Some cautious apprehension mixed with celebration when we first made the link up, but increased tension after we got to Berlin. The differences between the Allies and the Russians became real if not "official" with Churchill's Iron Curtain speech in March 1946. Tensions were not so high that one could not function, but one proceeded with great caution. I was always armed when out at night. There was a lot of distrust of the Russians, and they did not trust us. All of this, of course, was fostered by the stories of the rapes and other atrocities attributed to the advancing Soviet armies.
What was your opinion of the German fighting man?
Great! Initially, most of the opposition we faced was from the Volkssturm. They were the older conscripts and younger people. After crossing the Rhine, however, we encountered more seasoned troops, either SS or led by SS. One of our units ran into a situation where an SS major was commanding a bunch of Hitler Youth kids 14 and 15 years old pledged to fight to the death. One of the worst German weapons, other than the famed "88s," was a 40 mm. anti-aircraft gun that used (air bursts) against ground troops. Also, several of our men were killed by snipers.
I had three experiences with small children that I well remember. After we left the bunkers and pillboxes of the Siegfried Line and moved into Germany, the civilians had not been evacuated. How to deal with them became a serious consideration. When we were clearing houses and before we moved upstairs or down into a basement, we usually tossed in a grenade on a short fuse. In one instance before we moved up a stairwell, we did not do so and several Germans, mostly women and children, came down the stairs on command with hands raised. It was somewhat unsettling when one of the civilians, who was only about 15 months old, came down in its mother's arms with hands raised and a very contrite look on its face as if saying, "What have I done."
In another instance immediately after hostilities, I looked out the window of the house where I was quartered and saw several boys about 6 to 10 years of age playing and was somewhat surprised to realize they were playing war games with toys that apparently had been salvaged from what remained of their homes.
The third experience was the "ambush." The ambush, if indeed it was an ambush, was during our most rapid pursuit of the Germans before we met the Russians and was outside a village just west of Leipzig. We were moving fast extending headquarters 25 to 50 miles per day depending on resistance. If we encountered none as we approached or entered a town we kept moving at least until the armored division moving ahead of us stopped for the day. As we passed through a small village somewhere just west of Leipzig everything appeared normal. There was an open field on the far outskirts of the village and several small and sub-teen children were actively playing. I was in a jeep at the head of the lead column of the battalion as we passed. We had not gone past them more that 100 meters or so when we came under heavy small arms and machine gun fire. We were pinned down for some time but eventually able to get back to the rest of our troops. Fortunately, we did not suffer any casualties at that time, but we often wondered if the children had been used as decoys.
Our Battalion S-2 [intelligence section] thought I should relate exactly what had occurred to the Regimental S-2. I was a bit disturbed when I did get to regimental headquarters to find most of the staff seemingly unconcerned and some enjoying cocktails. But none was offered to me! (Maybe that's what bothered me, although at that time I was not a consumer of alcohol!) But I did have somewhat less respect for Regimental staff after that.
How did you cope with fear?
I was not conscious of any "fear" myself and did not observe any obvious fear in our men. We had an awful lot of concern and apprehension, but there wasn't evidence of fear. We were well trained and realized what was going on. Of course there is always the dread of the unknown at first. And it was a different generation as you recall. We grew up during the Depression when many people had to sacrifice and struggle to make ends meet. We didn't have the material things Americans have today
What was your most effective weapon?
All our weapons were in good operating condition and pretty effective. At the rifle platoon level, the Browning Automatic Rifle (BAR) was particularly good.
Our division was in combat 86 days. Our action took place from the Bulge to the Elbe River. We went some 400 miles, mostly on foot; that must be what is wrong with my legs today. Our division suffered many casualties, but I personally lost only one man during the time I was a rifle platoon leader. During our first offensive action at Ober-Reiffersheid, just inside the Siegfried Line, we received especially intense, heavy artillery fire, and one of my men was killed by an almost direct hit from a German 88. We had other casualties in the company after I became the Ex. [Executive Officer] Generally, our morale was always pretty good. The war obviously was coming to an end.
How many casualties did your division suffer?
The division had about 10%, excluding the 50% depletion of manpower and equipment in England. One of the worst things we experienced was the brutally cold weather. Our normal winter clothing really was only the minimum for the unusual cold weather that year in Europe. I don't remember that we had gloves; GI towels served as scarves around our necks. Some of our people got frostbite, and the division medics issued a special instruction booklet to teach prevention of trench foot that was prevalent throughout the Army in Europe because of the mud and cold.
The books * I gave you have statistics on the 69th Division. We were the first to link up with the Russians. We captured over 1,000 towns and captured 35,000 German prisoners. We freed over 26,000 Allied prisoners, thousands of slave laborers, and liberated concentration camps, including one sub-camp of Buchenwald. More than 300 inmates at this small camp at Thekla just outside Leipzig had been burned or shot to death by guards the day before the camp was liberated. For a vivid description of Buchenwald and Thekla please see The U.S. Army in the Occupation of Germany 1944-1946, pgs. 237-244. by Earl F. Ziemke, Center of Military History, United States Army, Washington, D.C. 1990.
I witnessed the horror of Buchenwald soon after it was captured by one of our units. Some of the prisoners were still there, and some of the dead remained in place. Civilians from nearby neighborhoods were being required to care for survivors, bury the dead, and clean out the filth. They adamantly denied any knowledge of the atrocities. I don't think the concentration camps had quite the impact on us then that they do now. I think one of the main reasons is because we, the US Army, had liberated many thousands of slave laborers. They were the homeless people from Central Asia and Europe who had been freed and were now loose and wandering. Many displaced people were rounded up and moved in box cars back "home." We don't know what reception they received when they arrived. We do know that many of those returned to Russia did not survive. Experiencing so many displaced persons somewhat tempered our attitude toward the concentration camps. It has been estimated that First US Army issued over a million rations per week for DPs.
We were more concerned with the attitude of the German civilians relative to the concentration camps. They were denying any knowledge whatsoever of the camps, even though they were right in the vicinity of the atrocities. Eisenhower directed that they be a major part of burying the dead.
I read that Patton threw up when he saw one of the death camps.
I don't know about that. Patton probably wouldn't have passed up a chance for a photo op. (Laughs)
What were your experiences after your division captured Leipzig?
Some limited actions clearing out die-hard fanatics. At one point we were less than 60 miles from Berlin. We were overjoyed when the decision came down not to try to capture Berlin, either before or with the Russians. A system of "points" based on amount of time overseas, battles, and decorations had been established to determine the order in which personnel would be returned to the US. The 69th Division was scheduled to return in August 1945 for retraining and possible redeployment to the Pacific, but most of the currently assigned individuals did not meet the point requirements. Major reassignments occurred. I was assigned to the 29th Infantry Division in the Bremen Enclave in Northern Germany and served as Division Headquarters Motor Officer until I was transferred in December 1945 to the 78th Division in Berlin as a battalion motor officer. The war had devastated Berlin. While I was there, much rebuilding was going on and there was growing tension between the Allies and the Soviet Union.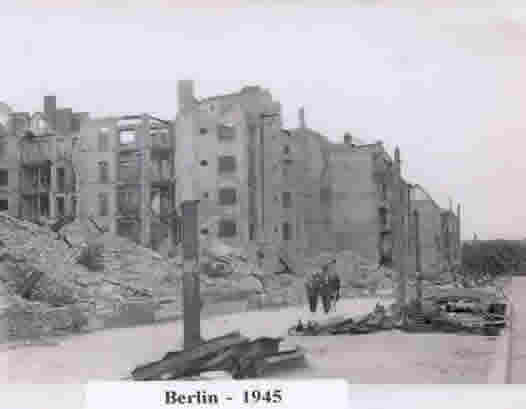 I stayed in Berlin until August 1946 when I came back to New York aboard the Wilson Victory, one of the hastily built ships of WW II. It is an amazing experience to view the Statue of Liberty after a prolonged absence. A not unpleasant train ride brought me to Ft. Bragg, North Carolina, where I was promoted to Captain and separated from active duty. I remained in the active Army Reserves until I retired as a Colonel in 1974. I served in the Reserve during the Korean and Vietnam Wars, but did not get called to regular Army duty except for a year on the staff of the Strategic Studies Institute, US Army War College for a special study. During my time in the reserves, I changed branches again to military intelligence and commanded a strategic intelligence unit performing special missions for active Army and Department of Defense agencies.
* James F. Graham & William Dahoda. Company I. Illustrated by Charles W. Swanburg. Geruckt in Deustschland, Buchdruckerei Otto Noock (printed in Germany by the Otto Noock Printing Shop, Leipzig, 1945. 64 pp. Includes places of interest, a list of members, and decorated soldiers.
Lt. John F. Higgins. 69th Infantry Division. Pictorial History. Printed by H. Sieling, Naumburg on the Saale, Germany, July 1945. 98 pp. Includes a four-page Memoriam list of fallen soldiers, attached units, awards and decorations, and a map of the division's service areas in Europe.
Lt. John F. Higgins. "Tresspass Against Them." History of the 271st Infantry Regiment. Printed by H. Sieling, Naumberg on the Saale, Germany, 1945. 92 pp. Includes four and a half pages of casualties (KIA, died of wounds, MIA), decorations, command post locations, towns and cities captured, statistics, leaders, and units attached.
Buford Dale Thompson's Army Awards and Decorations
Combat Infantry Badge
Bronze Star (Valor)
Bronze Star
Army Commendation with Oak Leaf Cluster
American Theater Medal
European and Mediterranean Theater Medal with Two Battle Stars
World War II Victory Medal
Occupation Medal (Germany)
National Defense Service Medal
Armed Forces Reserve Medal
Army Reserve Components Achievements Medal
Vietnam Service Medal