Robert C. (Bob) Reese, my lifelong friend, was born in Knoxville, Tennessee, and lived his formative years in the center of the city on Summit Hill. He was mostly raised by his beloved grandmother, Margaret Hightower, and in his youth he largely supported himself as a newspaper carrier for the The Knoxville Journal and The Knoxville News-Sentinel. He was educated in Catholic schools and was my classmate through twelve years of parochial schooling. Witty and congenial, Bob became Vice-President of our Knoxville Catholic High School Class of 1954. After graduation he served four years in the Air Force's Strategic Air Command, the subject of his narrative here. After the military, he moved to Buena Park, California, where he met Irene who became his dear wife of 44½ years until her death in 2011. For a number of years Bob and Irene worked various jobs at Knott's Berry Farm in Buena Park, all of which he recalls fondly. During their 38 years in Southern California, Bob held positions in the defense contracting and aerospace industry and then in law enforcement distribution. Another 22 years found Bob and Irene in Oregon where he worked for Hewlett-Packard in Corvallis until his retirement. He now lives in Albany, Oregon. He sent most his Air Force story to me in letter form and conveyed the rest in phone conversations.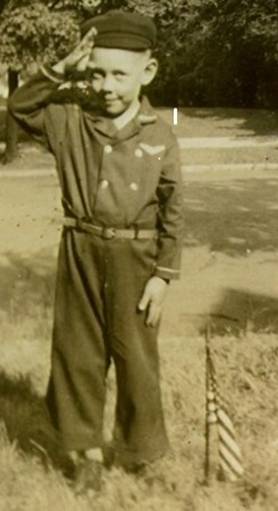 This is a picture of me when I lived on north 5th Avenue in Knoxville before Pearl Harbor. I'm about 4 or 5 years old saluting the flag in my military suit with wings over the pocket. Little did I know I was destined to be a "flyboy"!
I joined the Air Force in 1954, did basic training at Lackland Air Force Base, and completed tech school at Chanute Air Force. I left Illinois wearing my winter blues and reported to March Air Force Base in Riverside, California, on December 26, 1955. I'm 20 years old, single and let loose into Southern California and all its wonders. Of course the temperature was around 85 degrees. I hurriedly donned my summer khakis and began my first day as a member of the Strategic Air Command.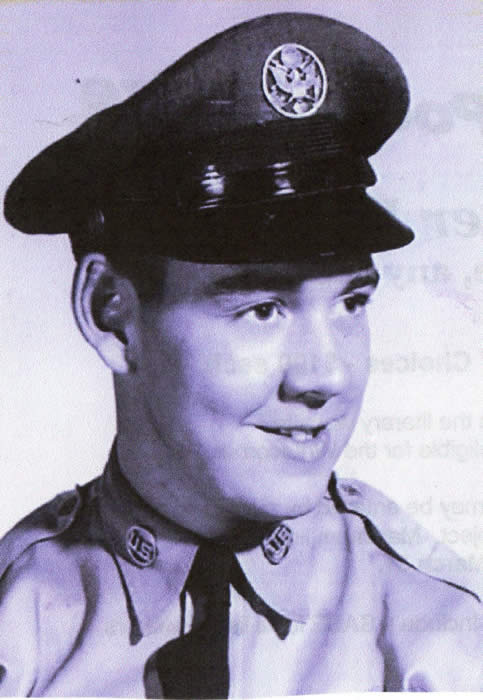 When I first came to March security was always our priority. With the Cold War beginning to warm up, safety and secrecy became our mantra. The perimeter of the base was secured with barbed wire fences and vigilant guard dogs 24-7. Not to forget the Air Police. We were required to wear our ID badges at all times, especially to go on the flight line.
One of my mates decided one day in a humorous mood to test the system and not show his badge. He was spread-eagled on the tarmac and the squadron commander had to be called to verify and release him.
My job in SAC was as an engine and prop mechanic flying on KC-47 double deck prop aircraft. During regular duty at March Air Force Base I worked most days either in the hangar or out on the flight line. Sometimes in the Prop Shop if needed. We had the Pratt Whitney engines and were, in effect, a "flying gas-station" for the B-47 bombers. The technique relatively new in the early 50s. If you saw the SAC movie with Jimmy Stewart, you could see how we hooked up with the B-47s to transfer the fuel (a side note here: Jimmy Stewart was a decorated war hero in real life, and he used to come out to March to maintain his flight status by logging the required hours).1
On occasion some Hollywood filmmakers would come to March to make Air Force recruitment movies. They would set up equipment inside the hangar and prepare to film. We airmen used to laugh about these sessions since they always used actors dressed in Air Force uniforms or fatigues for the action scenes. We always felt that they should have used real qualified airmen for the films. But for some strange reason, Hollywood felt the actors were more realistic. Oh well, once again my chance to become a movie star eluded me. (Laughs)
I always enjoyed the experience of flying. Of course, I was always ensconced in an aircraft and not really exposed to the outside elements. We were required to get the basic idea of exiting an aircraft while airborne should the occasion ever arise. Naturally we hoped this situation would never present itself. I had never envisioned myself in the 82nd Airborne.
After being at March about three months, I was told to report for parachute indoctrination class. After some class work sessions we were to report to a tower (about 50-60 feet high) to get the rudimentary experience of actually jumping from heights. This was all simulated with safety cables and full control so no one was in danger of real harm. It was a psychological barrier that instilled a natural fear of heights that we had to try to overcome. We were taken up the tower on an elevator and each one of us in turn deposited on a platform looking out on open space from that height.
We had a parachute pack on and were hooked to a cable that would drop us into oblivion but, thankfully, stop our descent short of the ground. We were told before the jump, Don't look straight down! Just focus straight ahead on the horizon!
I believe in hindsight, after all these years, my thoughts were primarily, What am I doing here? and God, help me! Well, we had a countdown of 30 seconds and then it was "Geronimo" and down we went. Of course the cable stopped us safely and here I am talking about it.
Now on the roof of a high structure and subject to the chance of falling, I tend to get vertigo. Especially at my age now I don't even like to clean my gutter.
Back then we airmen always had our parachutes on or ready on any flight mission. We certainly didn't relish the idea of bailing out, but if it was vital to survive, it was oh well, Let er Rip. Just always be sure you have good buddies and no enemies working in the Parachute Shop.
In the world of SAC we lived in a constant state of ALERT. We were required to maintain a duffel bag packed with all season clothing and necessary gear at all times in case of immediate deployment to anywhere on the planet. No time to plan and pack--just grab and go! An urgent SAC deployment could send us to Northern California or North Africa. We were young and full of adventure then. I now reflect back on those heady days and don't recall being anxious or afraid. The situation during the Cold War was simply our job and let's handle it.
In March 1956 we went on TDY [temporary duty] to Elmendorf Air Force Base in Anchorage, Alaska, for four months. March remained our home base when on TDY. Anchorage back then was still sort of a frontier town and not developed anywhere near what it is now. Of course we were closer to Russia and the Aleutian chain then so we felt we were a significant deterrent.
SAC always traveled First Class. On TDY we had our own chef and cooks to set up our chow hall wherever we happened to be. In Alaska the regular permanent party personnel at Elmendorf Air Force Base would happily visit our chow hall for the choice cuisine we were provided. At any given meal we were offered a choice of three entrees plus sides and great desserts. To say we were spoiled is an understatement. But Curtis LeMay looked out for his troops. 2
In 1956 shortly before Thanksgiving the Russians were saber-rattling again, louder than usual. At March we were enjoying a pleasant warm Southern Cal evening on pay day. We heard the alert signal and readied to embark and joked, "They'll never go anywhere on payday." Well, the joke was on us. We flew at night to Lockbourne Air Force Base (now Rickenbacker) in Columbus, Ohio, and landed in a light snow around 5 a.m. We were billeted in the base gym since no one was expecting us to be there and no one set up barracks for us. If the war drums got louder, we were set to fly to North Africa. We were not allowed to let anyone know where we were at any given day or time. In theory this was to confuse and confound Soviet intelligence. Thankfully, things calmed down again and we enjoyed Thanksgiving in the Lockbourne chow hall. We flew back to March in mid-December no worse for wear.
In early fall of 1957 I received orders to embark for Goose Bay, Labrador, for a one-year deployment. This would be a radical weather change from March Air Force Base .
Since I loved train travel so much, I had time to go cross country (California to New York City) and enjoy the scenery along the way. I vividly recall coming out of Ohio and entering the "Golden Triangle" in Pittsburgh. That's where the three rivers meet in downtown. And little did I know then that Irene, the woman who would later become my beloved wife, lived in Pittsburgh.
I reported to Brooklyn for processing prior to embarking from New Jersey to Labrador. I recall we flew on a MATS [Military Air Transport Service] C-117 transport to Goose. When we arrived early winter was on the way and I developed a ferocious cold that lingered for about ten days before I got adjusted to the weather change. I was billeted in cramped temporary barracks until my squadron assignment was determined and finally lodged in a rather nice permanent room with three other airmen. It was cozy.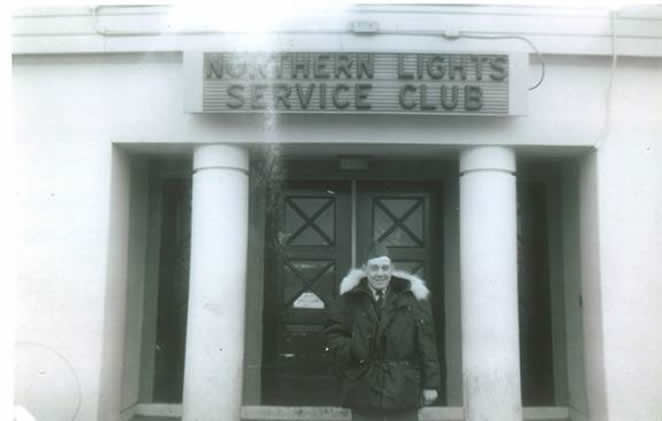 Labrador in 1957 was very empty of population and developed areas. Other than our air base and a couple of very small Eskimo villages, evidence of human inhabitance was practically nil. Goose was somewhat of a "Pit Stop" from the North American continent to Europe. There was a Canadian base adjacent to ours. We were an integral link in the Dew-Line of NORAD. 3 We maneuvered aircraft from as far away as Hawaii, California, and all points in the U.S. as well as many aircraft from Iceland, Greenland, Newfoundland and Nova Scotia.
We went on refueling flights primarily over Canadian airspace to keep our skills sharp and be always prepared for any real conflict that might develop out of Russia. I only went on three or four flights involving re-fueling. Most of my time at Goose was on the flight line in a large hangar next to Base Operations. Work shifts were usually 12 hours on and 12 hours off. We were on call to do maintenance on our aircraft to keep them ready at all times for flight orders.
If a real hot war started we were subject to being deployed from Goose Bay to Africa. Of course we were fortunate that the situation never reached that stage.
Occasionally, we were visited by a large contingent of B-47s that flew in from March Air Force Base nonstop across the U.S. to Goose. The B-47 crews wanted to show their long-range capabilities even without KC-97 refueling access. They would land for a few hours for fuel and maintenance and a meal and then fly back to March. Several of my good friends from California would greet me on their quick turnaround from Goose to March.
Here we need to remind ourselves that the real epicenter of the Cold War didn't really occur until the sixties with the Bay of Pigs and the showdown with Russia over Cuba. So to put things in proper perspective, when I was in SAC things were relatively mundane. Of course, as both you and I are well aware, we were entering an uncharted journey in uniform and whatever the fates lay ahead we were sworn to uphold our commitment. You and I are both blessed to be spared the dangers of real combat involvement.
Relating back to the SOP [standard operating procedure] of life at Goose: We had two-story barracks along a lengthy street. Actually there were three such barracks along one block. We had a subterranean tunnel that ran the entire block under all three barracks. Our main chow hall was in the middle area of the tunnel. With the unpredictable weather outside we could traverse the tunnel without being exposed to the elements.
I was assigned to Headquarters Squadron for my year at Goose. In the latter weeks of my time there we were assigned a First Sergeant Thomas and lo and behold he was from Knoxville. Our orderly room clerk was Ray Crooks, a really congenial Cajun fellow from Louisiana. There are three particular fellows I fondly recall even today. They were all from Hawaii: Stan Sogowa, Paul Terad and Wally Okazaki. In the 50s and 60s when fellows from the Islands joined the AF, they were always assigned in threes. The same trio would spend their entire AF hitch together wherever they were sent. This way they wouldn't get homesick for Hawaii. These were three of the nicest fellows I believe I was ever stationed with.
I recall we had three or four search missions for missing aircraft. There was a SAC Aero Club for small planes like the Piper Club. Mostly higher-ranking personnel were in the Aero Club, similar to a hobby and recreation in down time. I remember we made two all-nighters searching for one of these planes and never found it.
Today is June 6, seventy years after that momentous D-Day. I am fully reminded again of the monumental task those brave souls undertook at Normandy. And what they sacrificed for us and our young generation and all the future generations make my little ruminations of Cold War escapades so very irrelevant.
When I finished my year at Goose Bay, my active service time was up and I came back to McGuire Air Force Base in New Jersey for mustering out. As as an Airman Second Class I still faced reserve duty under the 8-year plan of that era and was assigned to McClellan AFB in Sacramento, California, in case of a national emergency recall. I chose to return to Riverside, California, to resume my civilian life and the reserve call never came. Therefore, after the required four years on the reserve rolls, I was, once again, loosed upon the world as a civilian.
I've had a very interesting and checkered life as I look back over 78 plus years. Done a lot of different things. Met a lot of different cultures. Experienced good and bad--mostly the former. One thing I can never do is consider myself a "hero." I did what I was required to do with pride and dedication and mainly I suppose I survived.
I will close with a poem I like to think of on many occasions, especially as I become older by the day:
The clock of life is wound but once.
And no man has the power
To tell just when the hands will stop
At Late or Early Hour.
Now is the only time you own,
Live, Love, Toil with a will,
Place no faith in "Tomorrow"
For the clock may then be still.
Your buddy from 1942 till Forever!
Bob Reese
1 Wikipedia says this about the film and Stewart: "Strategic Air Command is a 1955 American film starring James Stewart and June Allyson, and directed by Anthony Mann. Released by Paramount Pictures, it was the first of four films that depicted the role of the Strategic Air Command in the Cold War era....In real life, during World War II, Stewart had been a B-17 instructor pilot, a B-24 squadron commander, and a bomb group operations officer, completing 20 combat missions. At the time of filming, Stewart, much like the character he portrays, was also a colonel in the Air Force Reserve; he was later promoted to brigadier general. In later years, Stewart continued to fly, including Operation Arc Light missions in Vietnam on the B-52F."
2 General Curtis Lemay headed SAC from 1948 to 1957.
3 Distant Early Warning Line of the North American Aerospace Defense Command.
Carson G. Reynolds served in the U.S. Marine Corps from 1916 to 1919 attaining the rank of Corporal in Company 55, 2nd Battalion, 5th Regiment. At Belleau Wood, France, he was severely wounded in the leg and was hospitalized for a number of months after World War I. * Shortly after Christmas in 1970 I was introduced to Reynolds by his neighbor, Lula Thomas. At the time they lived on Belcourt Drive in Knoxville, Tennessee. Still limping badly from the wound, Reynolds gave me a vivid account of it. He died in 1986 at the age of 90, survived by his wife Virgie Hansard Reynolds, 3 daughters, 2 sons, 15 grandchildren and 12 great-grandchildren. A long-time resident of Knox County, Carson Reynolds was buried in Cedar Grove Cemetery.
We was a-pushin' the Germans back at Belleau Wood and they shot me clean through the leg. I laid there on the battlefield from 4:30 in the afternoon till 8 the next mornin' my leg so limber it coulda coiled 'round my neck and choked mysef. But I didn't let it. I got the bleedin' to stop and kept mysef a-goin' with a canteen of cognac that had stopped the bullet but didn't spill all the stuff. Yessir, I later found that durn bullet tinklin' 'round in that canteen. Well, they finally got me back to the hospital. My outfit had went on ahead of me pushin' the Germans back, far back. They put me in the dead man's ward and pulled them white curtains all around me. Next day the nurse comes by and whispered to some orderly not far from my bed, "Aint that feller dead yet?" Well, that made me kinda mad and I stuck my head through them curtains and said, "No, I sure ain't and I ain't gonna be neither." That musta embarrassed 'em cause it wasn't too long before they come and took away them curtains.
Bob, this leg's troubled me ever since then. Why forty year ago they wanted to cut it off, but I told 'em I'd rather die with it. Had four doctors tell me I wouldn't live another year with it. Well, that's forty year ago since they told me that and I'm still here. I don't know whether the doctors are here or not. I reckon most of 'em ain't.
This here leg's about two inches shorter than the other one. For about eleven years now the leg's been a-bealin,' drainin' ever day or so. It beals mighty lot in the summer time when I have to put a big bandage on it. Ain't so bad in the winter but beals right smart then too. Before it got to drainin' the poison would sometimes run through my system and make me awful low-down. Got so poisoned one time twenty year or so ago that I reached up and plucked some teeth out easy as you'd snap dry twigs. One doctor told me all that poison runnin' around in me kept other sickness plumb out, and I don't doubt it one iota. Feel a whole lot better, though, since my leg got to bealin' cause now the pus pops outa my leg steada goin' haywire through my body. It smells like the dickens too, so I gotta change that bandage ever day else nobody can stand me for long. If I ever get the devil boilin' up in me and somebody I don't like comes a-nosin' around me, I could leave that bandage off and that person'd run off for good. (Laughs) Now that wouldn't be fair, would it?
[Mrs. Thomas summed up her neighbor well: "He doesn't give up."]
* The 5th Marine Regiment figured large in the defeat of German forces at Belleau Wood, one of fiercest and most decisive battles in American military history. The motto of the regiment's 2nd Battalion, "Retreat, Hell!", comes from the trenches at Belleau Wood when a Marine officer named Lloyd W. Williams was told by the French to retreat and replied, "Retreat? Hell, we just got here!" The battalion was twice awarded the French Croix de Guerre with Palm. To this day, members of the 2nd Battalion wear the French Fourragére representing this award.
For Mira Rinzler education has been a salvation. She grew up and matured in Romania during very hard times, but she didn't let hardships keep her from excelling as a student and a physician. She talks about what life was like under fascist and communist regimes, how study and work brought meaning and hope to her life, and how she, her husband, and some family members were finally able to leave oppressive Romania and settle into a better life in the United States.
The first ten years of my life were gilded. I had a gilded childhood because I was an only child of well-to-do parents. The next years in Romania were not so good. When I was growing up in Romania the first four years were elementary school. Then you were given an exam. According to how well you did, you were sent to a public school. Public schools were considered the best. The private schools were of a secondary nature.
I took the exam and I entered one of the best schools in Bucharest. Another girl and I were the only Jews in a class of 45 girls. We had a teacher who said, "The blonde kike should come to the table." I was the blonde "kike." Then this teacher said, "The dark kike should come to the table." The teacher never called me by my name.
I came home and complained to my parents. My father took me aside and said to me, "Don't you realize this is an anti-Semitic country? The only way we can advance is by education. We have to cringe at the anti-Semitism, take it, and continue to go to school." So I was ten years old living in a segregated society. Jews and Gentiles did not mix.
The teacher who called me "kike" was an older person, Greek Orthodox. After the war she looked me up and came to our house and said she was sorry for what she did to me.
In 1939 Jews were banned from Romanian public schools. The Jews were a strong community. They formed three or four schools with good Jewish teachers, most of whom were banned from the public schools. In 1939 I was 12 and went to the Jewish high school. This was my third year of high school, like 7th grade here in America. Suddenly school became a pleasure.
In 1939 the war started and my situation was schizophrenic: I was extremely happy outside the house and extremely unhappy in the house because my father was let go from his job. My parents had very little means. They lived by selling things from our house: furniture, clothes, and other things. At the same time I was very happy being in school.
In 1941 the fascist Legionnaires started shouting about revolution. They wore brown shirts and were also called Iron Guard. The Romanian government was friendly toward Nazi Germany, but the government didn't like the excesses of the Legionnaires and tried to quiet them down. The Legionnaires revolted against the Romanian government. The revolution lasted only four days, but the Legionnaires did a lot of damage. My father was a high official of a big bank. The owner of the bank left and left my father in charge of his house and everything the owner had. Luckily, my father's former secretary, a Gentile woman, took us to her house during the four days of the fascist revolution. Four days later when we returned to our house, we found furniture broken, windows knocked out; everything was completely destroyed by these fascists. There were a lot of Jews killed at this time.
My father said, "Let's go and see what happened to my boss' house." We went there and found everything destroyed and paintings and valuable things stolen. My father said, "Let's go and see what's in the cellar." He opened the cellar door. I saw naked bodies hanging like meat. The Legionnaires made the boss' house a slaughterhouse for the Jews. These fascists killed about 360 Jews in Bucharest; they killed Jews at random.
When the Legionnaires were put down by the government, some of them escaped and went to America. When we came to the United States, these Legionnaires were here.
After the Legionnaire's revolt, the Germans and Romanian government started oppressing Jews. One day I walked out of school and saw my father cleaning the street. They made Jews clean the streets. The Jews of Northern Romania (a province called Bucovina) and Bessarabia (that the Soviets annexed in 1940) were treated much worse because they were accused that they welcomed the Soviets. They were obliged to wear the yellow star, were herded in ghettos, and most were deported over the Dniester (an area in the Ukraine now under Romanian administration called Transnistria) and placed in concentration camps where many were shot by German commandos or Romanian soldiers. Most of the rest died of starvation or from typhus. My father's family who was from Bucovina was deported to Transnistria where his mother and older sister with her family perished.
Iasi is the principal town of the Romanian province of Moldova and before the war had a large Jewish population. In 1941, after the Nazis invaded the Soviet Union the Romanians organized a pogrom in which some 3,000 Jews were killed. Besides this the authorities arrested 2,530 Jewish men and sealed them in cattle railroad cars that were driven around for 28 days without giving them food or water. A cousin of mine and a Dr. Simon Mayer (who after the war worked in the same hospital with me and years later became my in-law when his son married my daughter) were also in this "Dead Train" as it was called. Only 10% of the people survived.
We rebuilt our house, but we didn't have enough to eat. Our house was not far from some military installations. When the Allied air force came to bomb the oil fields of Ploesti not far from Bucharest, they dropped a few bombs on our city. One unexploded bomb fell close to our house. When the alarm sounded we were supposed to go to the shelter. At one point I refused to go because I did not want to die underground. I was afraid the house would fall and bury me alive.
Then in 1944 the Red Army entered Romania. They started plundering. They liked to grab wrist watches. They raped women. After a few weeks everything sort of quieted down. We didn't go out at night.
In 1945 the war ended. Before the war Romania had a population of 21 million and the Jewish population was 760,000. By the end of the war, 28% of the Romanian Jewish population had been killed. At this time we had no idea about Auschwitz and the other death camps or what was going on in the rest of the world. We later found out that Romanian Jews were more spared than Hungarian Jews. The ones who were absolutely spared were the Jews in Bulgaria.
Between 1944 and 1946 there was political upheaval in Romania. The Yalta Conference gave the Russians much influence in Romania, and in '46 the communists took over. Then the second part of our life began. This was really a fearful time for us.
Were you more fearful under communism than you were under fascism?
Yes. We perceived it that way because my husband Gaby and I were adults now. It was a time of complete fear of everything. We suffered more psychologically than we did physically. How can I explain to someone who lives in a free country what it is to fear what is left and right of you? You can trust nobody. Now the excuse to oppress us was not that we were Jewish but we belonged to the bourgeois society because my father was a director of a bank before the war.
It was very difficult to enter medical school in Bucharest so I went to Timisoara, a town in western Romania where I met Gaby. We spent the first two years of medical school there. In Romania like in France one goes straight from high school, after you have passed the Baccalaureate, to university. There is no requirement for premed but to graduate from medical school it takes 6 years. These first two years as students were our most happy ones as the political situation in the country was still fluctuating and the communist regime hadn't taken hold yet.
In 1948 we transferred to the medical school in Bucharest as both our parents lived there and it was less of a financial strain. After my father was arrested, we decided to get married earlier than we had planned because I was afraid that I may be thrown out of medical school. That way I changed my name and moved to my in-laws.
The atmosphere in Bucharest med. school was quite different. Although most professors were very good and we could learn a lot, we students had to belong to the communist-run student organization that involved among other thing studying Marxism/Leninism, participating in political indoctrination meetings that often took place late at night.
In 1952 my daughter was born while we were living in one room at my in-laws and we graduated from medical school. Under the regime we were supposed to work now as physicians where the authorities will send us. As it happened I got a job in a lab and Gaby was sent to some village in the country. At that time the unions had a separate health system from the national health ministry. So as not to disrupt our family we both went to work for the union health system. That practically meant working in health resorts, of which the unions had a number of them where workers were sent for treatment and recuperation. For the next 3 years we worked in different health resorts while in winter we were attending specialty courses.
In 1956 I got a job at the union's hospital in Bucharest. The same year we moved into an apartment in a house in Bucharest. This apartment had four rooms, one kitchen, one bathroom, and one toilet in each room lived a family. When you have four families in one apartment, you have a schedule: when to take a bath and everything and you have no time to think of the bad political situation. You live, you live! I worked from 8:00 a.m. to 2:00 p.m. and Gaby from 2 to 8 so one of us could be with the children. We could not trust the people in our building, and the super was a communist. He reported everything, all comings and goings.
Our daughter was 4 when we moved in. We lived like this from 1956 to 1961. Recently our daughter sent us the movie East West. She said of the movie, "This is how I remember my childhood."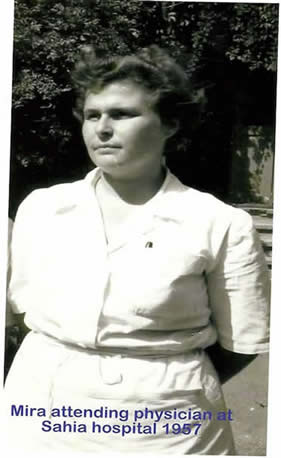 I give you an example of how it was to live in Romania under communism. My son was 2 and in a day-care home. I went every night to pick him up, and one night we took a bus to see my mother. On the bus my son looks out the window at construction workers. He said, "Do you see the construction? The workers don't have enough to eat. Yes, yes, the workers don't have enough to eat." Suddenly a man comes up and says, "You're such a nice little boy. What's your name?" And my son gives his name and the man says, "Little boy, where do you live?" And my smart son gives exact address.
I didn't tell my mother what happened. I didn't tell my husband in front of the children. We ate supper and put the children to bed. Then very quietly I told my husband what happened. We had a glass door between our apartment and the other families. In this moment the phone rings. It's the downstairs porter. He says, "You have a child at the day care center. There's a man here who wants to talk to you."
My husband says, "Shall I take my coat or not?" I say, "No! If they arrest you, you'll have to come back to get your coat and I'll know." My husband comes back with a man and tells me, "Give the man 25 lei." Twenty-five lei was a big sum of money for us then. I was shaking. Turns out that the man was a photographer who has taken pictures of our children and wanted to sell them. We were so frightened we paid him what he asked for the pictures.
Another example of living under communism: We came home one day and Gaby's mother said, "There was a policeman looking for you." Gaby went to the police station and came back and he said, "We had two bicycles and one of them was not registered." Later when we were out of Romania Gaby told me what really happened. We had a friend who was living across the street from the Yugoslavian Embassy and Gaby was studying with him, taking the bus, crossing the street, and going to the friend's apartment to study. The police called Gaby and wanted to know what he was doing with the Yugoslavian Embassy. Gaby said, "What embassy?" He didn't know the Yugoslavian Embassy was across the street from his friend's apartment. The police kept questioning Gaby for three hours. Before they let him go they asked Gaby, "What are you going to tell your family happened at the police station?" Gaby was bewildered. The police told him, "Tell your family you sold two bicycles and one was not properly registered." Gaby was so frightened that he told me the truth only eleven years later after we crossed the border into Austria.
How did you get out of Romania?
In the Bucharest Medical School there were 120 students. There were other medical schools in Romania. The Communist Party decided there were not enough doctors in the country. Soon the class of 120 became a class of 800. They were accepting children of workers and peasants, less qualified people. By 1957-58 the party realized they had too many doctors and didn't know where to send them. One way was to let them emigrate. But there were also other reasons that the Romanian government was easing emigration of the Jewish people. In 1958 we put in an application to immigrate to Israel. And so after a few months somebody came to see our place. This was a sign that our application was probably approved. So we sold our ice box and a carpet.
Unfortunately, Ben Bella, the chief of the Algerian guerillas and the future president of Algeria was on an official visit in the country. When he found out that the Romanian government was letting Jews emigrate, he wrote an article in the main party paper berating his Romanian supporters for letting Jews go to Israel where they will become soldiers to fight the Arabs. So emigration stopped for the next two years. It so happened that before we knew that we could apply for emigration we have bought tickets for a trip to resorts on the Black Sea in the southern part of the Soviet Union. It was a hardship to get the money for the trip, but it was for us an extraordinary adventure as for the first time in our lives we could travel out of the country, and to such famous resorts like Sochi, Yalta, Sevastopol, etc. But it was not to be. Minutes before the train left for the port of Constanta we were taken off the train. How would they permit people who signed up for emigration to the west to visit the Soviet Union! At that time, because of my application for emigration, I have already lost my job at the hospital and a kind person at the city health administration let me substitute for physicians on leave for two-three months at a time until we left the country.
In 1961 we finally got permission to leave Romania. When we registered to leave the country, we registered to leave with Gaby's parents, but they didn't let us leave Romania together. Some months later Gaby's parents did receive permission to leave Romania. Before they left, Gaby's father went to the hospital and they took blood from him and infected him with hepatitis. Gaby's parents went to Vienna and his father died there. We were supposed to go to Israel. We stopped in Vienna where an uncle of a friend of ours gave us some good advice. He was very knowledgeable and said "Why don't you go to the United States?" He introduced us to International Rescue Committee in Vienna.
Before we left Romania my children were so indoctrinated in Romanian schools that my daughter said, "I will never leave Romania because dogs eat better than people in Italy and America." Her teachers told her that. As we were leaving Romania, we were so afraid to tell our daughter we were leaving the country. So we told her we were going to visit Gaby's brother, her uncle in Romania. I was so stressed at this time I told Gaby, "In order to have a good life, I would sell my soul to the devil." When we got to Vienna, we met the director of the International Rescue Committee. His name was Faustus. (Laughs)
When we arrived in Vienna there were such unbelievable remnants of fascism. Gaby had an aunt in Vienna who was married to a Catholic, a very prominent professor of law. This aunt helped us find a place to live. We found an apartment from a White Russian. Gaby's aunt was with us when we signed up for the apartment and everything was OK. A cousin of Gaby's from Israel came to visit us. We were not home. So the cousin told the Russian woman who rented the apartment to us, "Please tell Gaby his cousin from Israel is here." We came home. We couldn't get in. The landlady had changed the locks on the door. When the landlady finally let us in, she said, "You are dirty Jews." She went to the window and yelled outside, "I have dirty Jews in my apartment." In less than 24 hours she threw us out. That was how it was. We had a bad experience. We have hoped that the Holocaust has cured the world of anti-Semitism.
We lived one year in Vienna, and we both worked there as physicians. In 1962 we came to the United States and were able to establish a good medical practice in New York State after six years of training and exams. My father died in Romania. In 1965 I brought my mother to the United States.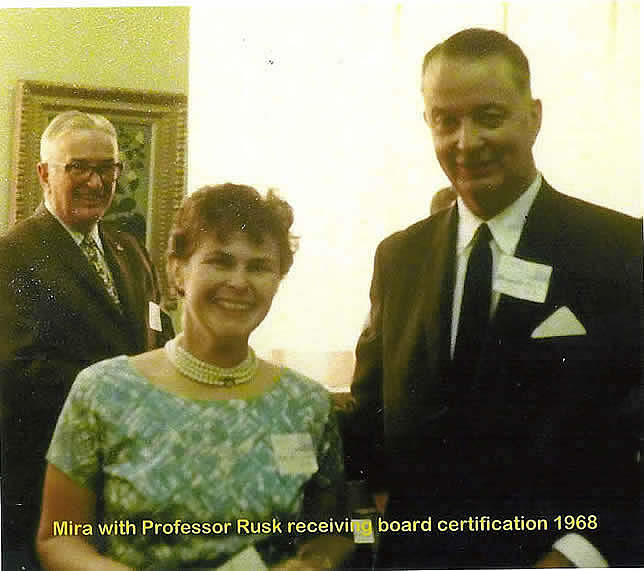 Has religion had any role in your lives?
My grandfather was an atheist. Religion was not discussed in our house. It was not a part of our lives. The first time I saw Passover Seder was when I came here. During the war my father had a brother who looked very Germanic and he said, "I heard if we change religions, we will be spared." I said to my father, "We are not going to change religions. This is how we were born. This is how we are going to die." Jewishness has nothing to do with religion. It's an ethnicity. My grandfather was a towering man and he was against religion.
How did you see America when you first came here and how do you see it now?
My God, we came to paradise. In New York I had to pinch myself it's true, that I'm not dreaming this. This is how we felt when we first came here. Now, as mature Americans (we have lived here almost half a century) we see our country with a more critical eye. Medical practice with all the huge advances has changed significantly and not always to the better. But I wouldn't want to end this interview with a political critique. I love our country with its good characteristics and its blemishes as it is, and I would not like to live in any other place in the world.
Leslie (Les) Sanders grew up in Rutherford County near Murfreesboro, Tennessee. He spent much of his youth farming and went on to work for Lane Cedar Co. in furniture construction before entering the Army in 1951. After Army service in 1953 he worked again in construction and took evening courses at Middle Tennessee State University eventually graduating with a B.S. Degree in Physical Science.
His work experience and education served him well as first an instructor, then a civilian division commander of land-based missile systems at Redstone Arsenal in Huntsville, Alabama. Leslie's narrative manner in his Cold War story below is in the time-honored Tennessee tradition of mixing homespun humor with serious subject matter. It's a style that many of us his generation especially like to use.
Joanne Cunningham Sanders, Les' wife and my cousin, grew up in Gallatin, Tennessee. She graduated from Southwestern College at Memphis (now Rhodes College) with a Bachelor's Degree in Music. Joanne spent many fruitful years teaching music and general education in elementary and middle schools. She also taught in United States Dependents' Schools in Regensburg and Munich, Germany. For a number of years she has worked as a volunteer at Huntsville's Burritt Museum, a living museum dedicated to preserving the historical and cultural heritage of the region from the 1850's to the present. In retirement Joanne and Les have been avid boaters and travelers, sailing in the Bahamas, hiking in the mountains of Peru, boating the inland waterways from Maine to Florida.
The following story also includes Joanne's and Les's impressions of key members of Wernher von Braun's science team and their families, some of whom still live in Huntsville.
Les: I was stationed at Dugway Proving Ground in Utah. My outfit was the 537th Field Artillery. The colonel in charge of our battalion didn't like to stay in camp. So he got us out to Utah to do some work. We didn't know what. My unit had three batteries: Able, Baker, Charley, and each battery had about seven howitzers. The colonel wanted to get out there and fire nerve gas shells in order to develop the procedure for firing. Because just firing a regular artillery shell is a world of difference from firing a gas shell, and you know in World War I they had all kinds of gases. What we were doing was a whole different world. We went out to Utah to test the shells for this nerve gas, and soldiers like me didn't know what the hell's going on.
So one day we were asking the question, "How do I determine if there's any problem, if some of this gas is gonna get on us? How do we know?" And the man in charge says, "Well, there's no problem. If your buddy over there falls dead, you take the syringe you're carrying and stick it in your leg and give yourself a shot, then you're okay."
Gentry: So your mission was to fire real nerve gas into the desert.
Les: Yes. There was this ole boy from Soddy Daisy, Tennessee, named Burchard [sic]. I can't remember his first name or how to spell his last name. Back then all of us in the unit called each other by our last names. Burchard and I were assigned the duty of putting bursting charges into these shells. They were for a 105 howitzer. Each charge was about an inch in diameter and four inches long. You take the charge and put it down the center of the shell and then you screw the fuse down into that, and when the fuse hits the ground, it will fire a shot down into that bursting charge and phooey [explode] this whole shell. So we learned to do that, but there was just one problem. We had little round pieces of cardboard like stuff. We put a cardboard piece down in the shell, then put the bursting charge in, then screwed the fuse in. We'd flip it back and forth to see if there was any movement of that bursting charge. If there was, you had to put one more cardboard piece in because if that shell was fired and the bursting charge was loose in there, it would blow up inside the cannon when you fired it. So you had to put enough cardboard pieces in so the bursting charge wouldn't slide back and forth. But if you put one too many in and then screwed that fuse down on it, what do think is gonna happen? It'd go kaflooey on you, that's what.
Now if we'd made one mistake while we were doing that, you wouldn't be sitting on that chair right now. You would not be on this planet, if we'd have made a mistake with that nerve gas shell. All those shells would've blown up. There was enough nerve gas in those shells to probably kill everybody that was not under the water. Anything above, all the animals and insects and everything else would've been killed.
Gentry: So you're saying if one shell blew up, it would also blow up the other shells, too?
Les: It could have. If it was a calm day like today, that gas would spread all around. Then depending on the wind, it would blow in certain directions. We had all these shells together. I was a PFC. I wasn't one of them big ranking fellas. (Laughter) Me and ole Burchard were sitting out there with a whole truckload of shells and putting in bursting charges. After we put in the bursting charges we moved them to each one of the guns. The guns were set so many feet apart and when they fired 'em out in the desert, they could get these shells hitting at different distances apart and they could get all the information they needed. So if you were gonna fire 'em at an enemy, you'd know how close you had to fire.
Gentry: You were a PFC doing this kind of dangerous work!
Les: The colonel we had was not dumb. He was very intelligent and scientific. We went in for interviews. He'd talk to us and ask questions till he found the kind of people he wanted and felt confident in. Because if we made one mistake, that gas would've killed a whole lot of people and animals above the water. Wind could have spread that gas way east of the Mississippi River.
Joanne: Did you get hazardous duty pay?
Les: Oh lord no! I know they get it nowadays. The unit we were involved with was a whole different kind of unit. We were selected by going out and firing certain missions at Fort Carson. We were competing with all the artillery units in the whole Fifth Army. The Fifth Army covered everything from about the Mississippi River to the Continental Divide. All those artillery units--and there was a lot of 'em--fired regular artillery shells so they could be measured on their firing ability. My Able Battery fired Number One in the whole Fifth Army, Baker Battery Number Two, and Charley Battery fell on its fanny and came in fourth. So our unit got the nerve gas job.
Before we fired the nerve gas, the whole battalion went out in the desert and we took our rifles and killed every living creature within a 50-mile radius, even the jackrabbits. We had to chase all the jackrabbits down and kill 'em. We killed prairie dogs, everything. Because if one of those creatures got the gas on their fur and it didn't get down to the skin, they could carry the gas no telling where. So the battalion was glad to get rid of all the wildlife above the water line in that 50-mile radius.
Gentry: I read that a lot of sheep in that area were killed by nerve gas.
Les: Yes, there was. I wasn't connected with those sheep kills. They happened after I was out of the Army. When I was in the Army I lived in Tooele, Utah, about 75 miles south and a little east of Salt Lake City. One morning I was going over this mountain pass to get to Dugway Proving Ground and the whole durn mountain pass had turned white. It blew me over. I ain't never seen nothin' like that befo. (Laughter) (Pause)
Gentry: What turned it white?
Les: That's for you to figure out.
Gentry: You got me. (Chuckles) We've been talking about nerve gas.
Les: Sheep, great big herds of sheep! In the summertime they go all the way up to grazing levels above the tree line and graze with those shepherds that follow 'em around up on the mountains up there. Before the snow falls they got to bring 'em down. They bring 'em down through the pass so they can graze in Skull Valley during the winter. So when I started over the mountain that morning, there wasn't nothing but sheep as far as you could see, just white--everything had turned white from the sheep. Those sheep grazed some 50 miles from where we were firing the nerve gas. A few of them did die from it; I don't know just how many.
Gentry: Did you ever get nervous or afraid working with the nerve gas?
Les: No. Because they took a lot of effort to explain to us exactly what we had to do and what was gonna happen if didn't do it precisely like we were told to do it. So me and ole Burchard from Soddy Daisy, Tennessee, did exactly what we were supposed to do, you better believe it. (Chuckles)
Gentry: What was your civilian job at Redstone Arsenal?
Les: I did a whole lot between the Korean War and most of the wars after that. I taught Army personnel the maintenance of Army missile systems. We started off with the Corporal Missile System. Then the next one was the Sergeant System. I forget the name of the one after that. And each one was gettin' bigger and longer range because the Cold War was going strong. The military's got a repair unit there, the 27-E. That's a career-like thing. There's a name for it. (Pause)
Gentry: MOS, Military Occupational Specialty.
Les: Yeah, that's right. The 27-E's do a lot of electronics stuff, and I taught all of those type people how to repair the Army missile systems, starting with the Corporal. I only taught the surface-to-surface missile systems. I didn't teach the air defense systems. Both surface-to-surface and air defense systems are in the same school. We had five or six big buildings there. The first two or three were air defense, and then we had buildings for the field artillery-surface-to-surface missile systems.
Nowadays you hear weather people on television talking about Doppler Radar. Well, I started teaching that type of system, how to repair it and things like that, in 1957. I taught it for about twenty years before civilian TV stations started using Doppler to track storms and all. See, we had to track those missile systems and determine what their velocity was when they got up to a certain place in order to send a range-correction signal to them. Because if the air was against the missile, the air would slow it down some. So you needed to let it burn a little longer. Or if the air was behind the missile it would speed the missile up some. So you needed to put in a correction to slow it down.
Gentry: What was the most interesting situation you were in at Redstone?
Les: Oh, well! The most interesting thing I got into was chasin' some little ole girl around the world and tryin' to get her to marry me. (Laughter, Pause).
Joanne: Tell about the people who came from different countries.
Les: I had people coming to Redstone from all over the world. We trained people from 27 different nations. We had translators in the classroom. I'd teach people how to repair something and the translator would explain it to them. Some people didn't mix very well, like Greeks and Turks. You had to put at least two walls between those folks. (Laughter) The Israelis sent us an airplane load of artillery people. Remember when Israel and Syria were fighting over the Golan Heights and the Syrians had all those hundreds of tanks they got from Russia? Well, I trained the people that got rid of those tanks. I trained 'em to fire and repair those shoulder-held missile systems. They were anti-tank, bazooka-like weapons. I only had a few days to get those folks trained. We let 'em fire a few missiles; then we shipped them back over there and they blew up all those Syrian tanks. Then when they had the war down there with Egypt, my unit trained Israelis then, too. We trained 'em in the firing and repair of missiles and shipped the missiles back with them on the airplanes to Israel.*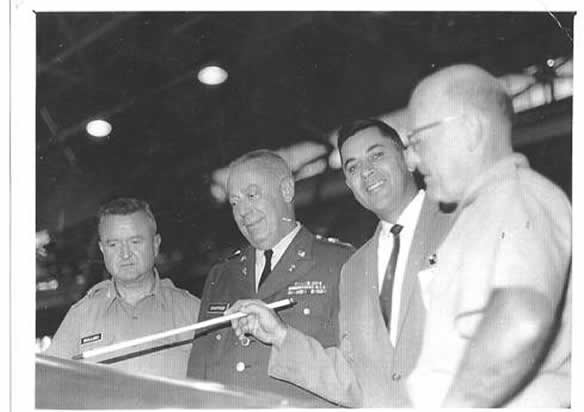 Leslie Sanders (with pointer), Chief of the Combat Support Missile Division at Redstone Arsenal, briefing two colonels and a general.
Joanne (to Les): You had interesting experiences during Cuban Missile Crisis.
Les: There are a lot of things people don't know about the Cuban Crisis. Now I don't like to say this. I try to be a good American and pay my taxes and all that. But you got to realize that we started the Cuban Missile Crisis. You know how we started it? It was pure stupidity. You got a lot of missile systems and you take surface-to-surface missiles and put 'em right up there on the Turkish border with Russia. And these missiles have a range of about 500 miles and could hit places in Russia. And then to offset that, Khrushchev sent his missiles into Cuba to fire on us.
Well, I get to work one morning and there ain't nothing in my area. I got three high buildings like airport hangars and these three big buildings are usually full of missile systems. And when I get there, there's not one missile system in those buildings--they gone and I'm assigned those damn things. And I said, "Yowww, where in the world did my missiles go to?" (Laughter) My boss said, "Well, we had to send them down to Florida." My missiles were available and the closest ones to Florida so they were sent down there to offset what Khrushchev was sending to Castro. This was when we sent ships to cut off Russian ships from sending more supplies to Cuba. We'd put Jupiter missiles near the Russian border and we sent Jupiter missiles down to Florida during the crisis. We sent the Sergeant and some other systems, too, but mainly Jupiter.
A missile system was set up at Casa Marina in Key West for firing on Cuba if they had to. All that stuff was just a bunch of damn throwing money away and stupidity.
Gentry: Yes! American-Soviet bellicosity came very close to blowing up the world. Did you have any association with Wernher von Braun?
Les: Not really. He was dealing strictly with the space technology and my area dealt strictly with the military weapon systems. The Army missile system is different from the NASA system. But we were into virtually the same type of electronics. The technology learned by the von Braun people was available to the Army to develop their missile systems.
Joanne: When the von Braun team first came to Huntsville, they worked with the Army. Later the von Braun team worked just on space projects for NASA. Do you remember the term Paper Clip in connection with the German scientists?
Gentry: I've heard the term applied to German scientists we captured at the end of World War II, but I'm fuzzy on the detaiIs. I'll check on that.*
Joanne: I'm not sure about it either. Toward the end of the war these German scientists had left Peenemünde, and it was von Braun's brother Magnus who rode his bicycle to the closest American facility and told the officials that the German scientists would rather surrender to the Americans.
Gentry: How did the people of Huntsville reconcile their highly favorable reception of these Germans with the stark fact of their past Nazi connections?
Joanne: I think the Germans would say they were the scientific community in Germany and they did what they had to do.
Les: No German nowadays will admit that he was a Nazi. You hear stories on television and very rarely do you hear Germans who lived back then even use the term Nazi. The Nazis were criminals to many German people also--they say that now. But you and I know that most of them were supporting Hitler. If you look at pictures of Hitler speaking, there are thousands of people listening to him and cheering him on, saying "sieg heil" and all that Nazi stuff. But it's a thing that German people today are trying to get rid of.
Gentry: My main interest here is how Americans in Huntsville could make the switch in their minds. They must have known these scientists created destructive weapons that killed thousands and used a lot of slave labor in Peenemünde and other places. Yet Huntsville folks accepted these Germans, in many cases with open arms.
Joanne: I often wondered that, too. I've not really talked to old time Huntsville natives who were there when all the Germans came in the 50's. The Germans brought in a great deal of culture and their expertise led to many jobs in Huntsville. So there was the economic factor. But in that period right after World War II, there had to be a lot of bad feeling toward them. But you never hear anything about that. There might have been more feeling against the Germans by farmers and mill workers and other less affluent in Huntsville than by the city's old-line aristocrats. There would have probably been veterans who had fought against the Germans and resented them.
Gentry: I imagine Huntsville's Jewish community wasn't happy about them.*
Joanne: Probably not.
Les: The Germans had a lot to do with Huntsville's economic prosperity. You could say they pretty much created it. Thousands of jobs were moved to Redstone Arsenal. But you gotta remember one thing along with this. Back then if you went over to NASA at Redstone and applied for a job, they'd say, "We don't have any." But within ten days, there'd be 25 to 30 Germans come in and they'd all get jobs. The German people that took over NASA controlled who got hired. I worked for the Army and the Army wasn't that way.
Joanne: Von Braun lived about two miles from where we lived. Our next door neighbor was Werner Rosinski. His widow, Erika, still lives next door. Rosinski was one of von Braun's team brought over from Germany. There was also Ernst Stuhlinger, a close assistant to von Braun, who died just a couple of years ago. His widow still lives across from our house. Ernst Stuhlinger was a wonderful man and liked by everyone. When the Germans came to Huntsville all of them settled and built houses on Monte Sano Mountain where we live. There are very few of the men left. Some of the widows still live there. You couldn't have better neighbors. I couldn't walk in Erika Rosinski's house without being offered a delicious piece of her apple strudel.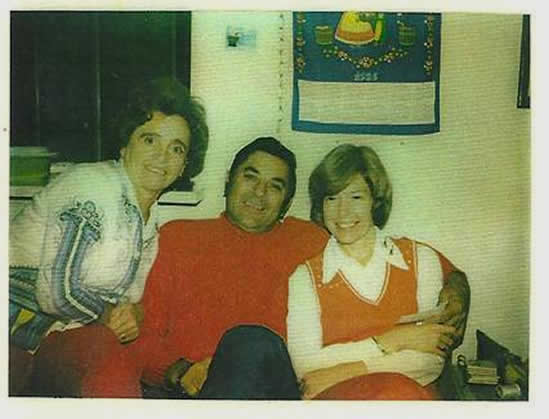 Erika Rosinski (left), Les and Joanne at the Rosinski home, late 70's
Les: I'd see her sometimes and say, "I'd sure like to have some of that apple strudel, and she'd go home and bake me apple strudel. (Laughter) The Germans bought almost all the top of Monte Sano Mountain and built houses on it because it was so much like the area where they lived in Germany. Sometimes I'd go over and help Werner Rosinski with a project. We went to some of their dances. Rosinski had an artificial leg but you wouldn't know it the way he cut the rug on the dance floor. He had a son named Klaus. One night before a dance, Klaus told me, "I'm gonna get in there and dance all night long, and I'm gonna show these old folks I can do the polka just as well as they can." Well, about an hour later, he's sittin' over on the couch, just flopped. I said, "What's the matter?" He said, "I give up. I can't keep up with those damn Krauts." (Laughter)
Joanne: Klaus Rosinski was a second-generation German. When the German scientists came to Huntsville, so many of them had high-school age children. Most of these children were born in Peenemünde, and they came over here and integrated themselves in Huntsville's teenage society. They became totally Americanized. An interesting generation.
Gentry: Did you ever talk World War II politics with your German neighbors?
Joanne: We didn't. We would've loved to ask Werner Rosinski and Erika specific questions, but it was just not the thing that--
Les: They didn't want to be tied to the Nazis at all.
Joanne: I think Werner did tell you once he worked in the salt mines.
Les: Yeah. He was the director of most that missile work that was going on in the salt mine around Salzburg. It was a big mine, so deep underground you couldn't bomb it.
Joanne: And they had many Jewish workers down there, slave labor.
Les: A lot of the German missile systems were built in various underground mines and then they fired 'em from Pennemünde and other places in Germany. They even put missiles on railcars.
Gentry: Did Rosinski go into any detail about what he did, how he managed his missile operation, things like that?
Les: No. Germans today are trying to totally move their lives away from Adolf Hitler.
Joanne: Several of the ladies that I've gotten to know pretty well at the Burritt Museum where I do a lot of volunteering are of the original group of Germans. They are just exceptional, very cultured, very genteel. The Germans who came to Huntsville created the city's symphony. The first conductor was German. All these Germans in mass took an oath of allegiance to the United States and virtually all of them became U. S. citizens at the same time. Whenever an election comes along, city council or whatever, they are always there voting. They take their responsibilities as citizens seriously.
Gentry: Do they ever run for any offices?
Joanne: I've never known them to run for political office. But there are many second and third generation Germans now and it's possible some will. I've taught several children of these generations in my home music classes. When I was teaching in Germany that first year, 1960, only 15 years after the war, the Germans were without exception gracious to us. They revered educators. They would go to great effort to explain things to us, take us places, lead us wherever we wanted to go.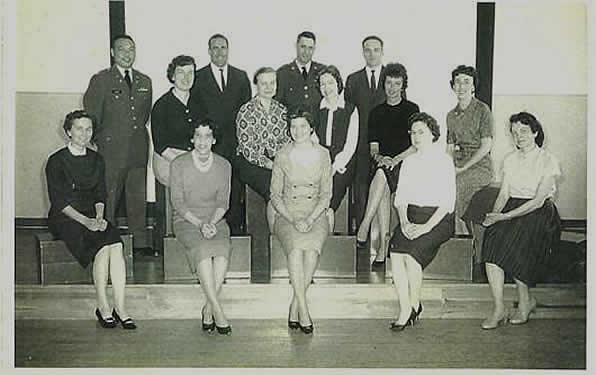 This is a picture of our Regensburg faculty in 1960. I'm third from the left in the middle row. To my right is Frau Desing, the German teacher. On my left are Em and Martha still close friends. I went to Germany with them in 2004. In the front row, far right is our wonderful German secretary then.
Gentry: I was in Germany that same year, 1960. With just a few exceptions the Germans were very nice to us Army guys, especially if we showed interest in their culture and tried to speak their language. It was a great time for Americans in Germany.
Joanne: Well, you and Sue will just have to come to Huntsville and visit us. Perhaps we can visit some of the widows of the scientists and practice our German. Huntsville will soon celebrate the 100-year anniversary of Wernher von Braun's birth.
Gentry: My German's so rusty I'd be an embarrassing conversationalist, but a visit sounds very nice.
Endnotes
* Les refers to two Arab-Israeli wars: the Sixth Day War ( June 5 - 10, 1967) between Israel and the Arab countries of Egypt, Syria, and Jordan; the Yom Kippur War (October 6 - 25, 1973) between Israel and a coalition of Arab states led by Egypt and Syria.
* Operation Paperclip was the program of the Office of Strategic Services (OSS) to recruit the scientists of Nazi Germany for work in the U. S. soon after World War II. It was conducted by the Joint Intelligence Objectives Agency (JIOA) in the context of the Soviet–American Cold War. A major purpose of Operation Paperclip was to keep German scientific knowledge and expertise solely in American hands and away from the USSR and other countries. JIOA's recruitment of German scientists began right after Germany's defeat, but President Truman did not order the execution of Operation Paperclip until August 1945. Truman's order excluded anyone who had been an active member of the Nazi Party or who had actively supported Nazi militarism. The order would have excluded most of the scientists the JIOA had identified for recruitment, among them Wernher von Braun and his rocket science team. To circumvent President Truman's anti-Nazi order and the Allied Potsdam and Yalta agreements regarding German officials, JIOA created false employment and political biographies for the scientists and wiped the public record clean of their Nazi Party memberships and regime affiliations. The US government then granted the scientists security clearances to work in the United States. The name Paperclip came from the paperclips used to attach the scientists' new records to their JIOA personnel files under the heading "US Government Scientist."(Clarence G. Lazby et al. Project Paperclip: German Scientists and the Cold War, 1975)
* According to an article in the The Wall Street Journal (November 10, 2004), Huntsville has about 250 Jewish families, and most don't focus on the scientists' long-ago histories, says Max Rosenthal, a retired NASA engineer and board member of Etz Chayim Synagogue. "It's something you can't forget but we had a goal to get to the moon." Richard Lapidus, former president of Temple B'nai Sholom here, tries to put himself in the scientists' shoes: "If I was German and not Jewish, what would I have done during the war."
Bodil Schmidt-Nielsen was born and raised in Copenhagen, Denmark, the youngest of four children of August Krogh and Marie Krogh, both eminent physiologists. August Krogh was a Nobel Laureate. Bodil has four doctorates, 1st in odontology, 2nd in physiology, and two honorary ones. She did important work on fluid balance that gained national and international recognition. Her landmark paper in the American Journal of Physiology (1955) "forced people to reevaluate their concepts on the way in which urea was processed by the mammalian kidney." Her achievements include the first permanent research scientist at the Mount Desert Island Biological Laboratory in Maine, the Ray G. Daggs Award from the American Physiological Society, and the Society's first August Krogh Distinguished Lecturer of Comparative Physiology. She was the Society's 48th President and and for many years was its only woman president. ("Living History of physiology: Bodil Schmidt-Nielsen" http://advan.physiology.org/cgi/content/full/30/1/1)
Life in Nazi-Occupied Denmark
All out war against the Germans was futile. They would have crushed us in minutes. We Danes were very angry at the Germans. At first we used passive resistance. For example, if we went to a restaurant or public place and if Germans came in, we would give them the cold shoulder and we would leave. In 1943 when the Germans went after the Jews, we became more aggressive. The King of Denmark strongly opposed Nazi treatment of the Jews. He was very brave and rode through Copenhagen on his horse to show his opposition to the German occupation. My father gave some Jewish scientists a place to stay in our villa and a place to work in the laboratory connected to the villa. The Danish underground had brave people. They blew up a rifle factory the Germans were using. One time they came up to this Danish man who was collaborating with the Germans. They pulled him off his bicycle and they killed him. Duus Hansen, my first cousin, ran an underground radio station. My brother Erik had become known to the Germans as a resister, and he had papers showing some Danish underground activities. He was also housing resisters in his home in Jutland.
Two Gestapo came to search my brother's house. My sister-in-law was there alone. A stack of my brother's papers was visible on his desk. The top part of the stack contained some papers that the Germans would find incriminating. One German noticed the stack and began to go through them. The other German went upstairs where the children were. He came out with tears in his eyes. The children reminded him of his own children back home. He asked the other German to come up there. While they were upstairs, my sister-in-law very bravely took out the incriminating papers and put them at the bottom of the stack. When the Germans came back down and went through the papers, they didn't find anything.
In 1945 The Germans put my brother in prison in Jutland. The papers charging my brother with resistance activities were at Gestapo headquarters in the Shellhus [Shell House] in Copenhagen. Some of the most prominent Danes and freedom fighters were imprisoned and tortured in the Shellhus. The Danes were in the top area of the building, and Germans were in the bottom area along with papers incriminating a number of Danish freedom fighters. The British did not want to bomb the Shellhus for fear of killing the Danes. Our underground insisted it be bombed because many Danes would have been killed if the Germans forced prisoners to give up vital information. The British hoped to kill the Germans in the bottom area and spare as many Danes as they could. Royal Air Force planes made a low-level attack. One British plane hit a lamp post and crashed into a school beside the Shellhus. British planes mistakenly bombed the school and 125 people were killed, including 86 schoolchildren. Other British planes destroyed the Gestapo headquarters; the Shellhus collapsed and many Germans and a few Danes died. In the part of the building that wasn't destroyed one top Dane took a table and knocked the door open. A German guard stood there frozen with fear. The Dane yelled "schlüssel" and the guard turned over the keys and our man was able to free the prisoners. I wish I could remember that man's name.
The British air raid destroyed a number of incriminating papers, including those against my brother Erik. The Germans didn't have anything to prove my brother was guilty, so they let him go.
After a German attempt on my father's life, my father escaped to neutral Sweden. The Danish Underground negotiated with Sweden to accept Danish Jews. Many Jews escaped to Sweden. Niels Bohr's mother was Jewish and he was one of those who escaped. Many escaped with the help of Danish fishermen. After a while the underground supplied boats so people who wanted to leave wouldn't have to depend on the fishermen. Anybody who wanted to go to Sweden could go in these boats. All the Danish Jews got a chance to escape in these fishing boats or in other boats commissioned by the resistance movement. The Jews who chose not to go were sent to Theresienstadt, an awful concentration camp in German-occupied Czechoslovakia. Dr. Erik Warburg, a prominent physician, chose not to go and continued his medical practice and helped many people.
On May 5, 1945, our trusted maid came rushing into the house and said, "I saw something horrible this morning. The Germans were taking naked bodies off a ship and loading them into a railroad car." At the time the German military was collapsing. The Russians were closing in on them from the east, and the Germans were trying to destroy evidence of their horrible crimes. We didn't know anything about the Holocaust then. It was not until long after the war that I learned about the Holocaust. It's a scary thing to realize that people can hate others so much that they lose complete respect for them as human beings and commit murder.
After the war, my father said he would have to wait and see what his German colleagues did during the war before he could respect them. He later said that most didn't pass the test. After the war, in my work as a physiologist, I met a number of German scientists. When I was at Duke University I had dinner with a German who was knowledgeable and friendly. During our conversation, I asked him if he had ever been to Copenhagen. He said, "Oh yes, during the war!" I was so shocked I could hardly finish my dinner.
I became close friends with several German scientists. I was most impressed with the work of Karl J. Ullrich and invited him to work with me. He and his wife were Catholics and were against Hitler. Ullrich helped me set up my laboratory for micropuncture at Duke University. Micropuncture became one of the most important techniques for kidney physiology. I also published important papers with Karl Ullrich. One example is a paper on urea transport in the collecting ducts of rats on high protein diets. Another paper was about urea transport in the collecting ducts of rats on normal and low protein diets.
Through my scientific work I was able to trust and work with scientists who had been part of a nation that had persecuted so many. At the end of the war Germany was devastated. I remember being at a scientific conference in Vienna after the war and seeing so few Germans in attendance. Many Germans in the academic and scientific communities did not survive the war.
The morning after the German capitulation, I saw two young German soldiers sitting in the gutter in Copenhagen looking so dejected. I suddenly felt sorry for them. I was surprised at this feeling because we had suffered so much under German occupation. Perhaps I felt that these soldiers were no longer enemies but suffering human beings too. War does not kill compassion. It is alive on all sides.